Windows 7: A New Marketing Approach
Microsoft's new strategy to achieve this starts with how they are handling the Windows 7 development process. Microsoft believes that they've met all their technical goals in solving Vista's problems and undesirable quirks, and they want to let the world know before someone else (i.e. Apple) tells the world otherwise. There's a very specific marketing strategy in place to make this happen that's focusing on users and the press alike, and before we dive into the technical matters it's here we'd like to start.
For dealing with the press, Microsoft hit the ground running. Back in October of 2008 they invited most of the major press to come see the latest Windows 7 Community Technical Preview builds (more or less an alpha build). We weren't able to attend this due to scheduling issues, but as far as the event was concerned it was a success: the press that attended were speaking highly of Windows 7. And they hadn't even seen everything.
Besides directly courting the press, Microsoft has been making sure that there's always something new to talk about, so that the press doesn't stop talking. While Microsoft had previously discussed the new Windows 7 GUI and taskbar, the CTP builds did not contain these items. So when Beta 1 shipped with these items finally activated, it gave the press something to talk about even if they had previously reported on the CTP builds. Microsoft has continued with this strategy even after Beta 1 by still holding back features (hey guys, betas are supposed to be feature complete). Only now with RC1 are they showing off everything, so the press once again gets something new to talk about: Virtual Windows XP.
With the press thoroughly impressed with Windows 7, the focus becomes the users. There's no better way to prove you've done something than to actually show everyone, so that's exactly what Microsoft has done. While Windows betas have always been somewhat open, Microsoft had made the unprecedented move of making the Windows 7 betas wide open. Anyone that wants to try Windows 7 can, with no strings attached. Technical users have had no problem "acquiring" development releases before, but this opens up tasting and testing to anyone that can install the OS.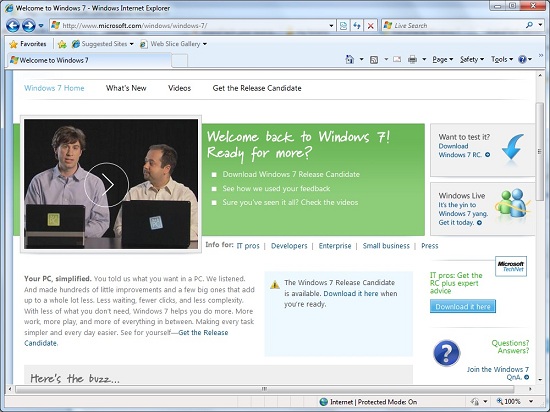 Marketing is in full swing before the OS even ships
Thus far Microsoft's new strategy has been working well. By all measures the press is abuzz about Windows, and when Microsoft released Beta 1 to the public it resulted in a complete meltdown of their download servers. With no snark intended, Microsoft has clearly found an effective marketing strategy. If Windows 7 were to struggle like Vista, it wouldn't be due to the marketing.
This brings us to today. Microsoft has rapidly blown through the beta process, and after just one official beta release they're ready to certify Windows 7 for release candidate status. This marks the second public build of Windows 7, and will likely be an even bigger occasion than Beta 1. Release candidates are feature complete and are supposed to be good enough to ship, and at the very least should be good enough for daily use.
We've only had Windows 7 Release Candidate 1 for a few days now, so we've been scrambling to put together a guide on its features and performance in anticipation of what we expect many of you will be asking today: is it any good? Bear in mind that with performance subject to change between now and its release date this isn't a top-to-bottom guide, but it's something that should answer everyone's burning questions about Windows 7's performance while they install it.
Finally, Microsoft has continued to be tight-lipped on how long the release candidate stage will last. With respect to when Windows 7 will go gold, all they have said is that they are shooting for no later than three years after Vista, which would be February of 2010. However, it's just about the worst kept secret inside Microsoft right now that they want to get it out in time for the holidays. It took four months before they were ready to certify it as a release candidate – it may be even less before it's considered done. We would be surprised to see another release candidate if the beta process is anything to go by.