Amplifiers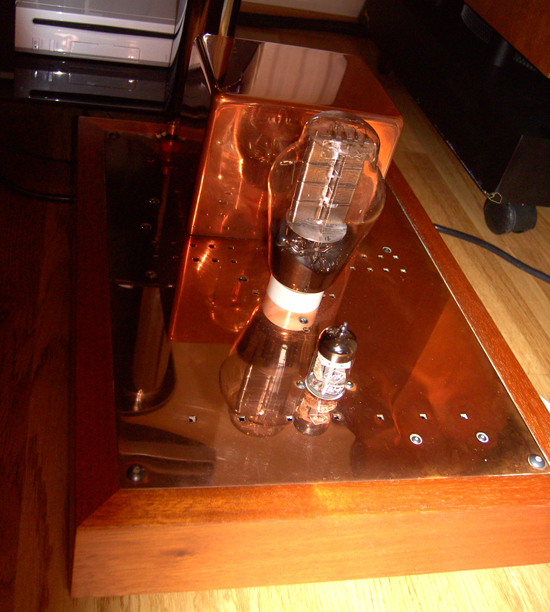 Again a little out on a limb, I'm a fan of Single Ended Triode amplifiers.
Welborne Labs had a pair of Yote 300B amplifiers in need of a little TLC listed in their bargain bin at $1000. The simple addition of tubes and a couple of plate chokes was enough to get them both working again and they sound sublime. The 96dB sensitivity of the Supravox driver marries in well enough with the 8W output of the 300B tubes. While 8W does not sound like a lot compared to the power output of most solid state amps, it's more than enough to drive the Supravox drivers to ear splitting levels. I seldom need more than 85dB or so at the listening position, so can barely account for 1W of power from the amps.
The remarkable simplicity of SET amplifiers means that they reveal every nuance of detail from the source and throw an utterly convincing soundstage that's full of texture and tone. While SETs are not everyone's cup of tea, partnered with the right speakers they manage insight and dynamics that other topologies seem to smear. I have found the addition of these amplifiers driving the 3D Sonics speakers to be revealing of almost every change I have made to upstream components, making them a perfect base to use as a test system.
A Stevens & Billington transformer volume control provides volume attenuation rather than using software level volume controls in Vista. Unfortunately, software based volume controls attenuate the signal in the digital domain by dropping bits, which can lead to a loss of resolution as soon as the volume is moved below maximum output. I've found transformer based volume controls to be very close to sounding neutral, even outperforming shunt volume control made up entirely of 0.1% tolerance laser-cut metal film resistors.
Lastly, I suppose I should mention cables. Despite my attitude towards other components, I don't do funky high-cost cables and all the fuzz associated with them. For speakers, I use a single strand of solid core 24-gauge silver covered in a simple cotton jacket. The whole shebang costs a few dollars per foot from most good audio DIY outlets and sounds fine to my ears. Interconnects are made up using either Cat 5 cable or suitable solid core coax. Power cords are all generic off the shelf types, no special plugs or dielectrics needed.
The PC
There's nothing remarkable here: a Gigabyte X48T, 4GB of OCZ Platinum DDR3, a Corsair modular PSU, and an X6800 dual-core processor. A 250GB Western Digital Caviar hard drive stores audio files in WAV format. The operating system is Vista 64, which is not ideal for audio due to some of the open source software failing to function properly if at all. There have to be compromises somewhere and current study requirements keep me on the Vista coach just to keep up to speed with its administration. Anything using a dual-core processor running at over 2GHz is likely more than sufficient for an audio server. 4GB of memory is pretty much mandatory for Vista 64 to work efficiently when placed under any kind of load. Another caveat is that I have not managed to locate any USB-ASIO drivers for the Vista 64 platform. ASIO drivers are preferred to help lower latency by routing signals directly to hardware where possible. Vista 32 and XP are fully supported by USB-ASIO, so that's something to bear in mind if you'd like to keep latency as low as possible.