The Test System
Before we go on to look at some of the PC software and hardware out there, I'll offer up a quick overview of the test system. Some of the components used really are out on a limb with price tags that are not for the faint of heart. In audiophile currency, I probably have what amounts to a mid-budget system. If your interest is in low budget products, be warned that the rest of this page will probably make your stomach churn. However, you've not been forgotten and we will add a few suggestions here and there should you have champagne tastes on beer budgets - as most of us probably do, especially in this time of credit crunch.
Speakers
Real Hi-Fi owner and Supravox distributor Matthew Jameson was kind enough to provide us with a pair of test speakers based upon Supravox Signature Bicone Drivers known as the Transparence from a company called 3D Sonics. The Bicone Signature driver is a high efficiency (claimed 96dB sensitive) wide bandwidth design featuring a whizzer cone to supplement high frequency reproduction while the main cone takes care of the rest. The parameters of these drivers make them eminently suitable for an open baffle design like the Transparence.
If you keep your ear to the ground in loudspeaker circles, you'll know that open baffle loudspeakers have made a marked resurgence over the last five years or so. One of the chief perpetrators of this revival was a fellow named Throsten Loesch. Thorsten publicized his build of the Supravox Bicone Sig's using the very design that went on to become the 3D Sonics commercial venture. The remarkable simplicity was just what many in the DIY audio community were looking for: an easy to build high performance loudspeaker that could use a variety of drivers according to budget. I had the pleasure of listening to these speakers around five years ago at Thorsten's house; needless to say, it was an experience I never forgot. The absence of a walled cabinet allows the sound to fly out in all directions creating a soundstage that simply makes the loudspeaker drivers disappear.
All good things come with a slap around the cheeks and here's the part that the standard "boom 'n tizz" audio loving public won't like: the price tag is around £2400 UKP for a pair of these beauties. In audiophile markets, a price tag like this is hardly sweat inducing as there are plenty of high-end designs that cost multitudes more. If you are worried about the price, there's no reason to fret as DIY'ing a pair yourself that should get within 95% of the commercial model is not out of the question.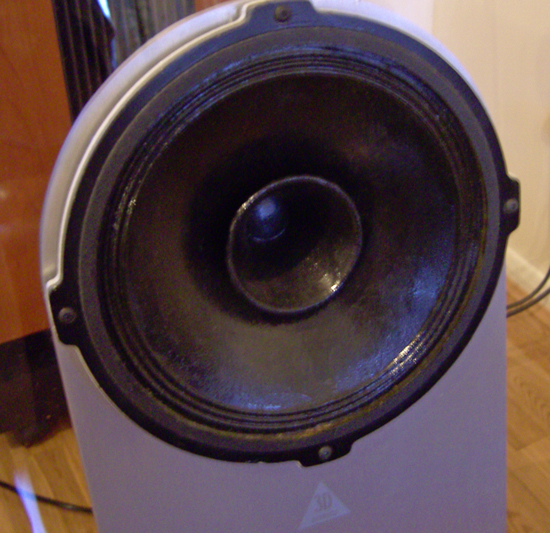 3D Sonics makes an in-house change to the drivers that involves coating them with a few layers of C37 lacquer to humanize the sound.
Stock signature Bicone drivers are available for DIY endeavors from Supravox USA, Supravox France for the EU, and direct from Real Hi-FI for the UK at around a third of the cost of the "ready to go" Transparence. If that's still too much for you, another door is open by using the budget friendly Visaton B200 driver with suitable baffle adjustments to suit its parameters.
The Transparence design is fiendishly simple: a single driver in a 6'x4' acrylic baffle that uses an aluminum L-bracket as a stand and as a means of providing additional rigidity to the baffle. There's no crossover as the driver covers the range of 50 Hz to 15 KHz on its own. That's most of the audible range covered by a single point source. While the top-end extension is enough even for super ears, the low-end obviously needs augmenting with a subwoofer for bass heavy music. For this purpose I use a Linn AV 5150 subwoofer crossed over at around 48 Hz that integrates very well with these speakers, especially when we use DRC to level some of the room response abnormalities.
Whether or not you have the financial clout to buy the fully fledged 3D Sonics Transparence, it's certainly worth investigating the sonic landscape that open baffle designs can create. The availability of drivers for just about every budget leaves the onus of their use squarely in the hands of the DIY'er. Don't pass up the chance to try them out.