Introduction
In May, Antec sent us the 850W version of their Signature series, which delivered quite an impressive performance. They now have a smaller 650W model, and we wanted to test it and see how it compares to its "big brother". The appearance and feature set of the two models are similar, with the only difference being the rated wattage and price. We'll also discuss how it compares with competing power supplies from other manufacturers.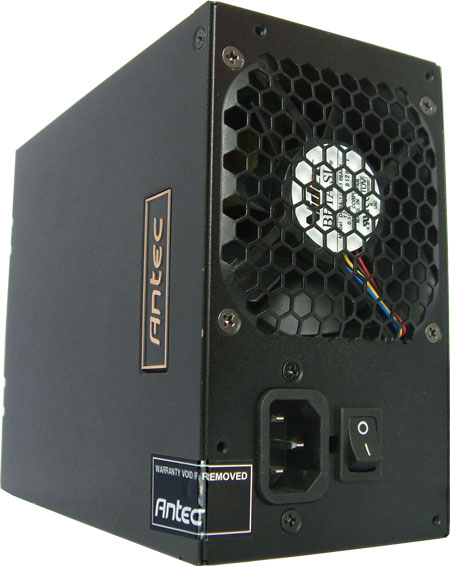 With the Signature series, Antec delivered with the first PWM-controlled fan, which they of course immediately patented. Antec wants to use this control unit to allow for better tuning of fan speeds and promises up to 50% quieter performance -- though we have to ask, 50% compared to what? Enermax utilizes a similar technology in their new Pro82+ and Modu82+ power supplies, which resulted in very low acoustic noise when we tested them. In addition, Antec already runs these power supplies with VRMs to generate the 3.3V and 5V rails instead of the old-fashioned transformer approach. We have seen Silverstone and Enermax follow that trend, and soon Seasonic will join them, as this technology brings a lot of benefits. For example, you get not only short transient response times but also better efficiency from the generated voltages.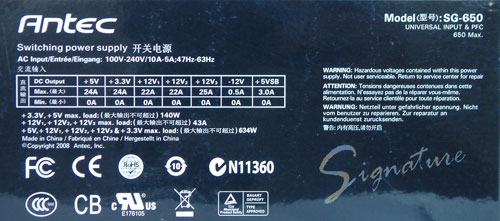 The specifications show a minimum load on all rails, which is a no-load operation feature. This means that the PSU can run without any component attached to it. Normally power supplies have problems if you run it without a load attached, i.e. if you were to only connect a hard drive. The 3.3V and 5V rails both deliver up to 24A for a combined power of 140W, which is more than sufficient. There are three 12V rails, with 22A for the first two rails and 25A for 12V3. All of these rails have a combined power of 634W plus the -12V and standby 5V rails.