Of course NVIDIA would wait until I physically left NVISION 08 to actually make an interesting announcement, but there's no bitterness, I swear :)
The big, no, huge news from today? NVIDIA is enabling native support for 2 and 3-way SLI on Intel X58 based motherboards...without the use of any nForce 200 chips.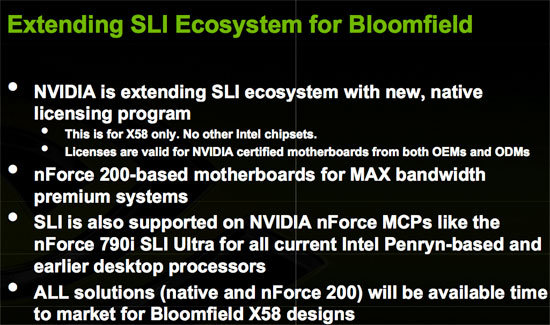 It's not as simple as simply enabling SLI support on X58, NVIDIA wanted to both ensure compatibility and additional revenue, so there's a certification program.
Any X58 motherboard maker can submit their board for certification, which will be done by NVIDIA. If the board passes, and the motherboard manufacturer agrees to pay a certification fee (NVIDIA would not reveal how much), then the board is certified and NVIDIA provides the board manufacturer with a key to place in its BIOS.
When you install the NVIDIA drivers, they check for the presence of this key in the BIOS - if it's found, then you get the ability to enable SLI, natively, on X58. Note that this won't work on any other Intel chipsets, just X58 for Nehalem owners this fall.
This is absolutely huge because it does mean that with the right motherboard you can now have both CrossFire and SLI support, without resorting to an OEM system or something more exotic like Skulltrail. Below are the supported configurations: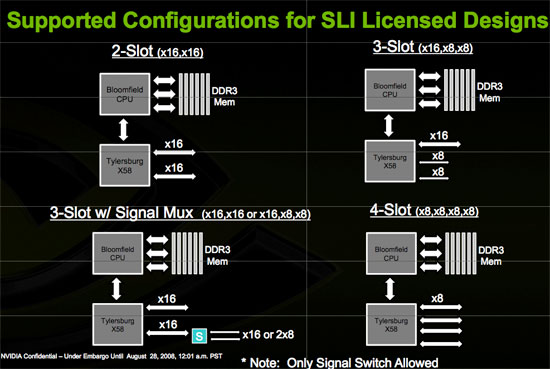 You can run X58/SLI with either two or three cards (a pair of GX2s will work but you can't use four individual cards in SLI). 3-way SLI + 1 card PhysX acceleration is supported as well.
If you absolutely want the highest bandwidth possible, 3 PCIe x16 slots are only supported using nForce 200 chips, otherwise you're stuck with two x16s or one x16 and two x8s.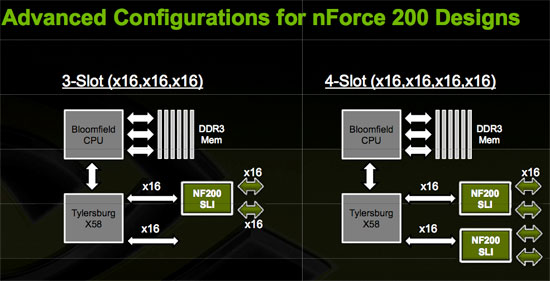 The nForce 200 route seems quite silly due to the added cost and power consumption but the option is still on the table.