Power Consumption
The 4870 X2 is an incredible power hog. Yes, it does perform well. Yes it costs a bit less than two 4870 cards. But will we be able to afford the energy bill?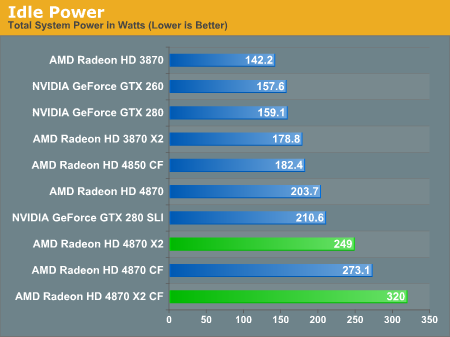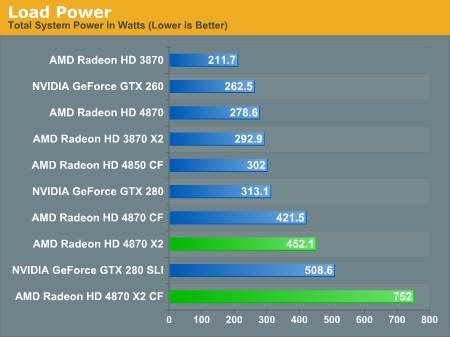 In both idle and load power the 4870 X2 is near the bottom of our chart. The only thing more inane than the 4870 X2 is plugging two of them into one system. Keep in mind that this power measurement is taken running a 3dmark pixel shader test using almost no other resources. In actual game play power draw is much higher as the CPU, memory, and hard drive can come under load at the same time.
Welcome to the kilowatt era. We've been telling you these huge power supplies weren't that necessary until this generation, and we absolutely mean it. If you are thinking about a multi GPU solution involving the latest hardware you are going to want something upwards of 1KW. If you want GTX 280 SLI or 4870 X2 CrossFire you'll want to head on up to the 1200W deparment.
Oh, and, don't forget to turn it off when you aren't gaming.