Techical Specs and The Test
First off we'll break down the technical specifications of the card. Of course, this part has two GPUs on it, so in order to get an idea of what each of the GPUs under the hood of the 9800 GX2 have in them, just divide most of these numbers by two. If the same number of transistors were shoved into a single piece of silicon, performance would be much higher (and it would cost a ton more and heat a small village).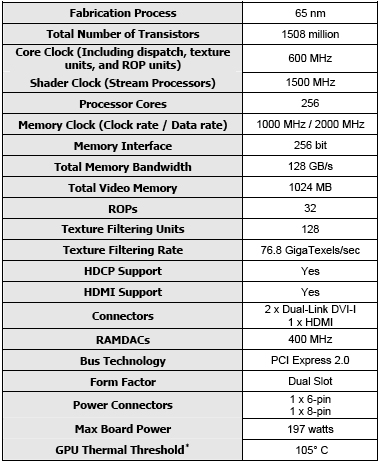 Clearly the GPUs on this card are not a huge leap forward. Putting the two together is what makes this card what it is.
Our test setup is the same Skulltrail system we used in other recent graphics hardware reviews. Remember that isolating the graphics subsystem is important, as removing the CPU as a bottleneck gives us a better indication of the differences in performance between graphics cards. This time, we are also lucky in that the top of the line graphics hardware is meant to be paired with a top of the line system. Skulltrail fits the bill here, though NVIDIA would recommend the 790i in this case.
We would agree that a more gaming oriented board would be a better fit for most, even at the high end as the extra CPU processing power is only going to make a real difference in niche situations. In our case, the ability to run CrossFire and SLI in the same system trumps everything else.
Test Setup
CPU
2x Intel Core 2 Extreme QX9775 @ 3.20GHz

Motherboard
Intel D5400XS (Skulltrail)
Video Cards
ATI Radeon HD 3870 x2
ATI Radeon HD 3870
NVIDIA GeForce 9600 GT 512MB
NVIDIA GeForce 8800 GT 512MB
NVIDIA GeForce 8800 Ultra
NVIDIA GeForce 9800 GX2
Video Drivers
Catalyst 8.3
ForceWare 174.53
Hard Drive
Seagate 7200.9 120GB 8MB 7200RPM
RAM
2xMicron 2GB FB-DIMM DDR2-8800
Operating System
Windows Vista Ultimate 64-bit SP1