Watch out Intel - NVIDIA's just broken out the big guns and this time they're not holding anything back. Coming out firing with both barrels blazing, the nForce 790i (Ultra) SLI promises to provide users with the ultimate platform for high-intensity, adrenaline-pounding gaming when it comes to combining NVIDIA multi-GPU 3D graphics and the power of today's most advanced Intel desktop microprocessors. Probably sounds a little over the top, but this time we reckon an nForce chipset for the Intel platform will live up to the hype.
Aiming to steal as much attention as possible from the ongoing coverage of the many looming product releases based on Intel's upcoming X48 Express chipset, 790i makes no apologies for what it is: one of the fastest gaming platforms we have ever tested. In the past, less than impressive processor and memory overclocking capabilities - especially when running data-hungry quad-core CPUs - made it difficult to recommend an NVIDIA-based system to anyone other than those looking for the absolute maximum in gaming performance. After spending sometime with the nForce 790i Ultra SLI motherboards from ASUS and EVGA, we're not so sure we can say that anymore.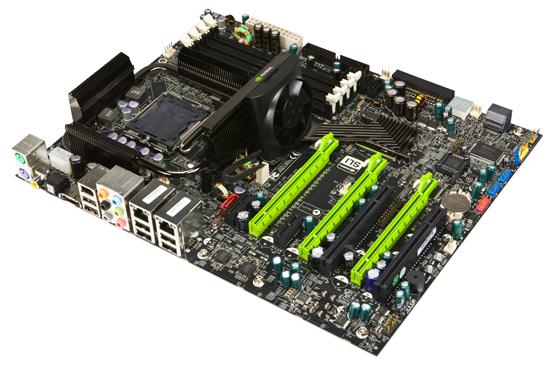 A familiar color combination makes a comeback with NVIDIA's latest offering. EVGA's mean n' green NVIDIA nForce 790i Ultra SLI promises to take your gaming experience to a whole new level.
Much like we have seen in the past, the initial NVIDIA offerings will consist of near immediate, worldwide product availability from the usual suspects - EVGA and XFX - as well as a few non-reference designs from vendors such ASUS, DFI, Gigabyte and MSI. For instance, we have the ASUS Striker II Extreme, which fortunately landed in our hands a little earlier this month allowing us additional time to test this platform. Squarely targeted at the serious gamer and extreme benchmarking enthusiast looking to squeeze every last ounce of 3D performance from their systems, motherboards based on 790i are the next big step in NVIDIA's quest for absolute dominance in the discrete graphics marketplace.
The NVIDIA nForce 790i SLI chipset is comprised of two parts. First is the System Platform Processor (SPP), analogous to Intel's Memory Controller Hub (MCH) or "Northbridge", and second is the Media and Communications Processor (MCP) that provides nearly the same functionality as Intel's I/O Controller Hub (ICH) or "Southbridge." Together these processors form the foundation needed to experience the very latest in NVIDIA multi-GPU SLI technology. Current 780i-based motherboard owners should note with approval the absence of the nForce 200 sub-processor from this line-up as the functionality (PCIe 2.0) formerly provided by this chip is now natively supported by the improved 790i SPP. As a side note, the nForce 200 is nearly the same chip employed on Intel Skulltrail motherboard, which allows enabling SLI-accelerated graphics. (Skulltrail uses the nForce 100, a first generation part that supports only PCIe 1.x link speeds.)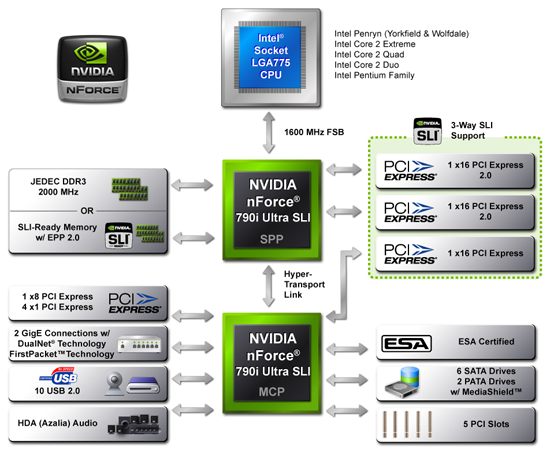 NVIDIA's nForce 790i Ultra SLI specifications are shown here. The 790i SLI block diagram is strikingly similar; the only difference is a reference to JEDEC 1333MHz memory support and not the DDR3-2000 overclock capability highlighted above.
The SPP contains bus control logic required to interface with the Central Processing Unit (CPU) via Intel's now well-aged Front Side Bus (FSB) in addition to a single, scalable HyperTransport Technology (HTT) link - licensed for use from AMD - which interfaces with the MCP. One of the major changes over the 780i SLI MCP is the integration of NVIDIA's newly-designed DDR3 memory controller capable of addressing up to 8GB of unregistered, non-ECC DDR3 memory. Add to this the incorporation of complete PCI Express (PCIe) 2.0 bus support and we can see that 790i is more than just a simple upgrade from 780i. Those looking to swap their current board for one featuring the 790i should find more than enough reason to consider the change.
In order to retain their platform's competitive edge, NVIDIA has pulled out all the stops. They provide the required next-generation 45nm Intel LGA775 dual-core and quad-core CPU compatibility with official FSB 1600 support. Beyond that, we get DDR3 with EPP2 and two x16 PCIe 2.0 slots along with a third providing an additional full x16 PCIe 1.x link for second-generation tri-SLI graphics acceleration. Quad-SLI (using two GeForce 9800 GX2 cards) is also supported. Finally, the platform provides a tight integration of on-the-fly system control and monitoring courtesy of the Enthusiast System Architecture (ESA).
We will be taking an in-depth look at the 790i based ASUS Striker II Extreme shortly and providing a full benchmark test suite with comparisons to other NVIDIA chipsets. As for today, let's take a closer look at what the new nForce 790i platform has in store for the serious gamer and overclocker - besides the cost of a new motherboard and a kit of expensive DDR3 performance memory.