nForce 790i MCP Configurations and EVGA Board Specifications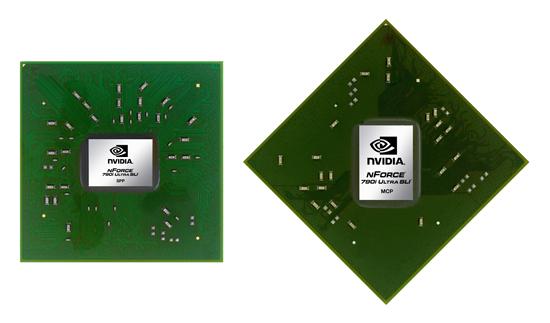 Both the 790i SLI SPP and MCP are built using relatively outdated 90nm process technology. Like Intel's latest chipsets, they are long overdue for a shrink to 65nm.
It's worth noting that, unlike past releases, NVIDIA's top-end nForce 790i SLI SPP will be available to motherboard vendors in two distinct flavors; a new "Ultra" version will be the new top-end part. While NVIDIA claims that both versions are sure to be highly overclockable, the 790i SLI Ultra targets extreme overclocking and will feature automatic configuration of memory for DDR3-2000 operation using EPP2 profiles built into SLI-ready memory modules. Suppliers looking to offer products featuring slightly less aggressive CPU and memory overclocking capabilities for those on a tighter budget will use the "standard" 790i SLI part. Be sure to pay close attention to this important distinction when shopping for your next board. The chips are almost certainly the same internally, but the Ultra parts are binned for higher performance, similar to what we see with CPUs and more recently with the X38 and X48.
No matter the SPP used, the 790i SLI MCP is the same in either implementation. In fact, our investigation has revealed the aptly-named 790i SLI MCP as nothing more than a re-worked 570i SLI MCP with a stepping change to A3. This left us wondering if NVIDIA's been experiencing design issues with their newest creation, causing delays with its release, or if they just had a hard time convincing themselves of the necessity for something better. In either case, there is little room to complain - we feel the included MCP is more than capable of satisfying our needs as is and anything more would have just driven up the cost in exchange for no real benefit.
EVGA NVIDIA nForce 790i Ultra SLI
Market Segment
High-Performance Gaming / Extreme Benching - $349.99 (estimated)
CPU Interface
Socket T (LGA775)
CPU Support
LGA775 Core2 Duo/Extreme/Quad, Pentium EE, Pentium D, Pentium including next-generation 45nm CPU support
Chipset
NVIDIA nForce 790i Ultra SLI SPP and MCP
CPU Clock Multiplier
6x ~ 11x, downward adjustable for Core2, upward to 60x for Core2 Extreme, including half-multiplier support for 45nm processors
FSB Speeds
Auto, installed CPU Default to 700MHz in 1MHz increments
System Bus Speeds
1600 / 1333 / 1066 / 800 MHz
FSB Memory Clock Modes
Auto, Linked, Unlinked
DDR3 Memory Ratios
Auto, 5:4, 3:2 and Sync Mode (2:1)
PCIe Speeds
Auto, 100MHz ~ 200MHz in 1MHz increments
SPP-to-MCP Link Speeds
Auto, 200 ~ 500Mhz in 0.5MHz increments to 210MHz then 1MHz steps
HT Multipliers
1x ~ 5x for SPP->MCP and MCP->SPP
EPP 2 Profile Support
Enabled (DDR3-2000 set), Disabled
DRAM Timing Controls
Optimal, Expert (tCL, tRCD, tRP, tRAS and CPC user adjustable)
Advanced Memory Settings
Auto or user adjustable - tRRD, tRC, tWR, tWTR, tFAW and tREF
DRAM Command Per Clock
Auto, 1T, 2T
CPU Core Control
Enabled, Disabled for each core (excluding Core 0)
CPU Core Voltage
Auto, 0.51250 ~ 2.00000 in 0.00625V increments
CPU FSB Voltage (VTT)
Auto, 1.10V ~ 1.45V in 0.05V increments
Memory Voltage
Auto, 1.50V ~ 2.275V in 0.025V increments
nForce SPP Voltage
Auto, 1.30V ~ 1.55V in 0.05V increments
nForce MCP Voltage
Auto, 1.50V ~ 1.75V in 0.05V increments
GTLVREF Lane Voltages
Auto, -155mV ~ +155mV for each GTL reference voltage
Memory Slots
Four 240-pin DDR3 DIMM Slots
Dual-Channel Memory Architecture
Regular Unbuffered, non-ECC DDR3 Memory to DDR3-1333, 8GB Total
Supports SLI-Ready EPP 1/2 Memory to DDR3-2000
Expansion Slots
2 - PCIe 2.0 x16, Supports up to NVIDIA 3-way SLI Technology
1 - PCIe (1.x) x16
2 - PCIe (1.x) x1
2 - PCI Slot 2.2
Onboard SATA RAID
6x SATA 3.0Gbps Ports - nForce MCP (NVIDIA MediaShield RAID 0, 1, 0+1, 5 and JBOD)
Onboard IDE/Additional SATA
JMicron JMB363 PATA Controller (up to 2 UDMA 133/100/66 devices)
Up to 6 External eSATA ports configurable via BIOS
Onboard USB 2.0/IEEE-1394
10 USB 2.0 Ports - (6) I/O Panel, (4) via headers
2x 1394a Ports - (1) I/O Panel, (1) via header
Onboard LAN
(with Teaming)
Dual NVIDIA nForce LAN with DualNet and FirstPacket Technology
Onboard Audio
8-channel HD Audio (Azalia) CODEC
Power Connectors
ATX 24-pin, 8-pin EATX 12V
I/O Panel
1 x PS/2 Keyboard, 1x PS/2 Mouse
2 x SPDIF - (1) Optical Out, (1) Coaxial Out
1 x External eSATA
2 x IEEE-1394a port
2 x RJ-45 (LAN)
6 x USB 2.0/1.1
8 channel Audio IO
Fan Headers
6 - (1) CPU, (1) nForce SPP fan (optional), (4) Chassis
BIOS Revision
P03_R2 (pre-release)
The BIOS has matured quite well since 780i, although when compared to most feature-rich enthusiast-level Intel-based motherboards the interface can appear a little barren. For one, Intel chipsets still expose a far greater set of memory control timings, depending on whose motherboard you purchase. While we are all for best matched values and the deliberate use of autonomous optimization control routines when it comes to BIOS setup, we also acknowledge the importance of giving the user a little rope with which to hang themselves if they so chose. In our eyes, the solution is quite simple: provide as much interface as possible to the user but always leave the option to select "Auto" so that the BIOS can retain primary control of said parameter.
FSB choices are available all the way up to 700MHz (2.80GHz quad-pumped) although we were only able to push our board as high as about 575MHz FSB with a 45nm dual-core E8500. As with 780i, 790i provides the option to either run the memory in sync with the FSB, using one of three predefined memory-to-FSB ratios, or unlinked allowing for nearly any FSB and memory speeds to be selected independently of each other and without any restriction. However, running memory unlinked from the FSB can leave a lot of performance on the table. For this reason alone we suggest you stick with "Sync Mode" and use either the 5:4, 3:2 or 2:1 (best) divider with your DDR3 memory unless you absolutely cannot find a way to make your system perform as expected with one of those settings. We will be covering memory performance - in particular read, write, copy and latency access times - in more detail a little further along in the review.
Voltage selection ranges are good without offering too many obnoxiously high settings - CPU voltage tops out at 2V and DDR3 can be set as high as 2.275V. The remaining voltages - CPU FSB Voltage, nForce SPP Voltage, and nForce MCP Voltage - can be left on auto in most instances, even when overclocking. NVIDIA validation engineers have done an exceptional job of testing the capabilities of their chipset way beyond normal specifications and have passed on their findings via the BIOS. As you increase FSB, the board automatically selects the right voltage needed to POST and run stable. During the course of our testing, we found the board did most of the work for us, making overclocking our system an absolute breeze. All we really needed to do was analyze performance at each configuration and decide which one we thought was best.

Many of the same connections found on EVGA's 780i reference motherboard make a second appearance on their 790i board. Just about everything you might possibly need can be found here - one PS/2 port each for mouse and keyboard (great for those out there that still like to make use of old-style KVM dongles), one 1394a FireWire port, six USB 2.0 ports, dual RJ-45s for the integrated LAN, and audio output jacks for the onboard 8-channel HD Codec. New with the 790i board is the single eSATA header, which can be configured from the BIOS as any one of the six channels available via the MCP, and an SPDIF digital coax audio jack in addition to the optical out.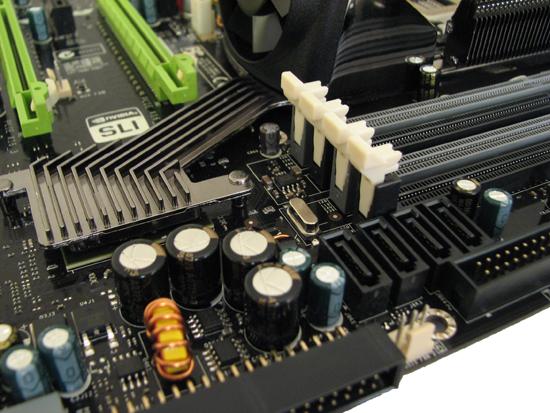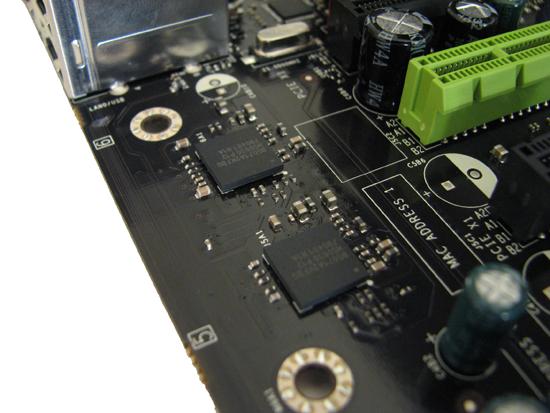 As expected, the 790i SLI MCP provides expansion capabilities for up to six SATA devices and two PATA devices with MediaShield Technology, 10 USB 2.0 devices, and up to five PCI slots. The MCP also allows for up to two 1Gbps (1000Mbps) Ethernet connections including DualNet Technology - used to team adapters to form a single, virtual 2Gbps link - and NVIDIA's FirstPacket Technology, which provides latency-sensitive network transfers, such as giving outgoing gaming traffic priority over bulk-transfer communications like file uploads. The 790i SLI MCP also includes support for onboard high-definition (HD) audio, previously code-named Azalia, and can output a 7.1 analog signal to individually attached speakers as well as an 8-channel SPDIF source via digital coax or optical connection.