HD Tach 3.0
MTRON 32GB SSD NV680i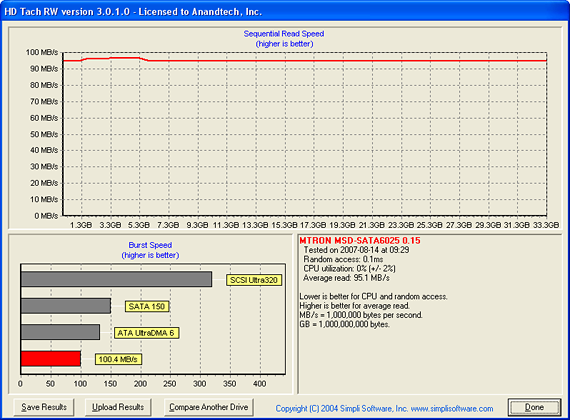 Click to enlarge
MTRON 32GB SSD Intel ICH9R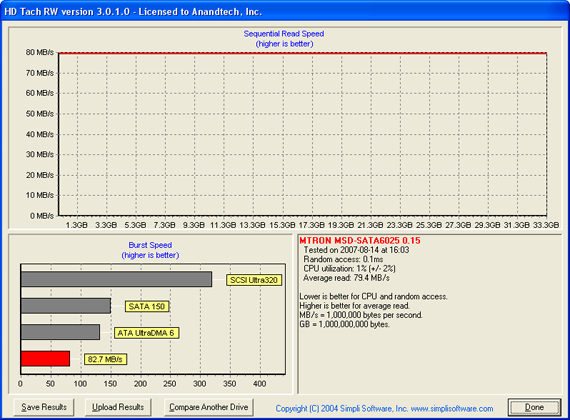 Click to enlarge
Our first screenshot is the MTRON drive installed on the NVIDIA 680i controller chipset and indicates a sustained transfer rate of 95.1 MB/sec with a burst rate of 100.4 MB/sec. The same drive on the Intel ICH9R scores a sustained transfer rate of 79.4 MB/sec with a burst rate of 82.7 MB/sec. The Intel controller is up to 17% slower with the MTRON SSD drive in this particular benchmark.
We tried several different P35 boards equipped with the ICH9R and a couple of P965 boards with the ICH8R and had the same results where our SSD drives topped out around 80 MB/sec with these particular Intel Southbridge designs. This occurred under Windows XP and Vista with a variety of Intel INF revisions. Our NVIDIA based 680i and 650i boards did not exhibit this particular issue under either operating system.
The MTRON drive features an outstanding access time of 0.1ms or lower which greatly assists in random read times. The lack of higher sustained or maximum transfer rates on the Intel chipsets will adversely affect the drives performance in most of our benchmarks but we must temper our performance expectations as you will see shortly. In the synthetic benchmarks we will find wide disparities in certain tests, but in our actual application tests the differences were rather minimal in most cases.
WD Raptor 150GB NV680i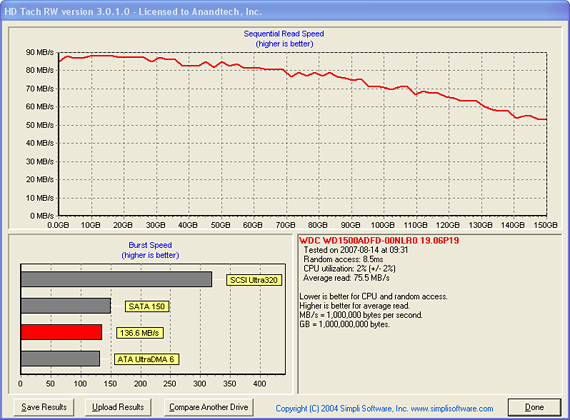 Click to enlarge
WD Raptor 150GB Intel ICH9R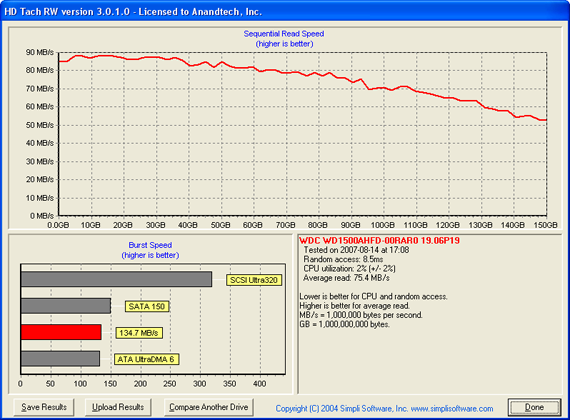 Click to enlarge
We are also including HD Tach results for the WD Raptor 150GB drive for comparison. The differences between the two controller chipsets are extremely minor with this drive and other mechanical drives we have tested to date. The Raptor's sustained transfer rate of 75.5 MB/sec is around 21% lower than the MTRON SSD drive on the NVIDIA controller and about 5% lower on the Intel chipset. The burst rates of the Raptor are about 36% higher than the MTRON unit.