CPU Cooling Test Configuration
The test setup was exactly the same as used in the recent Thermalright Ultra 120 review. All the components of the test bench remained the same.
Cooling Performance Test Configuration
Processor
Intel Core 2 Duo X6800
(x2, 2.93GHz, 4MB Unified Cache)
RAM
2x1GB Corsair Dominator PC2-8888 (DDR2-1111)
Hard Drive(s)
Hitachi 250GB SATA2 enabled (16MB Buffer)
Video Card:
1 x EVGA 7900GTX - All Standard Tests
Platform Drivers:
NVIDIA 9.53
NVIDIA nTune:
5.05.22.00 (1/16/2007)
Video Drivers:
NVIDIA 93.71
CPU Cooling:
Thermalright Ultra 120 Extreme
Thermalright Ultra 120
Scythe Infinity
Zalman CNS9700
Zalman CNS9500
CoolerMaster Hyper 6+
Vigor Monsoon II Lite
Thermalright MST-9775
Scythe Katana
Tuniq Tower 120
Intel Stock HSF for X6800
Power Supply:
OCZ PowerStream 520W
Motherboards:
EVGA nForce 680i SLI (NVIDIA 680i)
Operating System(s):
Windows XP Professional SP2
BIOS
Award P24 (1/12/2007)
Since Thermalright provided a syringe of their own thermal compound, the Thermalright compound was used in mounting the Ultra 120 Extreme, just as it was used in the Ultra 120 review. For more details on the specifications, weights, and installation please refer to the Thermalright Ultra 120 review. As already stated, the Ultra 120 Extreme is the same exact cooler with two extra heatpipes.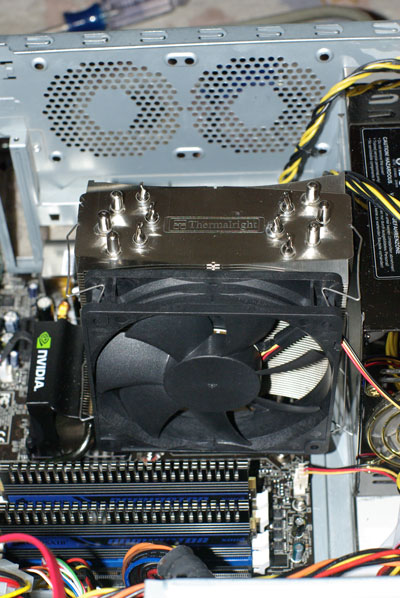 As you can clearly see from the installed photos, the Ultra 120 Extreme is the same dimensions as the Ultra 120. Nothing is really any different with 120 Extreme install except for the issues with fitting a Socket 775 adapter through the pipes with extra heatpipes in the way. Hopefully Thermalright will have solved this issue by the time you can find retail Thermalright Ultra 120 Extreme heatsinks for purchase.
To be blunt, not too much was expected with the Ultra 120 Extreme. Six heatpipes instead of four is nice, but how much could two added pipes really do for a cooler that was at the top of our performance charts? As you will see in our performance results, assumptions should always be tested. There was certainly a surprise for us in the Ultra 120 Extreme cooling and overclocking performance.
Fanless Cooling and Noise Levels
Since all testing used the same S-Flex SFF21F 120mm fan used in the Ultra 120 review, we did not retest noise levels. Noise levels will be exactly the same as the excellent results posted in the Thermalright Ultra 120 review. Please refer to that review for information on the Ultra 120 Extreme noise levels.
The Ultra 120 also was useful as a fanless cooler, as demonstrated in that review. However, our current cooler setup is not ideally suited for testing fanless CPU coolers, since we do not have a downward facing fan or additional rear exhaust fans to assist the fanless cooler. Refer to performance charts for fanless cooling in the Ultra 120 review. Results with the Ultra 120 Extreme should be even better with the extra cooling provided by the additional heatpipes in the EXTREME design. Improvements in fanless cooling should be similar to the cooling improvements seen in this comparison of Ultra 120 and Ultra 120 Extreme cooling with the same S-Flex fan.