Hard Drive Acoustics
Our acoustic test utilizes our standard test bed components but we implement AMD's Cool'n'Quiet technology and turn off the case fans to isolate as much case noise as possible during testing. Our OCZ power supply is nearly silent in these tests and our fanless ASUS 7600GS video card provides a further decrease in our case's ambient noise levels. Our drives are attached to the drive cage with rubber bushings to assist in isolating the noise of the drive without resulting harmonic changes due to the case design
Our acoustic tests are designed to measure the decibel levels while the system is at idle and also under load while running the General Hard Disk Drive Usage benchmark within PCMark 2005. We found through trail and error that this particular benchmark produces controlled readings across a wide range of applications within the benchmark. This particular benchmark utilizes 60% reads and 40% writes within the trace playback file.
The measurements are taken at a distance of 5 millimeters from the rear and front of the drive being tested in order to minimize surrounding environmental noise. We have noticed that unless we run a completely silent system in a silent room that measurements taken from 1 meter are generally not meaningful due to ambient noise levels. There are exceptions like the Raptor series of drives but overall most modern desktop drives are quieter now than the other components in the system.
The reported measurements are based on an A-weighted decibel score that measures frequencies similar to the way the human ear responds to sound. We take a total of three measurements for each test. We then subtract the high and low scores and arrive at our findings by reporting the remaining score.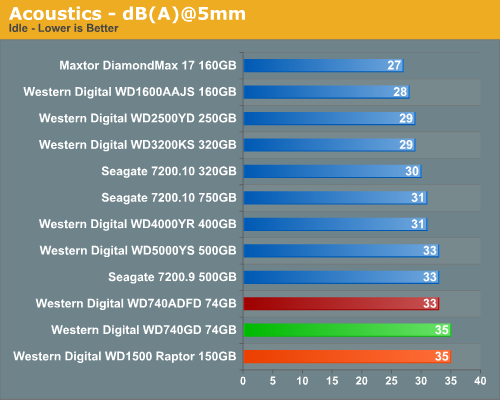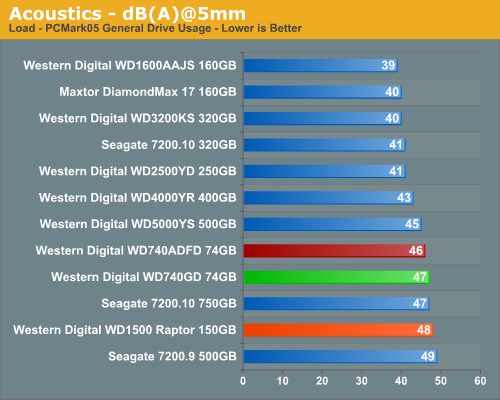 Our Western Digital WD740ADFD is quieter than the other Raptors in our objective testing, but we thought the results would be even better after listening to the drive during testing. Our subjective opinion is that the seek requests on the WD740ADFD are muted a great deal when compared to the other two Raptors. In fact the difference was notable to us although it did not show up completely in our objective tests. Our base dB(A) level in the room at time of testing was 24 dB(A).
Hard Drive Thermals
Our thermal tests utilize sensor readings via the S.M.A.R.T. (Self-Monitoring, Analysis and Reporting Technology) capability of the drives and are reported by utilizing the
Active SMART 2.42 utility
. We test our drives in an enclosed case environment without the front fan operational to simulate temperatures that could conceivably be reached in a SFF or HTPC case design. We typically find the reported numbers drop anywhere from 18% to 25% on average when the front fan is operational.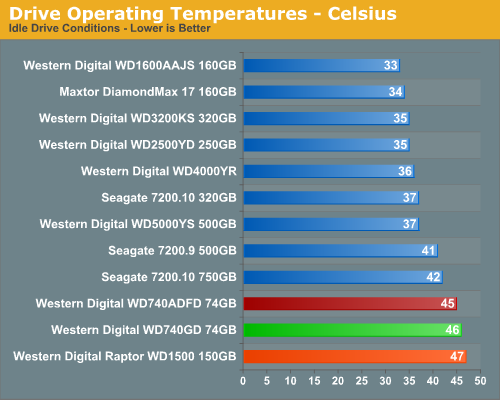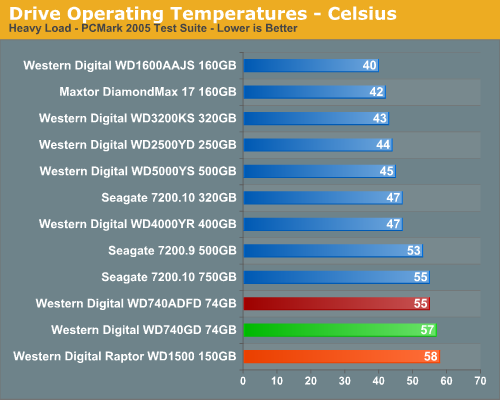 We expected the WD740ADFD to run slightly cooler than either the WD1500ADFD or WD740GD drives due to the single platter design and it did. However, all three of the Raptors still run hotter than the other drives in our tests with the exception of the Seagate 7200.10 750GB drive that ties our test unit in the heavy load results. We highly recommend a fan be installed near the Raptor drives during normal operation.