We have recently returned from the Consumer Electronics Show 2007 with our heads still spinning and legs extremely sore after viewing literally thousands of products from hundreds of suppliers. The International Consumer Electronics Show is the world's largest annual consumer technology tradeshow but PCs and their related components actually comprise a very small portion of the products on display. Several of the larger PC centric companies such as Intel, AMD, HP, Dell, and Microsoft had very large displays in the main exhibition areas but the majority of the floor space belonged to consumer technology companies like Samsung, Sony, Hitachi, Pioneer, LG, Sharp, and the multitude of companies that offer these types of products.
While we visited several PC related companies in the main exhibition halls, just as many were in hotel suites or in smaller exhibition halls at the various hotels located throughout Las Vegas due to the cost of floor space or more likely the relaxed atmosphere for discussing product introductions or technology. Our many visits had us waiting in seemingly endless cab or bus lines, zipping between various hotels in stuffed cabs and then wading through the inevitable casino crowds to get to the hotel suites where a vast number of PC companies were show casing their products. It was great exercise for those of us who typically sit at a desk for the majority of the day and at times it seemed as if the treks through the hotels covered more mileage than the convention center trips.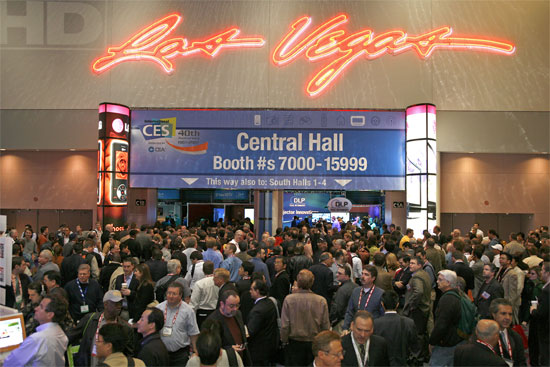 We did not view any revolutionary PC products at this year's show as this type of product announcement is generally released through the web or presented at the computer specific shows such as Computex. One of the more interesting developments we did notice was on the power supply side where the majority of manufacturers were showing the new 8-pin PCI Express 2.0 cables. The majority of these cables featured a 6+2 pin arrangement that allows them to be used with current graphic cards or upcoming products. The first product to utilize this new power standard will be the AMD R600 that will require both an 8-pin and 6-pin PCI Express connector to power the card. We asked about potential cable adapters for current power supplies and were told by most of the suppliers that they did not know if an adapter would work or not until they received final specifications from AMD. Enermax will have an 8-pin cable available for their current Liberty series that will allow the use of a single R600 or future NVIDIA graphics card. Pricing was not set but is expected to be below $10.
We also viewed several shipping products that were announced at and after Computex last year. The general theme from the various PC component or system suppliers seemed to be refinement of current products while waiting for upcoming product releases from Intel or AMD. We still expect to see the upcoming AMD R600 based graphics cards in March and the new Barcelona processor series later in Q2. Intel should have their new Bearlake chipset available in late Q2 2007 that adds official 1333 FSB support along with numerous refinements over the current P965 and 975X chipsets.
The major theme for the PC crowd at this year's event centered on the pending release of Windows Vista along with the continuing saga of convergence with the typical consumer electronics devices. The convergence of the PC into the family living room or as a central control device in the home environment has been discussed for the past decade. However, very little has actually happened in this time span to take this technology from a niche market into the mainstream. Our discussions and own experiences lead us to believe that mainstream market acceptability of the PC in the living room concept could finally come to fruition in 2008. While the hardware and software should finally be at the point of general market acceptance we still have serious doubts if this will be the case due to the ongoing battles over digital rights management and the various proprietary interfaces that several suppliers seem intent on utilizing.
While Vista looks set to make a quick entry into the home market it appears from our discussions with several industry veterans that it will take some time before anyone feels safe in rolling out the new operating system into the corporate markets. This is no surprise as several major corporations are just now completing their move from Windows 2000 to XP in many cases. Vista will also launch a whole new series of opportunities for suppliers that will benefit from component upgrades or new system purchases. We think the memory suppliers will benefit the most with graphics also being an important upgrade item on anyone's checklist. The system integrators and motherboard manufacturers do not expect to see an immediate up tick in sales but fully expect to see Vista making a difference in the market starting in Q3.
Let's take a look at a few interesting products today and we will finish our coverage of CES 2007 this weekend.