Stock Memory Performance
Most of today's motherboards that support DDR2 provide a wide range of memory ratios that match available DDR2 memory. End-users can select the memory ratio that matches their DDR2 memory speed. Our memory testing uses the same approach. We first test all of the stock ratios at the fastest stable timings we can achieve at the given ratio. With ratios,
CPU speed remains the same at 2.93GHz
in our memory test bed, and memory speed is varied by selecting different ratios.
The memory controller for Intel Socket T (Socket 775) motherboards is in the chipset, instead of part of the processor as in AM2 systems. Therefore, there is the potential for some memory performance anomalies. There is theoretically a small performance penalty for speeds other than a 1:1 ratio (DDR2-533 in this case) on boards designed for Intel processors. However, the actual performance penalty has been found to be very small with minimal impact on test results. As a result memory scales nicely through the various speed options.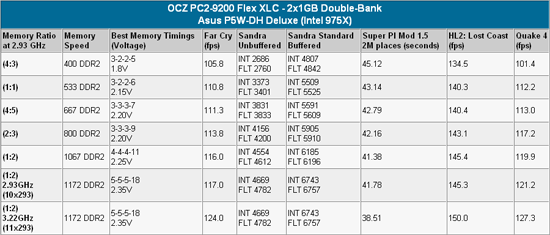 Click to enlarge
DDR2 memory is then pushed from the highest stock ratio that could be achieved in testing - in this case 1067 - to the highest FSB speed at the stock multiplier. A fortunate accident occurred in test results for the OCZ Flex XLC in that the highest stable memory speed on the P5W-DH of 1172 represents a base CPU speed of 293. By lowering the multiplier to 10 we were able to keep the overclocked memory test results at the same 2.93GHz processor speed. This allows easy comparison of test results at a very high memory speed at the same 2.93GHz. Results for the standard multiplier of 11 are also included at the bottom of the table. These are the results that should be compared to past DDR2 memory test results.
No matter how you slice it, the simple fact is that the OCZ Flex XLC, tested on air cooling, is the fastest DDR2 memory tested so far at AnandTech. DDR2-1172 exceeds the rated speed of DDR2-1150 on one of the most demanding boards available for testing DDR2 memory. To put this in perspective, the previous overclocking champion on this test bed reached DDR2-1116. Flex XLC, at DDR2-1172 is more than 5% faster than the previous best. With these results it was time to see where this memory could go on the new
NVIDIA nForce 680i chipset
- a chipset that had exhibited some stellar overclocks in our initial chipset launch review.

Click to enlarge
On the nForce 680i the OCZ Flex XLC took DDR2 memory performance to a new gold standard. On Air Cooling, Flex XLC reached DDR2-1300 at the rated timings of 5-5-5-18. This is 150MHz above the aggressively rated speed of DDR2-1150 (PC2-9200). The DDR2-1300 speed would be rated at PC2-10400, making Flex XLC the first DDR2 memory to break PC2-10000 in our memory testing.