When Things Go Wrong & The Test
It's worth noting that at one point this article had a very different tone to it, based on the benchmark results we had gotten. We recently replaced the test rig we run the PhysX articles on with a newer machine, and as the component of note, threw in an ATI Radeon X1900XTX as it's generally the fastest single-slot card we have that isn't an SLI card (i.e. the GeForce 7950 GX2). City of Heroes/Villains is a game we long ago established was CPU limited, so the choice in video cards is largely academic, or so we thought.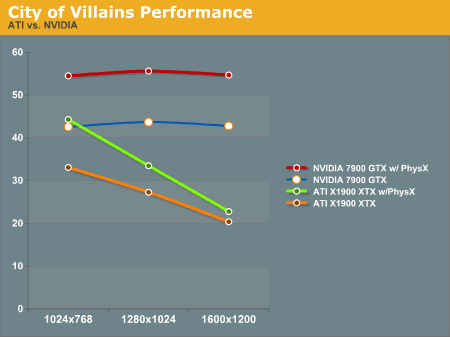 It turns out that ATI's latest drivers have a problem with City of Heroes/Villains where the performance of the game chokes when using some of the advanced rendering features. Fortunately, we caught this issue, but for a while we were wondering why the PhysX card wasn't helping as much as expected. It's always interesting to discover where the bottlenecks are in different benchmarks. City of Heroes is a great testing components since it's an OpenGL title that isn't built on the Doom3 engine. Unfortunately, this is bad timing for ATI, given their recent OpenGL improvements on games that
do
use the Doom3 engine.
Due to the issues with the ATI card, we switched to testing with a 7950 GX2 instead. Here are the details of our test setup.
PhysX Testbed Configuration
CPU:
Intel Core 2 Extreme X6800 (2.93GHz/4MB)
Motherboard:
Intel D975XBX (LGA-775)
Chipset:
Intel 975X
Chipset Drivers:
Intel 7.2.2.1007 (Intel)
Hard Disk:
Seagate 7200.7 160GB SATA
Memory:
Corsair XMS2 DDR2-800 4-4-4-12 (1GB x 2)
Video Card:
NVIDIA GeForce 7950GX2
Video Drivers:
NVIDIA ForceWare 91.33
OS:
Windows XP Professional SP2