Application Performance using SYSMark 2004 SE
We'll kick off our look at general application performance with SYSMark 2004 SE as always, and we'll look at the overall score as well as the scores in each of the two suites - Internet Content Creation and Office productivity.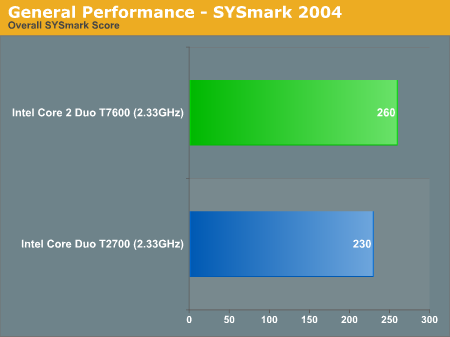 Clock-for-clock, Intel's Core 2 Duo is able to outperform its predecessor by 13% according to SYSMark 2004 SE's overall score. While the performance advantage isn't as dramatic as what we've seen on the desktop, comparing Core 2 to Pentium D, at 13% we're still looking at a performance gain that is noticeable in real world usage.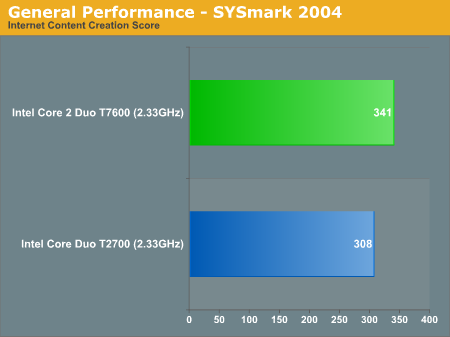 Drilling deeper and looking at the overall Internet Content Creation score, Core 2 Duo's performance advantage drops slightly to 10.7%. The performance increases we're seeing here highlight one very important point in current CPU architecture innovation. We're looking at a 10% increase in performance here, yet it required a 93% increase in transistor count to achieve (mostly because of the larger L2 cache, 4MB vs. 2MB). AMD and Intel are both looking to multi-core solutions to deliver better performance-per-transistor efficiency, rather than simply throwing more clock speed and cache at the problem.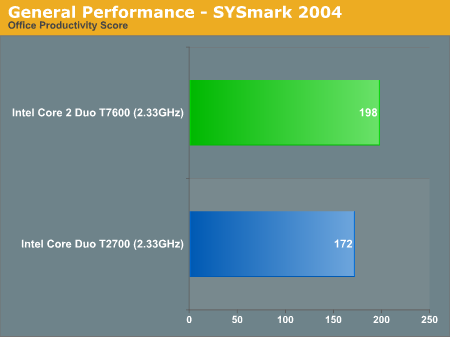 Speaking of the impacts of a larger L2 cache, we may be seeing those here in the Office Productivity suite where Core 2 Duo holds a 15.1% lead over Core Duo. The advantage is large enough to be noticeable, and definitely appreciated when you look at the fact that the Core 2 Duo we're benchmarking here has the same MSRP as its Core Duo predecessor.
The performance increases also come from the modified pipeline and internals, but we will have to get ahold of a 2MB Merom chip to determine exactly how much of the improvement comes from the added cache and how much comes from the reworked architecture.
The breakdown of SYSMark 2004 SE tests are below: