Basic Features: Sapphire PURE Innovation
Sapphire PURE Innovation
CPU Interface
Socket 939 Athlon 64
Chipset
ATI RX480 Northbridge - ATI SB450 Southbridge
BUS Speeds
200 to 440MHz in 1MHz Increments
Memory Speeds
DDR200, 266, 333, 366, 400 (433, 466, 500, 533 with Rev. E AMD)
PCIe Speeds
100-200
PCI/AGP
Fixed at 33/66
Core Voltage
Auto, 0.8V to 1.55V in 0.025V increments
PLUS .0V to 0.6V in 0.02V increments
(Maximum vCore 2.15V)
CPU Clock Multiplier
4x-25.5x in 0.5X increments
DRAM Voltage
Auto, 2.5V to 4.0V in .05V increments
HyperTransport Frequency
1000MHz (1GHz)
HyperTransport Multiplier
Auto, 1X to 5X
HyperTransport Voltage
1.22V, 1.29V, 1.39V, 1.5V
Xpress 200 Voltage
1.22V, 1.29V, 1.39V, 1.5V
PCIe 1.2 Voltage
1.22V, 1.29V, 1.39V, 1.5V
PCIe 1.8 Voltage
1.8V, 1.9V
Memory Slots
Four 184-pin DDR DIMM Slots
Dual-Channel Configuration
Regular Unbuffered Memory to 4GB Total
Expansion Slots
1 PCIe x16
2 PCIe x1
2 PCI Slots
Onboard SATA/RAID
4 SATA Drives by SB450 (RAID 0, 1, JBOD)
2 SATA II Drives by Sil 3132
Onboard IDE/IDE RAID
Two Standard ATA133/100/66 (4 drives)
Onboard USB 2.0/IEEE-1394
8 USB 2.0 ports supported by SB450
2 1394 Firewire by VIA VT6307
Onboard LAN
Gigabit PCIe Ethernet by Marvel 88E8052
Onboard Audio
Azalia HD Audio by Realtek ALC880
BIOS Revision
Award (7/28/2005)
The DFI nForce4 Ultra and SLI boards have quickly developed a reputation for offering the enthusiast every imaginable BIOS option. We mention the DFI only to put in perspective that the Sapphire ATI offers 2 more memory adjustments not found on the DFI and even more controls to tweak the performance of the motherboard. It is clear that ATI has worked with some leading enthusiasts in refining the Crossfire AMD - it clearly shows in the depth and breath of available options. At the other end of the spectrum, the Sapphire ATI also offers automatic overclocking options in the BIOS for those uncomfortable with manual overclocking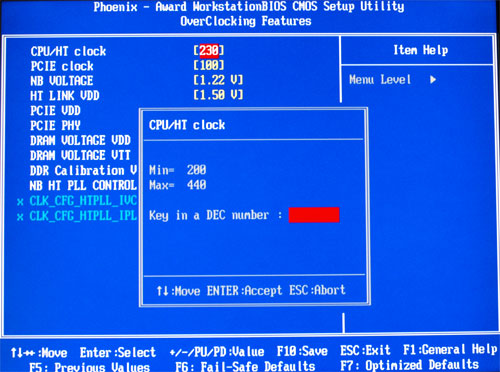 What can you say about a range of CPU adjustments from 200 to 440 except that it is beyond expectation. The same can be said for vCore adjustments that extend to 2.15V.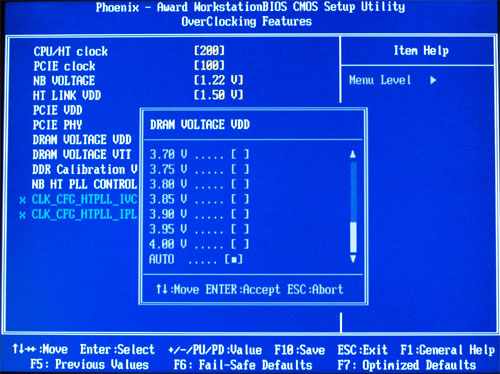 vDIMM extends to 4.0V, matching the DFI nF4 boards as the widest vDIMM range available. This extremely wide adjustment range makes the Sapphire ATI ideal for driving OCZ VX or Mushkin Redline.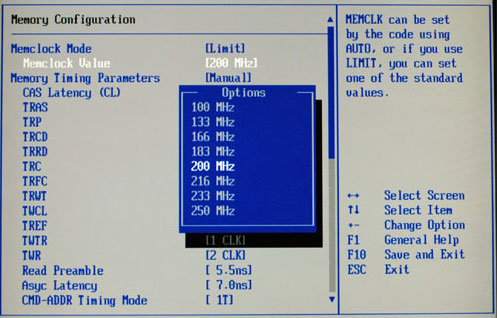 The Sapphire ATI also has memory adjustments to DDR400 with the 4000+ Clawhammer processor that we use for standard benchmarking. However, as soon as a Rev. E AMD processor is installed, options from 433 to 500 or 533 appear. The ability to run the processor at stock speed with memory at up to DDR500/533 opens new options for memory performance.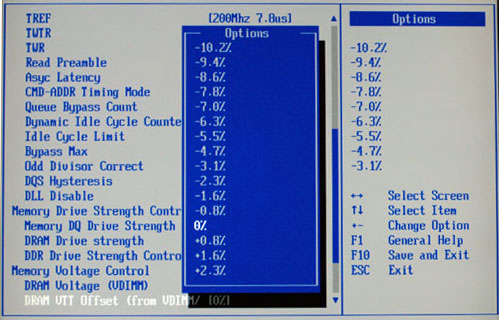 The incredible depth of memory controls available is perhaps best illustrated by the adjustments for vDIMM VTT. ATI says that certain memories perform best with VTT offsets, which is why the adjustment is there.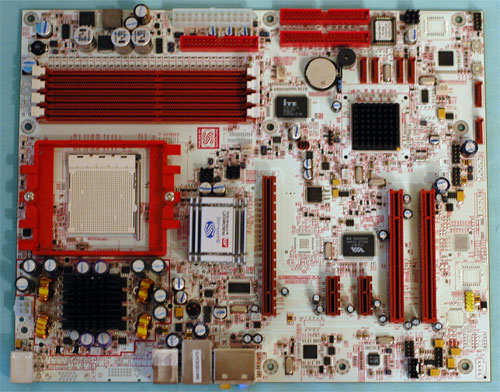 Sapphire has done an excellent job in their PURE Innovation of putting their money where their mouth is. We often hear companies talk about "targeting the enthusiast", only to deliver a luke-warm rehash with laughable options and overclocking performance. We have often said that calling a motherboard an enthusiast board does not make it so. It's a pleasure to see that this Sapphire ATI not only talks the talk in options - it also walks the walk, as any enthusiast will soon discover.