Real World Tests - Game Level Load Times
We have changed our Game Level Loading Time test to include two of the latest games, Doom 3 and Half-Life 2. Because of their high resolution textures and the large levels, the loading time for the levels of each game are long enough to help show a difference between each drive.
We have also included an older strategy game Command & Conquer: Generals because of its longer level load times. Though the game is a couple years old it still proves to be a good measure of performance data loading performance.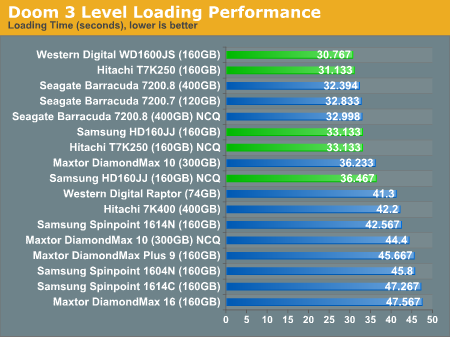 Though 30.767 seconds may not seem like much of a performance boost from Seagate's Barracudas' ~32sec chart toppers, Western Digital's WD1600JS came in at first which is a huge improvement over its 10,000RPM Raptor cousin. And even with NCQ enabled, the HD160JJ and T7K250 were not able to keep up quite as well with 33-36sec loading times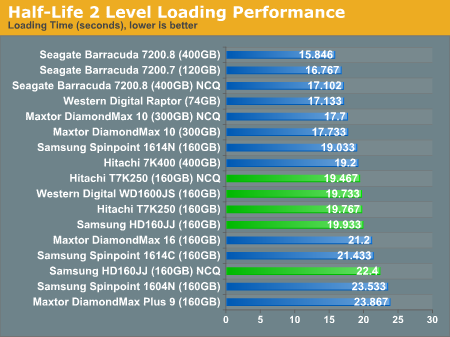 The Barracudas still hang on to first place spots when loading Half-Life 2's d1_canals_01 map. Our SATA300 drives barely broke the 20sec mark.