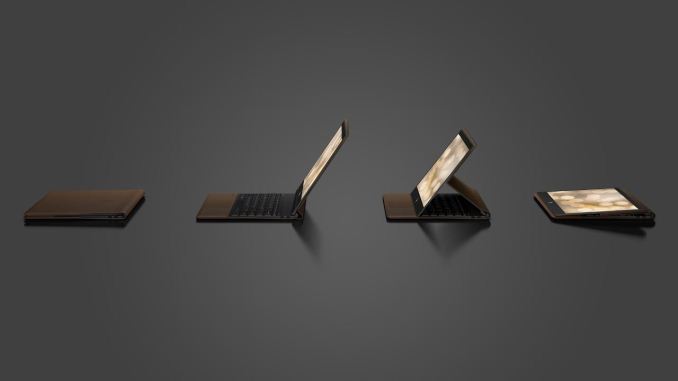 This morning at an event in NYC, HP revealed the HP Spectre Folio, which is a very unique take on the laptop, thanks to its all leather exterior. Featuring 100-percent chromed tan, full-grain leather, the Spectre Folio is going to be an even more luxurious feel than we've been accustomed to in the laptop space. It'll be offered in two colors, with Cognac Brown and Bordeaux Burgundy leather choices.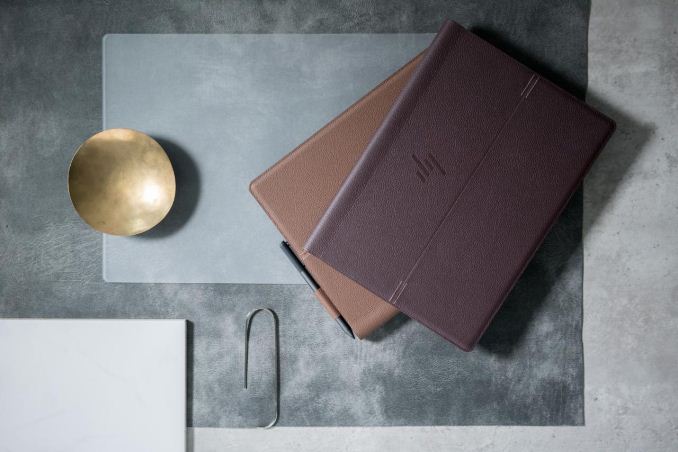 The Spectre Folio is also a convertible PC, with the ability to transform from a laptop into a tablet form factor, as well as an easel mode which would be similar to the tent mode in a Yoga form factor. But rather than the fold around keyboard like you'd see on a Lenovo Yoga, HP has gone the same route as Acer did with the Aspire R 13 several years ago.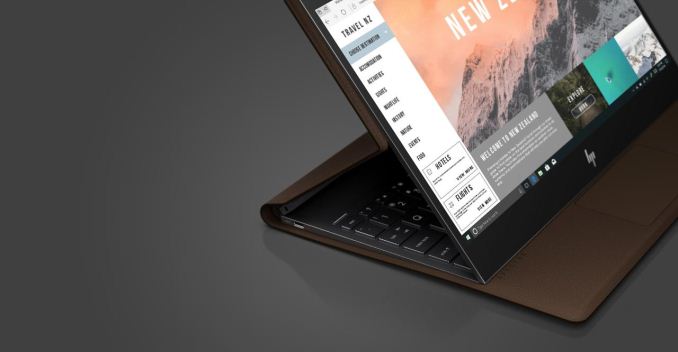 Powering the HP Spectre Folio is the Intel Core i5-8200Y processor, which is the latest in the Y series, featuring a 5-Watt TDP for fanless operation, a base frequency of 1.3 GHz, and a maximum turbo frequency of 3.9 GHz. For those that need a bit more grunt, there will also be a Core i7-8500Y which is 1.5-4.2 GHz. You can get either 8 or 16 GB or LPDDR3 RAM, and up to 2 TB of NVMe SSD storage.
HP Spectre Folio
Core i5
Core i7
CPU
Intel Core i5-8200Y
1.3-3.9 GHz
5W TDP
Intel Core i7-8500Y
1.5-4.2 GHz
5W TDP
RAM
8 to 16 GB LPDDR3-1866
Storage
256GB to 2TB NVMe SSD
Display
13.3" 1920x1080 IPS
Corning Gorilla Glass 4
UHD Panel Available Soon
Wireless
Intel 802.11ac Wi-Fi
Intel XMM 7560 LTE Advanced Pro optional
Audio
Bang & Olufsen quad-speakers
Keyboard
Full-size backlit
I/O
2 x Thunderbolt 3
1 x USB 3.1 Gen 1 Type-C
1 USB 3.1 Gen 2 Type-A (via included dongle)
Headset jack
Battery
54.28-Wh battery
65-Watt AC Adapter
Dimensions
12.6 x 9.23 x 0.60 inches
Weight
3.28 lbs
Ships with
Digital Pen
USB-C to A dongle
Prices
$1299.99 and up
There are a couple of display options, with the base model coming with a 1920x1080 13.3-inch panel HP is rating for 300 nits, or a 1-Watt model that's rated for 400 nits. Later this year, there will be a UHD panel as well. All of the displays of course offer touch, and pen support.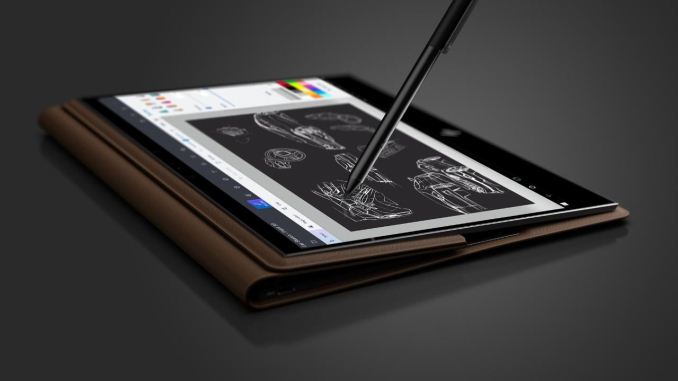 HP is claiming up to 19 hours of battery life in "mixed" usage from the 55 Wh battery, and the 65-Watt AC adapter should charge it quickly.
The laptop isn't as thin and light as other recent 13-inch models, but it should still be fairly easy to tote around thanks to the 0.6-inch thickness and 3.28 lb weight.
Those that need lots of connectivity will be happy to see the two USB-C ports with Thunderbolt 3 support though, and the laptop will be available with LTE as well.
At HP's event, their tagline was "HP Reinvents the PC" and on some level they have done that. The leather form factor is definitely an interesting idea. The leather is used as the hinge, and there are magnets strategically placed to lock the laptop into the various positions. The form factor itself has been done before though, with reasonable success by Acer.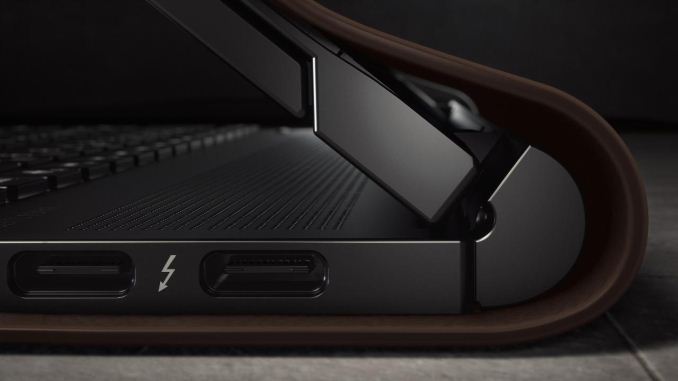 For those that want to take the new Spectre Folio for a spin, it is available today starting at $1299.99.
Source: HP