The fastest-growing area for computers in the past year has been the Small Form Factor barebone computers. That's why it seems every manufacturer lately has introduced a new SFF system in this market segment first created by Shuttle. As you have seen in our SFF reviews, most of the new SFF machines are just "me-too" boxes, but a few have stood out with thoughtful design or extremely quiet operation. However, only a few like Biostar or Soltek, have really challenged Shuttle's leadership in this market. It also seems that almost every new SFF is based on the Intel 865G chipset. With the popularity and value of the 865G, combined with the integrated Intel graphics, this is certainly understandable. It is rare, however, that a new 865G SFF stands out from the crowd.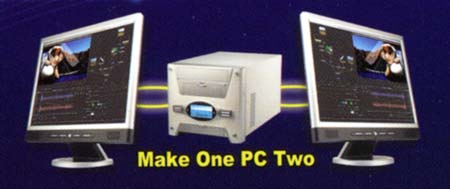 The Jetway Magic Twin 865
does
stand out in this increasingly crowded market. It is the first and only 2-user SFF that we have seen or heard about. Someone in Jetway obviously took a long hard look at the SFF market and asked how Jetway could distinguish themselves in the crowded 865 SFF market. Jetway's answer was the MiniQ 860Twin based on their proprietary 865GFT 2-user SFF motherboard.
So, what exactly is Magic Twin? What can it do?
1 PC can be used by 2 users at the same time
2 users can browse the internet, send and receive email at the same time
2 users can access all software installed on the PC at the same time (Excel, Word, PowerPoint, Data Base, games, etc.)
2 users can play games against each other with a dual-port VGA card
Magic Twin looks like a pretty unique solution for a home with 2 kids doing homework, or even as a budget system where Dad or Mom can browse the Internet while a child is doing homework on the Jetway computer. Another interesting use would be the small business with a small budget, which describes just about every startup company. 2 users can share a small Jetway MiniQ computer, which is not very expensive and doesn't take up much space.