Design
When we think of Thermaltake, the image that comes to mind is their trademark front bezel design. This particular model has a black front bezel to match the rest of the 0.8 mm SECC shell, with red brushed aluminum trim to give it a sleek look. It also sports a skull designed light with 3 modes, a flashing pattern that complements the VM3000A's strong looks, a constant On mode, as well as an Off mode. The inverter switch used to change between the 3 modes can be detached from the system if the light show is not to be used.
The VM3000A features a swinging door, which conceals the drive bays as well as the power and reset buttons and LEDs. The buttons themselves are both flush to the plastic casing to prevent accidental shutdowns or resets. The entire front bezel can be removed easily by grabbing hold of the bottom side and pulling straight forward from the case.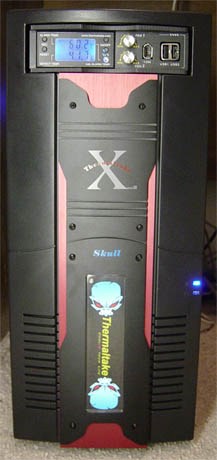 Click to enlarge.
The side panels are also made from the same strong 0.8 mm SECC as the rest of the chassis, so bending is not a problem. The left panel has a plastic window, which is also shielded with its honeycomb design. Both panels are screw-less and can be removed and replaced easily. Both panels are EMI shielded to help protect the installed hardware from magnetic interference.