The Contenders
Since this is a budget roundup, price is a very important factor in decision making. To get an idea of how current pricing is shaping up, here are the prices of these processors at the time of publishing, sorted from the most expensive to the least (pulled from our DealTime engine).
| | |
| --- | --- |
| Processor | Price |
| Intel Pentium 4 1.8A | $120 |
| AMD Athlon XP 2600+ (2083MHz) | $88 |
| AMD Athlon XP (Barton) 2500+ (1833MHz) | $86 |
| Intel Celeron 2.6GHz | $85 |
| AMD Athlon XP 2400+ (2000MHz) | $68 |
| Intel Celeron 2.4GHz | $68 |
| Intel Celeron 2.2GHz | $67 |
| Intel Celeron 2.0GHz | $65 |
| AMD Athlon XP 2200+ (1800MHz) | $63 |
| AMD Athlon XP 1700+ (1466MHz) | $56 |
| AMD Duron 1.6GHz | $41 |
The prices fall where we would expect. Intel processors are priced near AMD CPUs with similar model numbers. That makes a price–to-performance comparison fairly simple, as the only factor we really need to consider is performance.
The Athlon XP processor has been in the spotlight for quite some time. Over the years, what used to be high end processors are given new life as budget products. The technology behind the Athlon XP and Pentium 4 1.8A are very well documented, so we'll spend some time speaking about the other players in this review.
Intel Celeron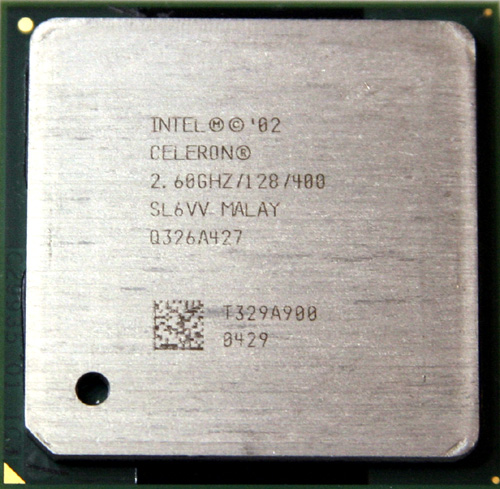 The main difference between a Pentium 4 processor and a Celeron is cache (high speed memory on the processor core) size. The Celeron takes a cut in L2 cache from 512KB down to 128KB. The L1 cache in the Celeron remains unchanged from that of its big brother. Cutting down the L2 cache's size will increase cache misses (number of times when the information that the processor needs is not located in the cache), which will slow down the processor while it has to wait for its data.
The Celeron processors are also limited to a 400MHz system bus, which, in turn, limits RAM speeds on the system to 133MHz (DDR266) when used on 865 or 875 based motherboards. Aside from these, the only other difference between Celeron and Pentium 4 is that none of the Celerons offer HyperThreading.
Celeron processors are available in many speed grades between 1.7GHz and 2.8GHz. For this comparison, the fastest Celeron under our $100 price point runs at 2.6GHz.
AMD Duron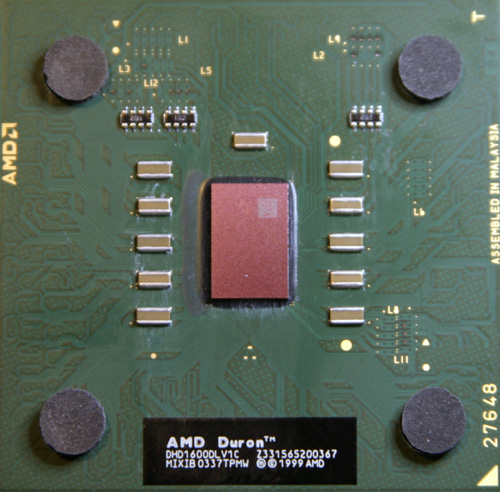 Like the Celeron, the Duron is basically a stripped down version of a mainstream processor. In this case, we drop to a 64KB L2 cache. The L1 cache on the Duron remains at 128KB, giving the AMD budget line a larger overall cache than the Celeron. The Duron also operates on a 133MHz FSB, and there isn't a limit on RAM speed as there is with the Celeron line when used on any Socket-A platform.
The Duron processor is currently only available in three speed grades: 1.4GHz, 1.6GHz and 1.8GHz. For this review, we tested with the 1.6GHz model.