Today, Corsair officially introduces the PRO series of XMS memory. All of the new PRO series modules feature a new cast aluminum heatsink and flashing LED "activity lights". According to Corsair, the following modules will be immediately available:
TwinX1024-4000PRO — matched pair of 512MB, DDR500 modules
TwinX1024-3200C2PRO — matched pair of 512MB, DDR400 modules
CMX512-4000PRO — 512MB, DDR500 module
CMX512-3200C2PRO — 512MB, DDR400 module
We will be taking a closer look at the improved DDR500 memory in a 1GB kit. In our DDR500 roundup in
Searching for the Memory Holy Grail — Part 2
, Corsair was competitive, but was not the best-performing memory in the roundup. With the new 4000 PRO, we will be comparing Corsair's second generation DDR500 to the earlier Corsair TwinX1024-4000 and the best DDR500 modules from our recent tests.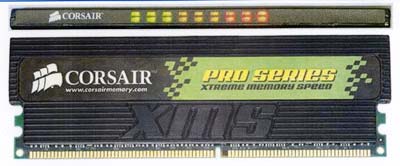 As you can see, the Pro modules are taller, at 1.75" than regular XMS memory. This is most likely to allow room for the LED array that shows memory activity. The cast aluminum heatsink has fins that Corsair claims increases surface area by 95% compared to standard aluminum ramsinks, which should increase the cooling ability. There are also 18 LED's in 3 different colors — green, yellow, red — which show the level of memory activity.
Certainly, the new flashing LED's will give another option to case modding. Those who prefer side windows and an attention-grabbing appearance will welcome the activity LED's. The flashing 3-color display puts on quite a show compared to the more conventional memory designs.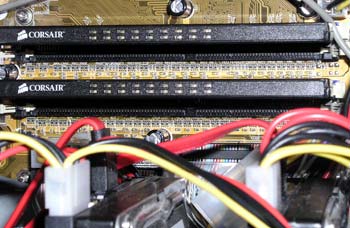 Corsair tests the DDR500 modules in an Asus P4C800 motherboard and the modules are programmed to JEDEC 3200 (DDR400) values There is no official standard yet for DDR500, but all of the manufacturers seem to be using the 875/865 chipset motherboards to verify their high-speed performance. There is frankly no real need for DDR500 on the current fastest Athlon chipsets, since neither the chipsets nor the Athlon CPUs have shown any capability of reaching DDR500 performance levels. While this may change with the introduction of Athlon64, the DDR500 and high-speed memory phenomenon is, for now, an Intel chipset playground — primarily related to the Intel 875/865 chipsets.
With the TwinX1024-3200C2PRO, Corsair tests performance in both an Asus A7N8X nForce2 Ultra 400 board and the P4C800 Intel 875 motherboard. This looks very sensible since Athlon fans will more likely need DDR400 to DDR433 memory for best performance.