ASUS A7V600: Basic Features
Motherboard Specifications
CPU Interface
Socket-462
Chipset
VIA KT600 North Bridge
VIA VT8237 South Bridge
Bus Speeds
up to 250MHz (in 1MHz increments)
Core Voltages Supported
up to 1.850V (in 0.050V increments)
AGP Voltages Supported
up to 1.8V (in 0.1V increments)
DRAM Voltages Supported
up to 2.85V (in 0.1V increments)
Memory Slots
Three 184-pin DDR DIMM Slots
Expansion Slots
One AGP 8X Slot
Six PCI Slots
One Wi-Fi (Wireless Fidelity) slot
Onboard IDE RAID
N/A
Onboard USB 2.0/IEEE-1394
Eight USB 2.0 ports supported by VT8237
No IEEE-1394 FireWire
Onboard LAN
3Com 3C940 Gigabit LAN
Onboard Audio
ADI AD1980 SoundMax 5.1 codec
Onboard Serial ATA
Two SATA connectors via VT8237
(RAID 0, 1, JBOD)
BIOS Revision
1.004 Release BIOS (7/24/2003)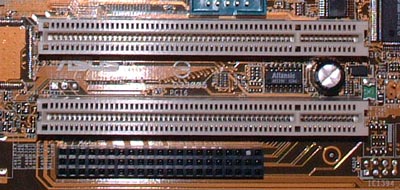 One of the stand-out offerings on the A7V600 is the Wi-Fi slot. The slot is an ASUS proprietary design that allows connection of an ASUS wireless networking module. The optional module, when it becomes available, allows 11 Mbps transmission (with a fall-back to 5.5, 2, and 1Mbps) in the 2.4GHz band.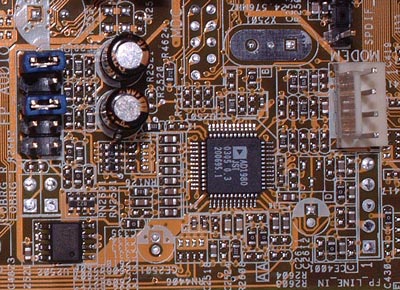 ASUS has included ADI SoundMax audio 5.1 audio on the A7V600. There is also a coaxial SPDIF out port included on the back I/O connections where we would normally see a second serial port. ADI SoundMax is the same audio chip used in ASUS 865/875 high-end motherboards. It is also used by Intel on their 865/875 motherboards. SoundMax is one of the more flexible AC '97 2.2 compliant sound codecs. With SPDIF included on-board, you also have more quality audio options. ASUS has also provided an onboard connector for an
optional
second SPDIF adapter with both coax and optical I/O ports. Three mini-jack connections are used for standard audio, but like all 3-jack solutions, a 6-speaker setup will eliminate access to both microphone and line-out jacks by redefining the jacks as speaker connections. VIA would certainly prefer that manufacturers use their excellent VT1616 audio codec. However, with the KT600 so quickly becoming slotted as a value board, it is difficult to fault manufacturers who are looking for cost savings. The ADI SoundMax will be a fine solution for most users, but if you prefer a higher-end audio solution using a PCI audio card, the on-board Audio can be easily disabled.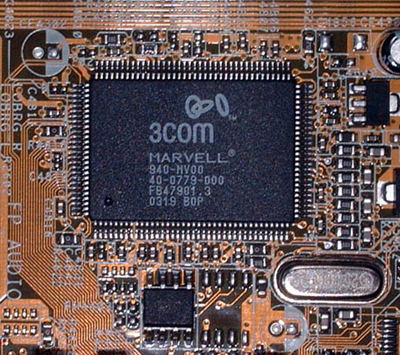 The 3Com gigabit LAN chip is used on the KT600 – the same chip used on the top-line Canterwood P4C800 Deluxe and Springdale P4P800 Deluxe. It is very unusual to see a gigabit LAN chip used in a motherboard selling in this price range, and GigaLAN on this ASUS makes it stand out over competing KT600 chipset boards.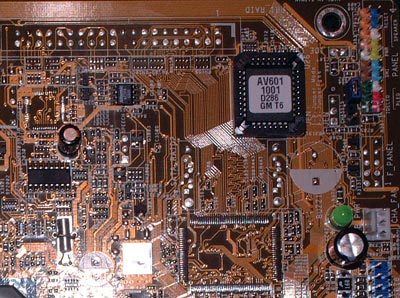 It is surprising that ASUS did
not
include Firewire on the A7V600. This is likely a feature that also fell victim to last minute cost-cutting, since there are several available positions on the board. ASUS has included their stable of proprietary protection and security solutions, notably:
C.O.P. (CPU Overheating Protection) – provides automatic shutdown at high CPU temperatures
Crash-Free Bios2 – said to allow restoration of BIOS from support CD in the event of BIOS flash failure. This is the ASUS single-BIOS answer to those manufacturers now using dual BIOS.
CPR – CPU Parameter Recall – reset of known good CPU values after rebooting from a failed overclock attempt
EZ Flash BIOS – one of the original Windows-based flash utilities
Q Fan – ability to monitor and adjust fan speeds for best performance and/or least noise
Instant Music Lite – allows playback of audio files on a CD without booting into Windows

The A7V600 ports configuration is fairly complete, and includes PS/2 mouse and keyboard ports, one serial port, one coaxial SPDIF jack (in place of the normal second serial port), one parallel port, four USB 2.0 ports, one LAN port, and Mic In, Line In, and Line Out, which drive the onboard sound. There are no Firewire ports, but ASUS does include a game port connection and bracket, which will be important to some.
As with most KT600 motherboards we've seen, the ASUS A7V600 has native Serial ATA support courtesy of VIA's new VT8237 South Bridge. The A7V600 supports RAID 0 (striping for Performance), 1 (Mirroring for security) & JBOD (literally, "Just a Bunch Of Drives"; a technique for Spanning or combining drives so that they appear as one drive). Since only two Serial ATA drives are supported, Raid 0+1, which requires four drives, is not supported. Once again, we find features on the low-priced KT600 boards that are not expected – Serial ATA and Serial ATA RAID. These features are certainly not native on the more expensive nForce2 Ultra 400 motherboards. Serial ATA and SATA RAID
are
features, however, on the recently introduced Intel 865/875 chipsets from the Pentium 4.
Another nice addition to VIA's new Southbridge is the increase in V-link speed from 533MB/s to 1066MB/s. This is to keep VIA's architecture competitive with SiS, who has featured their high-speed Mutiol connection between chipset components. As we said earlier, there is little that goes wanting in VIA's new South Bridge, except the very important ability to perform at nForce2 Ultra 400 performance levels. The KT600 boards are loaded with up-to-date features, and provide some added value compared to nForce2 motherboards.