AR
Microsoft has started sales of its HoloLens 2 mixed reality smart glasses. Aiming to be a significant upgrade over its predecessor in both field and overall performance, the second generation of the company's head-mounted computer is geared primarily towards enterprise organizations, where Microsoft and its partners are continuing to experiment with and develop practical applications for augmented reality in the workplace. From a tech perspective, Microsoft's HoloLens 2 isn't a radical departure from the original HoloLens in terms of features and basic design goals, but as a second-generation product Microsoft has put a lot of work into improving the technology and the user experience. HoloLens 2's visual system offers a 52º diagonal field-of-view (up from 34º) with a resolution of 47 pixels per degree on...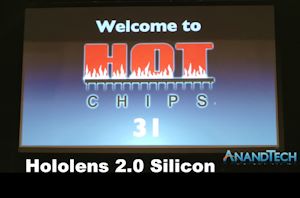 The final presentation of Hot Chips 31 is from Microsoft, who will be lifting the lid of the silicon behind its HoloLens 2.0 product.
5
by Dr. Ian Cutress on 8/20/2019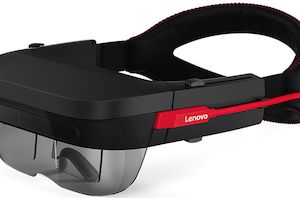 Lenovo has unveiled its new family of AR headsets designed primarily for business applications. Lenovo's ThinkReality head mounted displays will feature software and hardware developed by Lenovo for workers...
3
by Anton Shilov on 5/15/2019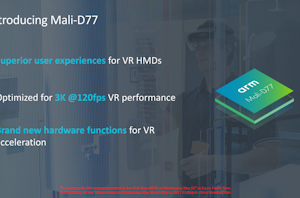 Display processors usually aren't really much a common topic in the press and only few companies actually do advertise the capabilities beyond a simple mention of the maximum resolution...
18
by Andrei Frumusanu on 5/15/2019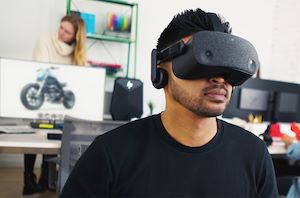 Numerous companies are making attempts to drive VR technology to the commercial space. HP this week introduced its first AR/VR headset that was designed from the ground both for...
41
by Anton Shilov on 3/20/2019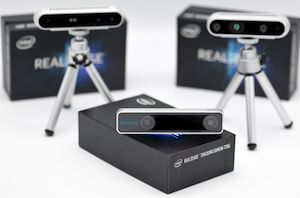 Intel this week introduced its new RealSense Tracking Camera T265 featuring 6-degrees-of-freedom (6DoF) inside-out tracking. The tracking device is aimed primarily at various self-driving applications like small robots or...
14
by Anton Shilov on 1/24/2019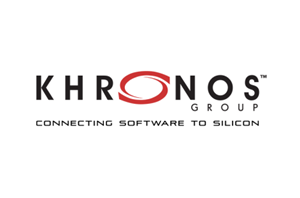 Today at SIGGRAPH the Khronos Group, the industry consortium behind OpenGL and Vulkan, announced the ratification and public release of their Neural Network Exchange Format (NNEF), now finalized as...
8
by Nate Oh on 8/14/2018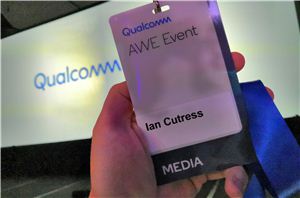 Qualcomm is attending the AWE Event, an AR and VR expo. We're here at their press event in Levi's Stadium, ready for the Live Blog. Event starts at 7pm Pacific.
18
by Ian Cutress on 5/29/2018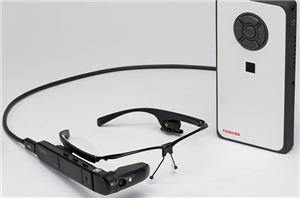 Toshiba this month started selling its first wearable AR smart glasses designed for business and industrial applications. The Toshiba dynaEdge AR is a highly-integrated solution comprising of a head...
21
by Anton Shilov on 5/22/2018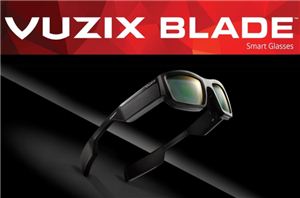 LAS VEGAS, NV -- Vuzix announced that its latest product would debut next week, and it may be the breakthrough in AR devices that we've been waiting for. The...
6
by Joe Shields on 1/9/2018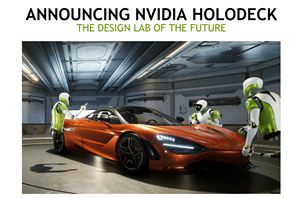 In addition the Drive PX Pegasus, NVIDIA announced Holodeck Early Access at GTC Europe 2017 in Germany. First announced at the primary GTC 2017 as Project Holodeck with early...
15
by Ian Cutress & Nate Oh on 10/13/2017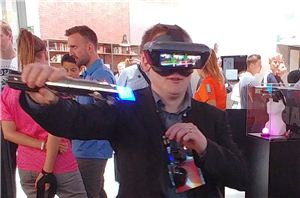 "The chosen one you are, with great promise I see." Now that Disney owns the Star Wars franchise, the expansion of the universe is seemingly never ending. More films...
13
by Ian Cutress on 9/4/2017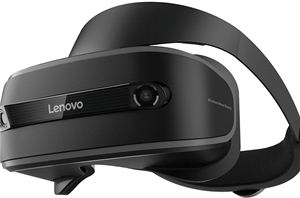 Lenovo has introduced its augmented/virtual reality head mounted display (HMD) compatible with the Windows Mixed Reality platform. The Lenovo Explorer device requires a PC to operate and runs applications...
1
by Anton Shilov on 9/1/2017