Aquantia
LAS VEGAS, NV — MSI's GT75VR Titan Pro, a more than capable premium gaming laptop, gets a notable update in the wireless department. Last year's model used the Killer 1535 and was 'limited' to 867 Mbps. The latest GT75VR Titan Pro will soon begin shipping with the recently announced Killer 1550 that is capable of transfer rates to 1.73 Gbps for twice the throughput. The Killer 1550 is a conglomeration of Rivet and Intel to combine all the features that Rivet wanted to bring the table, but with Intel designing and manufacturing the chip. Our Dr. Ian Cutress says this in our recent Killer Wireless-AC 1550 article: "The end result is that the AC 1550 should have the stability of Intel (in fact, the AC9260...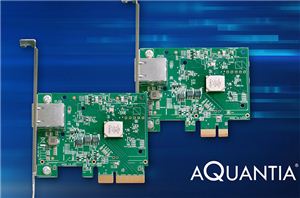 Aquantia got a lot of positive publicity this year with its relatively inexpensive 5G and 10G network cards, which brought multi-gigabit Ethernet down to around $100, making them some...
41
by Anton Shilov on 11/23/2017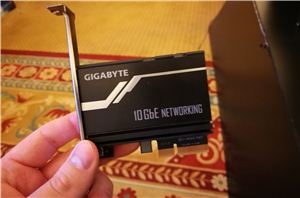 GIGABYTE has added the GC-AQC107 10 GbE PCIe card it demonstrated early this year at CES to the list of products on its website. The product is also listed...
28
by Anton Shilov on 11/9/2017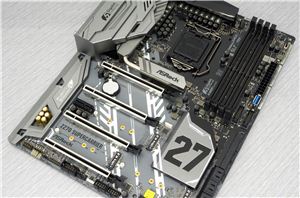 In this review we are having a close look at ASRock's Z270 Supercarrier, an apical motherboard that is targeting design professionals and hardcore gamers. The motherboard is bristling with...
51
by E. Fylladitakis on 9/29/2017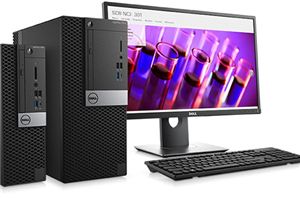 Aquantia and Dell this week began to offer Aquantia's AQtion AQN-108 5 GbE network controller as a build-to-order option for the OptiPlex 7050 workstations. Dell is the first major...
10
by Anton Shilov on 8/18/2017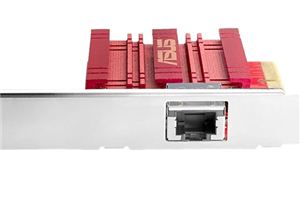 ASUS this week released the first inexpensive vendor-based consumer-grade 10 GbE / 10GBase-T card powered by an Aquantia silicon. The card can be installed in any modern PC with...
26
by Anton Shilov on 7/3/2017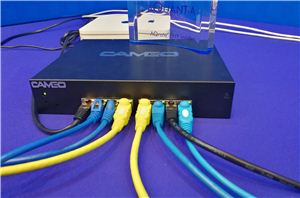 For users that have been following our recent coverage of Aquantia's new multi-gigabit Ethernet solutions for consumers, the AQtion AQC107 and AQC108 controllers (along with their corresponding PCIe cards)...
40
by Ian Cutress on 6/5/2017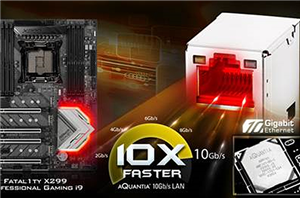 ASRock has introduced its flagship motherboard for Intel's upcoming Core X series HEDT processors. The Fatal1ty X299 Professional Gaming i9 packs about everything that that is possible, including advanced...
9
by Anton Shilov on 5/31/2017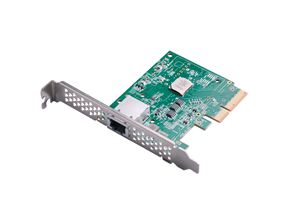 Late last year, Aquantia launched their range of multi-gigabit Ethernet controllers. These were controllers that could enable 1G, 2.5G and 5G connections over standard RJ45 connectors and Cat5e cabling...
33
by Ian Cutress on 5/15/2017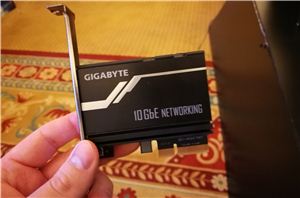 During December, Aquantia announced that it will be launching two multi-gigabit NICs into the market, offering 2.5G/5G capability on both and one with 10GBase-T as well. We were told...
25
by Ian Cutress on 1/11/2017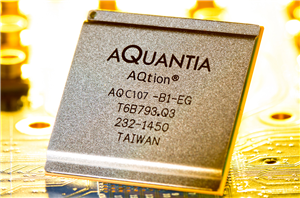 Frequent readers of AnandTech will have recognized that our coverage of higher speed network interfaces over copper, particularly 10G, for the home and business has increased recently. This is...
32
by Ian Cutress on 12/14/2016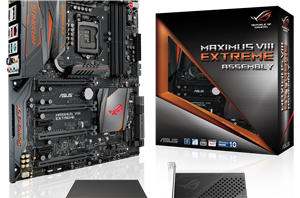 We covered the launch of ASUS' most expensive Z170 motherboard when the announcement was made (we also have it in for review), but late last week another announcement landed...
21
by Ian Cutress on 11/16/2015