CPU Performance, Cont
Having taken a look at Snapdragon 820 and the Kryo CPU from an architectural perspective, let's look at our higher level benchmarks. We'll start as always with the web benchmarks.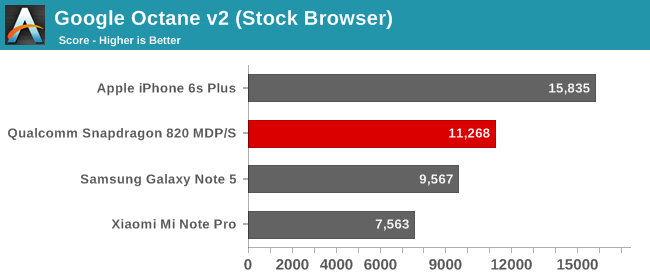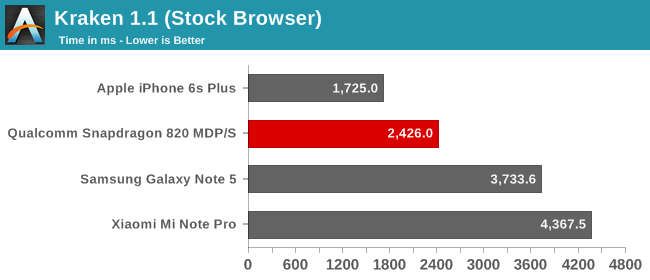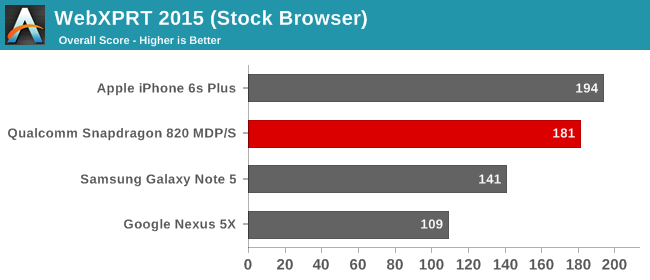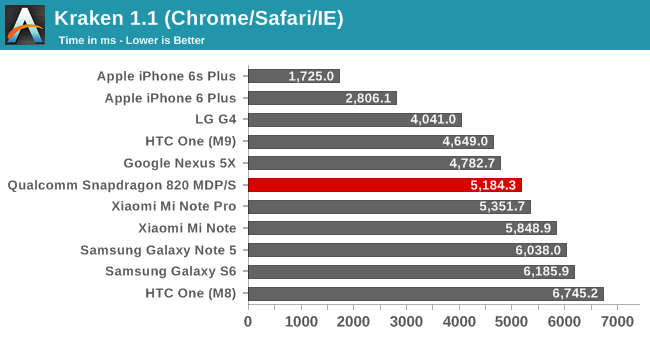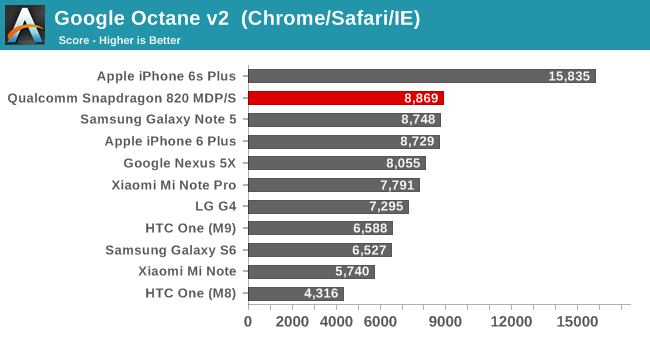 There are two things we can immediately take away from these results. The first is that currently Google Chrome is incredibly unoptimized for Kryo, and this is something Qualcomm was also quick to mention. We won't wax on about this as there's nothing to say we haven't said before, but Chrome could certainly stand to implement optimized JS engines sooner.
Otherwise if we look at Qualcomm's native browser, things are greatly improved. Relative to both the Exynos 7420 (A57) powered Note 5 and the Snapdragon 810 (A57) powered Mi Note Pro, the MDP/S shows a significant lead. In fact it pretty much blows past those devices in Kraken. However while it easily takes the top spot for an Android device, even with Qualcomm's native browser the 820 isn't going to be able to catch up to the iPhone 6s Plus and its A9 SoC.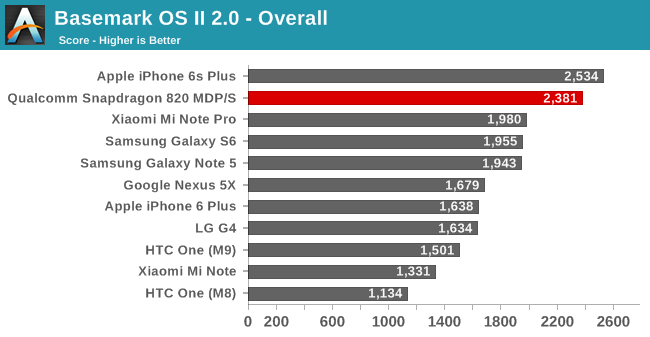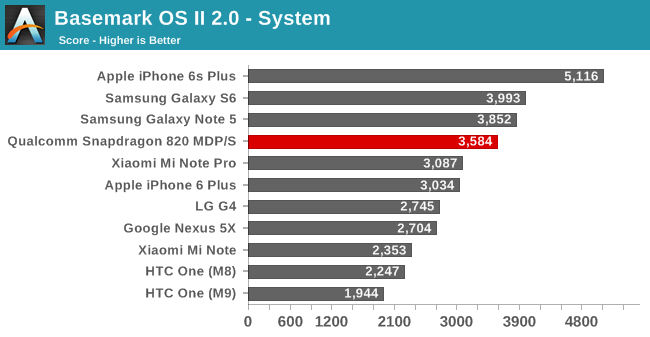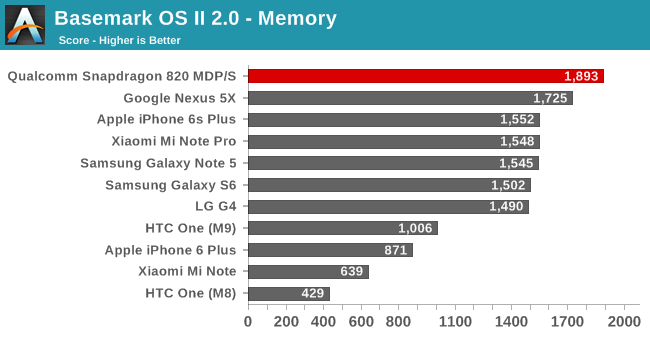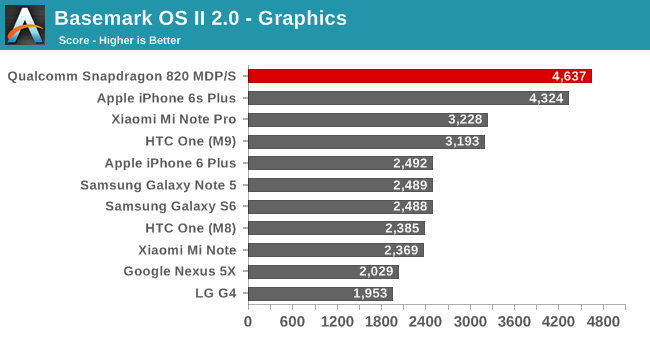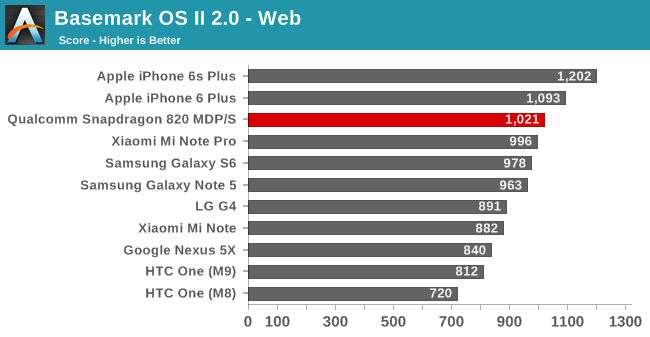 Basemark OS II 2.0 on the other hand is less consistent. The overall score again pegs the MDP/S as the best Android device, and by over 20%. However for reasons yet to be determined, the system score is still below the latest Samsung devices. Instead where the 820 shows a clear lead is with the storage (memory) score and the graphics score. In some cases it's even beating the iPhone 6s Plus, though overall it will fall short.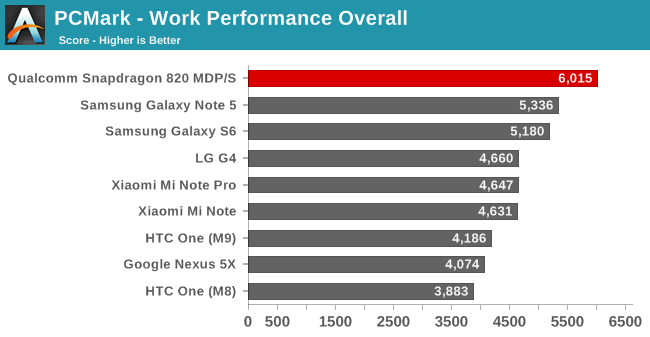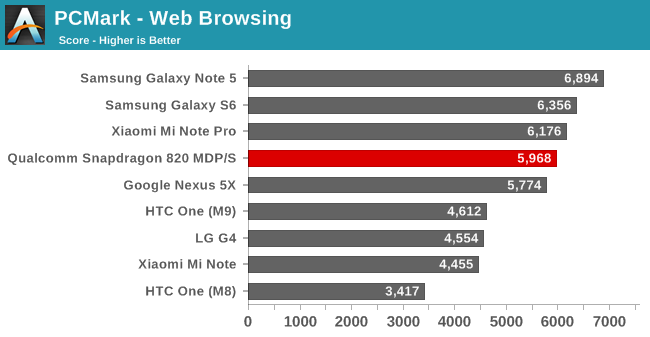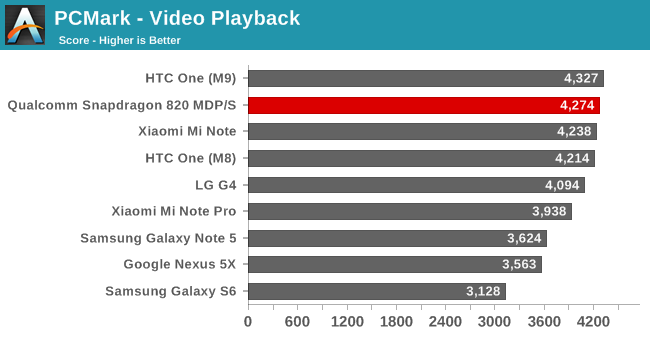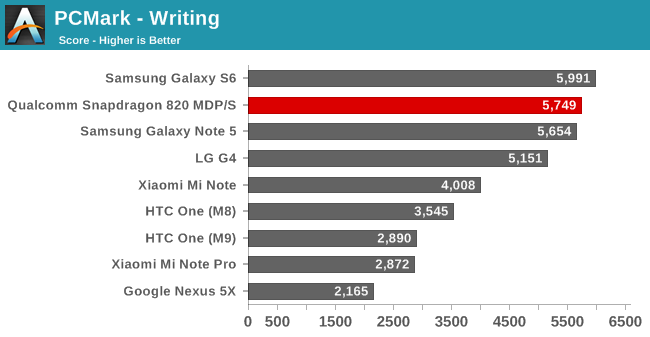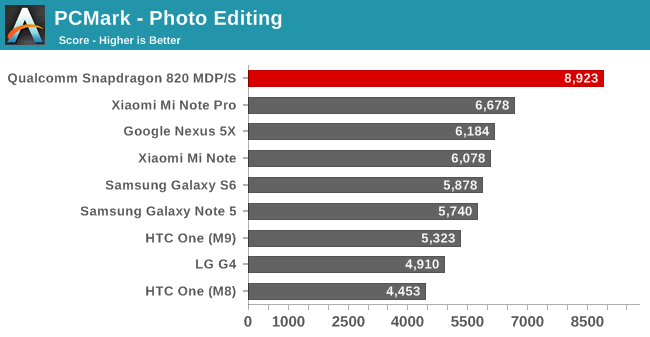 Our final system benchmark, PCMark, once again puts the MDP/S in a good light overall, while the individual sub-tests are more widely varied. Likely owing to the same optimization issues that dogged Chrome performance, web browsing performance trails the A57 devices. Meanwhile video playback closely trails the Snapdragon 810 powered HTC One M9, and writing performance won't quite surpass the Galaxy S6. Where the 820 MDP/S makes up for it is in the photo editing score, which is through the roof. Here Qualcomm's development device holds a 34% performance lead over the next-fastest device, the 810/A57 based Mi Note Pro.