System Performance
Acer shipped the Intel Core i7-5500U model, which is a dual-core Broadwell based processor with a base frequency of 2.4 GHz and a turbo frequency of 3 GHz. Being a Broadwell U-series processor, it has a 15 watt TDP. Interestingly the original Acer S7 that we tested was the i7-3517U which also had up to 3 GHz of Turbo frequency. Some of our benchmarks have changed, but I'll include it where I can just to see what kind of gains we see from Ivy Bridge to Broadwell.
The 8 GB of DDR3L is in dual-channel configuration, and as I have already mentioned the storage is in RAID 0.
This will likely be the last Broadwell based Ultrabook to be tested, since Intel has recently launched Skylake and laptops will soon begin to appear. Broadwell was short lived, with the U series being launched at CES this year. It has done surprisingly well especially with battery life, but also performance, so I am pretty excited to see what the new architecture of Skylake brings to the table.
As usual, the S7 was but through our standard Ultrabook workload. I've sampled some similar devices for the graphs, but if you would like to compare the S7 to any other notebook we have tested, please use our Notebook Bench. We have had the pleasure of testing every version of the Acer S7, from the original Ivy Bridge, the second generation Haswell version, and the latest Broadwell one, all with comparable i7 processors and 1080p panels so I have included the older models as well just to see what two generations of CPU gain can do when the rest of the platform stays more or less the same. Since our benchmarks change over time, we don't have scores for every single test but they are included where we do have scores.
PCMark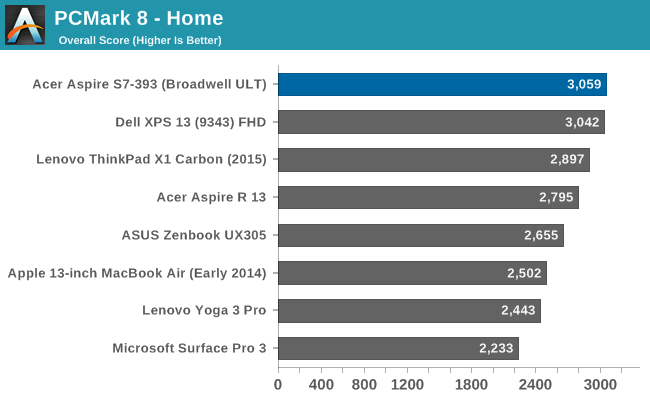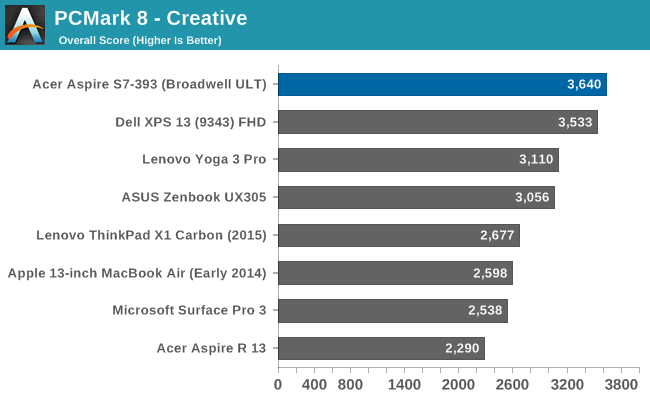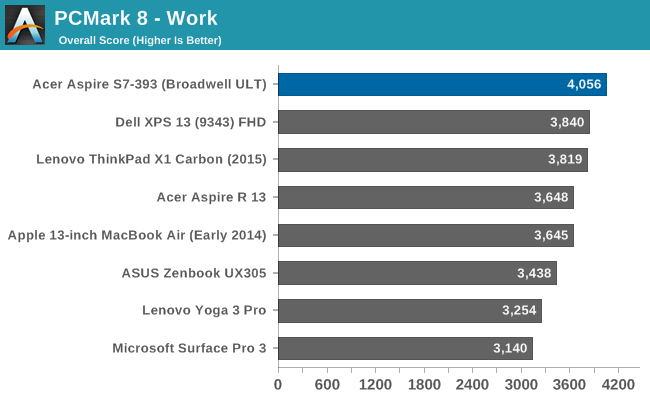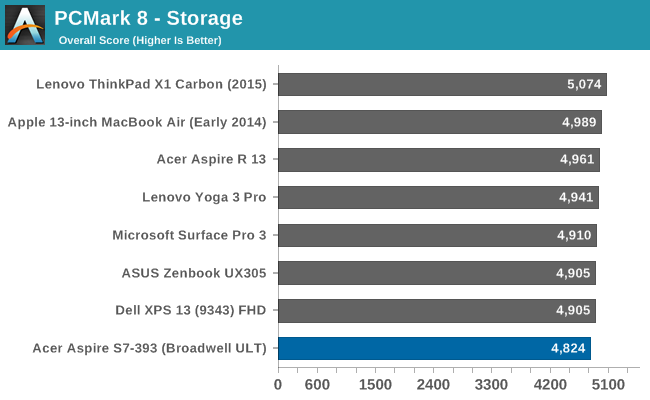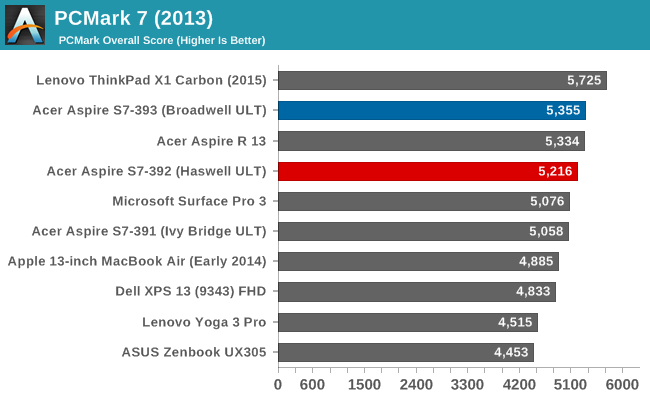 PCMark attempts to replicate real world use cases rather than just max out the CPU and see what it can do. It factors in the entire system including storage, GPU, and even display resolution. The 1080p Acer S7 with it's Core i7 does very well on these tests. One note though is the storage score. Despite having two SSDs in RAID 0, it actually scores at the bottom of this test and the overall throughput is no better than a single good SSD. I'm not a big fan of RAID 0 and this is one of the reasons why. Real world use does not really show much of a gain. It would be better for Acer to focus on a single, preferably PCIe SSD if they want to push the performance envelope. The target market for an Ultrabook likely doesn't even know what RAID is.
Cinebench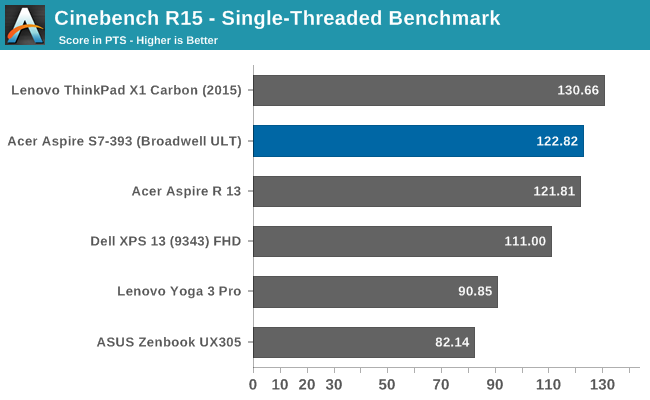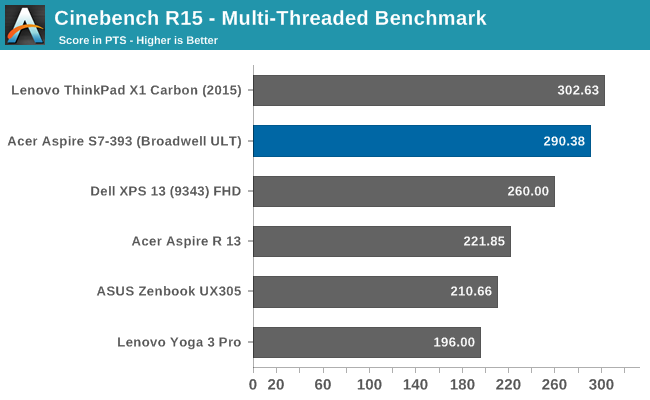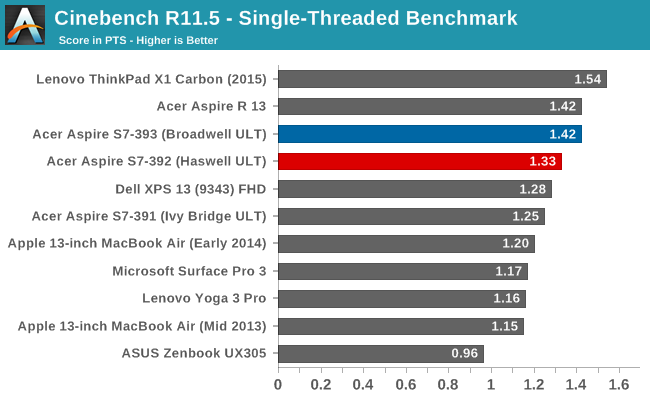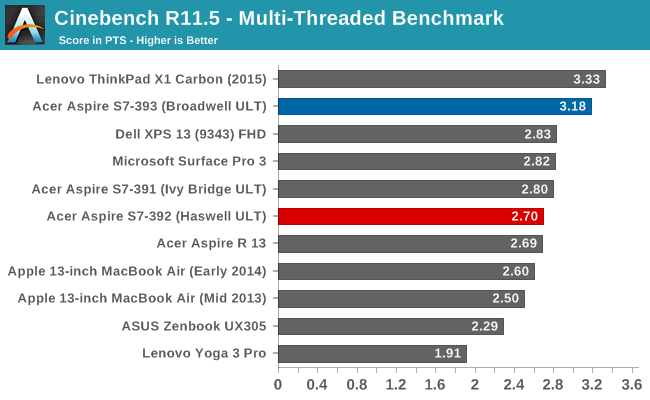 Cinebench is a purely CPU based benchmark, so the Core i7-5500U scores near the top of this test, being passed by just the X1 Carbon's Core i7-5600U. In the older R11.5 version of the test you can see the gains made over Haswell, especially on multi-threaded workloads. This is because Broadwell can maintain a higher turbo for longer than Haswell with the lower operating voltage.
x264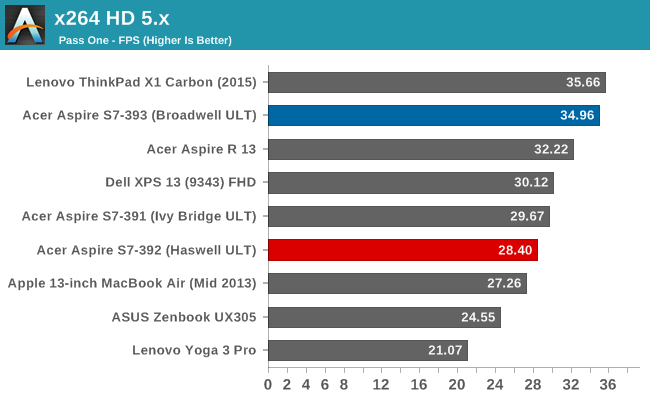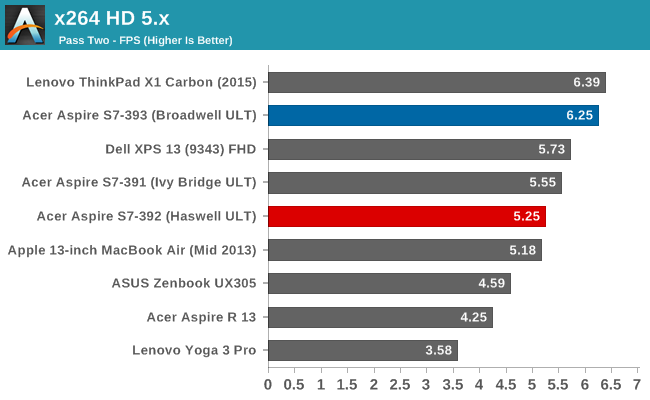 Much like Cinebench, this test is mostly a CPU test. The i7 once again comes in just below the slightly higher X1 Carbon's i7-5600U just like it should. This benchmark can take a very long time to finish so it would also show any throttling, which generally is not an issue on active cooled 15 Watt processors.
Web Benchmarks
This is the first test we've done on Windows 10, and since Microsoft's new browser Edge is now comparable to Chrome for ECMAScript performance Edge will be used, at least for now. Web benchmarks are always a mixed bag because of the JIT compiler optimization by the various browsers.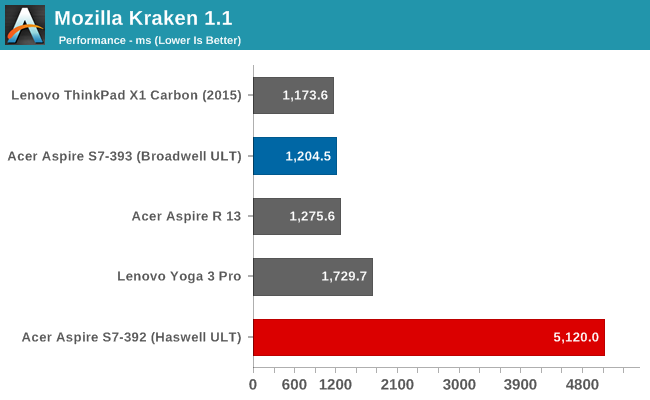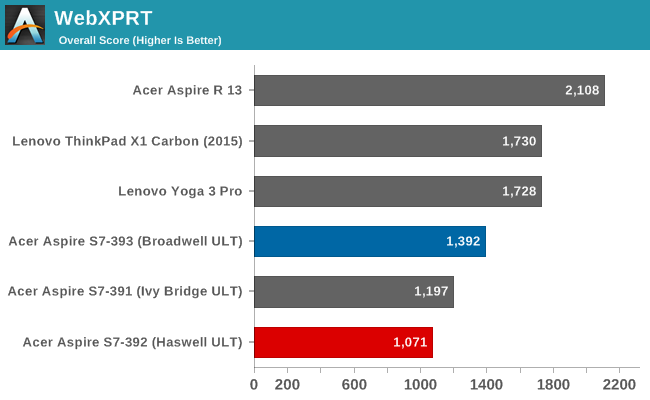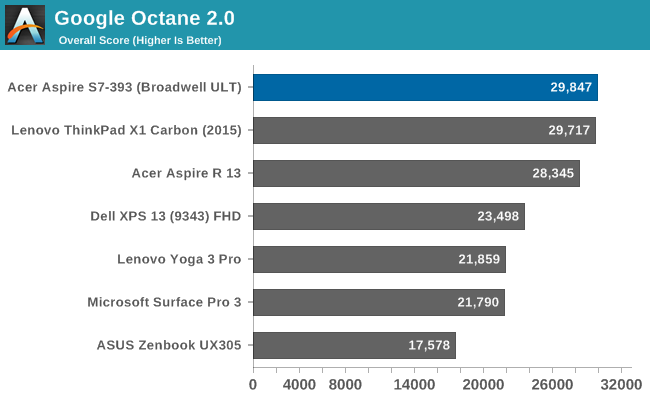 Unfortunately, it looks like the Haswell S7 was tested on Internet Explorer 11, and you can clearly see how poor it is for scripting. The Acer S7 scores well in both Kraken and Octane, but stumbles a bit in WebXPRT. The Haswell based S7 even falls behind the Ivy Bridge one here because Haswell was tested on IE. Scores on WebXPRT seem to have dropped off somewhat and it is difficult to explain. I also ran the test on Chrome and got a similar score.