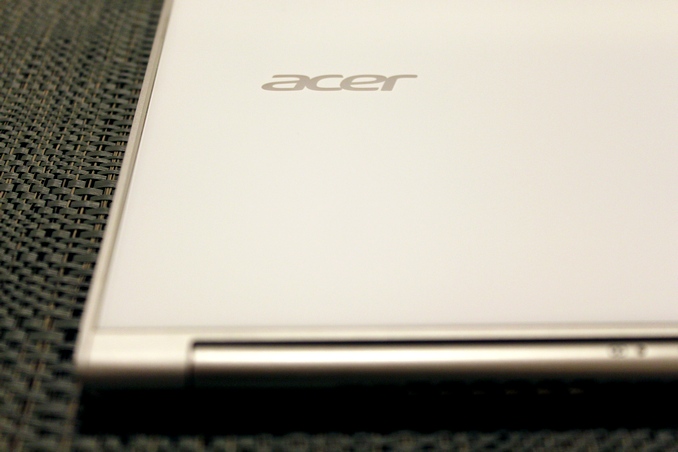 The last time we got a chance to do a full review the Acer Aspire S7, it was back in 2013. At the time it was a big step up from Acer, and the Ivy Bridge based S7 came with one of the slimmest and lightest bodies of that era. That was 2013. Anand also used the Acer Aspire S7-392 as his test machine for the Haswell-U launch in 2014, getting a chance to see the second generation Haswell version of the Aspire S7.
In 2015, the competition in the Ultrabook space has not sat idly by. One thing is for certain in the technology sector: no matter what kind of lead you have, if you stand still, you will be passed. This maxim keeps all hardware vendors on their toes, and for Acer and the Aspire S7 family is no exception.
Diving into matters then, today we're going to be taking a look at the latest generation of the Acer Aspire S7. For the 2015 model, Acer has shipped us the top end version with the Intel Core i7-5500U processor, and along with the processor update, the Acer also offers a 2560x1440 display upgrade from the base 1920x1080 model.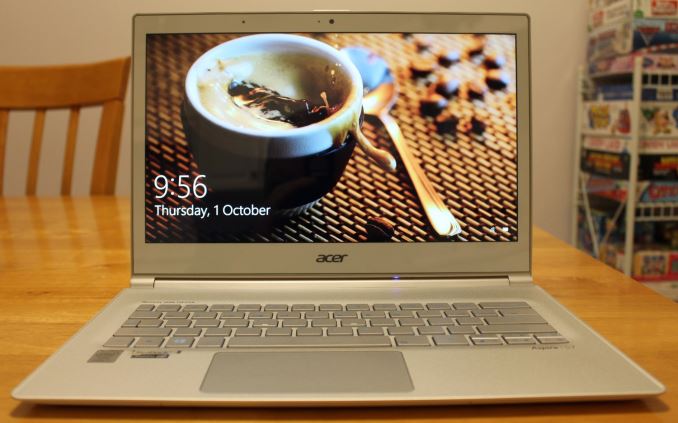 The review model I'll be looking at today features 8 GB of RAM, the aforementioned Core i7-5500U processor, the 1920x1080 resolution display, and a 256 GB SSD which is 2 x 128 GB in RAID 0. Acer calls this version the S7-393-7451, and despite the updated internals, Acer has kept the styling and form factor practically identical to the original S7 reviewed back in 2013. The model being tested lists for $1299 on the Acer site.
Since this model was first introduced prior to the release of WIndows 10, Acer still sells this S7 with Windows 8.1. But since that is eligible for the free upgrade to Windows 10, they were happy to have me upgrade it to Windows 10 for this review. This will then be the first laptop reviewed with Windows 10, but most of our testing unchanged from 8.1 to 10 with the exception of our battery life tests which were moved to use Microsoft's new Edge browser rather than Internet Explorer.
Acer Aspire S7-393
As Tested, Core i7-5500U, 8 GB RAM, 256 GB SSD, 1920x1080 Display
Processor
Intel Core i5-5200U (2C/4T, 2.2-2.7GHz, 3MB L3, 14nm, 15w)

Intel Core i7-5500U (2C/4T, 2.4-3.0GHz, 4MB L3, 14nm, 15w)
Memory
Dual-Channel 8 GB DDR3L-1600
Graphics
Intel HD 5500 (24 EU, 300-900 MHz on i5, 300-950 Mhz on i7)
Display
13.3" 1920x1080 IPS
Optional 2560x1440 IPS
Storage
256 GB SSD (2 x 128 GB RAID 0)
Networking
Intel Dual Band Wireless-AC 7265 (802.11ac, 2x2:2, 866Mpbs Max, 2.4 and 5GHz)
Bluetooth 4.0
Audio
Stereo Speakers (downfiring) 1 watt x 2
Realtek with Dolby Digital Plus
Battery
46 Wh Battery
45 Watt A/C Adapter
Right Side
USB 3.0
DisplayPort
Headset Jack
HDMI
Left Side
USB 3.0
DC In
Power Button
SD Card Slot
Dimensions
322 x 222 x 13 mm (12.7 x 8.8 x 0.51 inches)
Weight
1.31 kg (2.9 lbs)
Extras
720p Webcam
Backlit Keyboard
Dual-Torque Hinge
Pricing
$1389 As Tested on Amazon
$1299 on Acer.com
There are no surprises with the Acer S7. Wireless is provided by Intel's Wireless-AC 7265 card, the battery is a 47 Wh model, and it falls pretty much in-line with other Ultrabooks as far as specifications. One change that Acer has over most is RAID 0 on the drives. I don't find this to be a benefit at all in most workloads, and would rather Acer spent the extra cost to provide one faster drive. Acer is also lacking in connectivity options with just two USB ports available. Most Ultrabooks find room from three, but Acer has gone with a mini DisplayPort and an HDMI video output. That seems overkill since the HDMI could be passed through DisplayPort freeing up room for a third USB port. Acer does still find room for a SD card slot which is always appreciated.