Power Consumption and Thermal Performance
In order to see what the power and thermal characteristics of the SHIELD Android TV are like, the device was tested in two scenarions:
1080p60 HDMI output to Pioneer VSX-32, connected to a Sony KDL46EX720 46" 1080p TV. Connected to a wired network, with a Samsung T1 SSD hanging off the USB 3.0 port
4Kp60 HDMI output to a Samsung HU6950 40" 4K TV. Connected to a wireless network, with a Samsung T1 SSD hanging off the USB 3.0 port.
The table below summarizes the important power consumption numbers.
NVIDIA SHIELD Android TV Power Consumption
Activity
Avg. Power (W)
Idle (Scenario 1)
3.6 W
1080p Netflix Streaming (Scenario 1)
4.6 W
1080p YouTube Streaming (Scenario 1)
4.7 W
Kodi Playback (Hardware Accelerated 1080p60 H.264) (Scenario 1)
6.5 W
Kodi Playback (Software Decoding 1080i60 VC-1) (Scenario 1)
10.4 W
Idle (Scenario 2)
4.2 W
4K HEVC Playback (Scenario 2)
9.1 W
4K Netflix Streaming (Scenario 2)
10.3 W
Gaming (Scenario 2)
19.4 W
Since the gaming scenarios stressed the at-wall power consumption heavily, we decided to run the GFXBench battery life test which puts the T-Rex benchmark in an infinite loop. After 2 hours, we took a thermal image of the unit (oriented vertically with the SHIELD stand).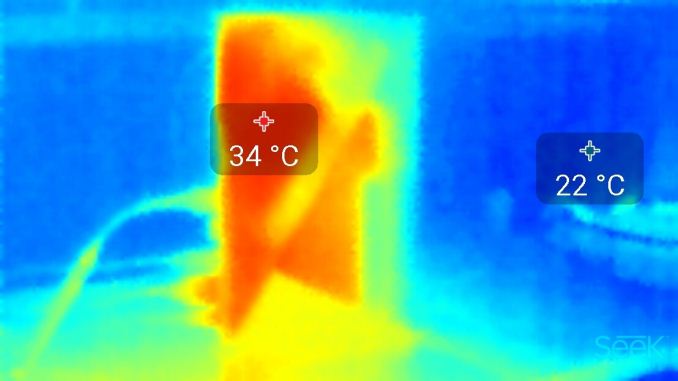 The thermal solution is excellent, and the frame rates were consistent across all the benchmark runs. Thanks to the low-power SoC, the chassis temperature was just 34 C (ambient at 23 C). The fan noise was audible only when we kept our ears against the vents in the back panel.
Moving on to the business end of the review, we split up the positives and negatives into two sections - one for Android TV itself, and the other for the SHIELD.