Shuttle AK31 Revision 3.1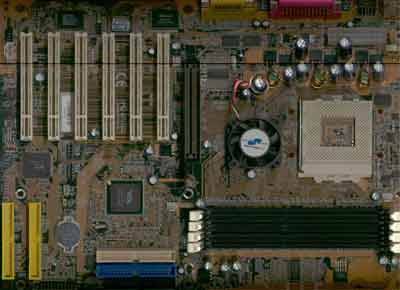 Click to Enlarge
Shuttle AK31 Revision 3.1

CPU Interface

Socket-A

Chipset

VT 8366A North Bridge
VT 8233 South Bridge

Form Factor

ATX

Bus Speeds

100 - 166 MHz (1MHz increments)

Core Voltages Supported

-0.100V to +0.275V (over default core)

I/O Voltages Supported

Not Configurable

DRAM Voltages Supported

2.5 / 2.55 / 2.6 / 2.7 V

Memory Slots

4 184-pin DDR DIMM Slots

Expansion Slots

1 AGP Slot
6 PCI Slots
1 CNR Slot

Onboard RAID

N/A

Onboard USB 2.0/IEEE-1394

N/A

Onboard Audio

VIA VT1611A AC97 CODEC
The AK31 Revision 3.1 is the only other motherboard in this roundup other than the ABIT KR7-RAID that has 4 DIMM slots. And surprisingly, the 4 DIMMs ran flawlessly without any problems, even when fully populated.
The board uses the same Award BIOS setup as the EPoX 8KHA+ so there's no real complaint in that department. When we originally started testing the board it had a much older BIOS on it (revision E6), which was horribly unstable. Using the latest E9 BIOS with official support for the Athlon XP, all of our stability issues were solved.
After using the newer BIOS the number of complaints were significantly reduced - to just three. For some reason our unlocked Athlon XP 1800+ would randomly be set to 1700+ (1.47GHz instead of 1.53GHz) when the multiplier was set to Auto in the BIOS. We resolved this issue by forcing it to be 11.5x in the BIOS. The other complaint was the inability to set the memory clock to the FSB clock (host clock) - 33MHz which would be perfect if you're going to be overclocking to the 166MHz FSB. Luckily that option isn't too difficult to add in to a later BIOS revision. The final complaint and most unusual is that the AK31 would not properly set the memory timings when the BIOS was set to detect the proper timings from the SPD EPROM on the DIMMs themselves. We used SPD to set the memory timings on all of the boards to create a level playing field, but when we did so on the AK31, the performance plummeted. Setting the timings manually fixed this but there's no reason SPD shouldn't work the way it's supposed to.
In order to compete more closely with other contenders, Shuttle has also come up with their new design, the AK35GTR. The board still has 4 DIMM slots for maximum flexibility for you in memory configuration. Moreover, the board will have an integrated Highpoint HPT372 IDE RAID controller supporting Ultra ATA133 IDE devices. The board will also feature the C-Media PCI sound chip for better audio support as well.