Business & Content Creation Performance
As usual, we start with Winstone 2001 to illustrate performance in a work and play environment.  First comes the work wth Business Winstone 2001: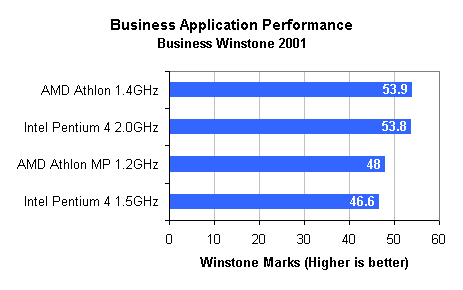 Highly governed by the performance of the disk subsystem, Business Winstone 2001 gives us a good indication of performance in real-world business application scenarios since they are usually very disk limited.  In this case, the Pentium 4 2.0GHz is just about as fast as an Athlon 1.4GHz. 
While we would normally point out that all of these processors are overkill for regular business applications, with the transition to Office XP and Windows XP you can count on needing a bit more processing power (about 30 – 50%) to get the same performance levels as you are used to.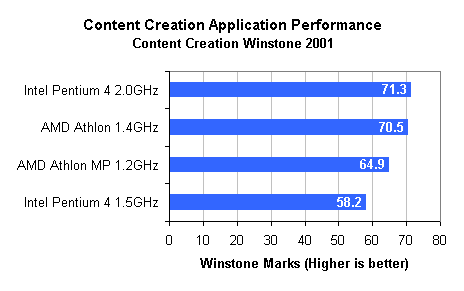 The picture is no different under Content Creation Winstone 2001.  The 1% performance difference between the Pentium 4 2.0GHz and the Athlon 1.4GHz is negligible.