Content Creation/Office Performance - Winstone 2001
Winstone 2001 is highly bound by disk performance and it is a testament to the need for high performance disk drives in today's desktop workstations.  Remember that although we often complain about the difference between a memory subsystem that transfers at 2100MB/s vs. 1000MB/s we rarely realize that your disk subsystem isn't capable of even transferring at over 40MB/s. 
The benchmark is split into two sections: Content Creation and Business Winstone 2001.  Content Creation focuses more on the manipulation and creation of images, web pages, etc… (e.g. for hardcore Photoshop/Dreamweaver users) while Business Winstone focuses on word processing, spreadsheet and presentation applications, etc… (e.g. for MS Word, Excel, PowerPoint users).  All of these tests are conducted in a multitasking environment, making the benchmark a good representation of real world performance.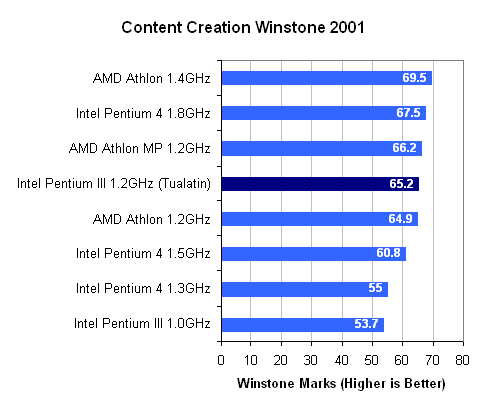 In Content Creation Winstone 2001 the Pentium III at 1.2GHz is about the same speed as the Athlon 1.2GHz and only slightly slower than the Athlon MP (Athlon 4 core) 1.2GHz.  This is to be expected since the Pentium III has always been pretty close to the Athlon in business/content creation performance because of its increased L2 cache bandwidth.  The Athlon still only has a 64-bit L2 cache bus while the Pentium III has a 256-bit L2 cache bus, offering four times the L2 cache bandwidth as the Athlon.  Since most of these applications benefit from having a fast L2 cache, the Pentium III can keep up quite well. 
The shorter pipeline and ability to process more per clock than a Pentium 4 gives the Pentium III 1.2 a 7% advantage over the Pentium 4 1.5 in these content creation applications. 
The cheaper Athlon 1.4GHz processor is still able to outperform it, making the solution not too desirable but you can see the potential for a Tualatin based Celeron quite clearly.  The situation would be different had the Tualatin been compatible with current motherboards since it would be a decent upgrade to older Pentium IIIs.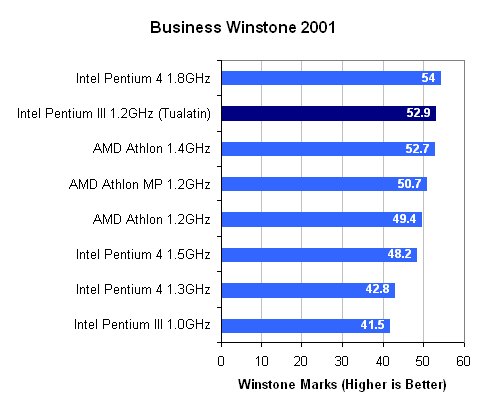 As a contender in Business Winstone 2001, the Tualatin is even more competitive now rivaling the performance of an Athlon 1.4.  The only Pentium 4 that is able to outperform this Tualatin is the recently released 1.8GHz part.  You can start to see why Intel doesn't want the Tualatin based Pentium IIIs priced below the Pentium 4. 
If Intel wouldn't cripple the Tualatin core for the upcoming Celeron, it would be a perfect business platform unfortunately it seems like that outcome is an unlikely one.