Random Read/Write Speed
The four corners of SSD performance are as follows: random read, random write, sequential read and sequential write speed. Random accesses are generally small in size, while sequential accesses tend to be larger and thus we have the four Iometer tests we use in all of our reviews.
Our first test writes 4KB in a completely random pattern over an 8GB space of the drive to simulate the sort of random access that you'd see on an OS drive (even this is more stressful than a normal desktop user would see). We perform three concurrent IOs and run the test for 3 minutes. The results reported are in average MB/s over the entire time.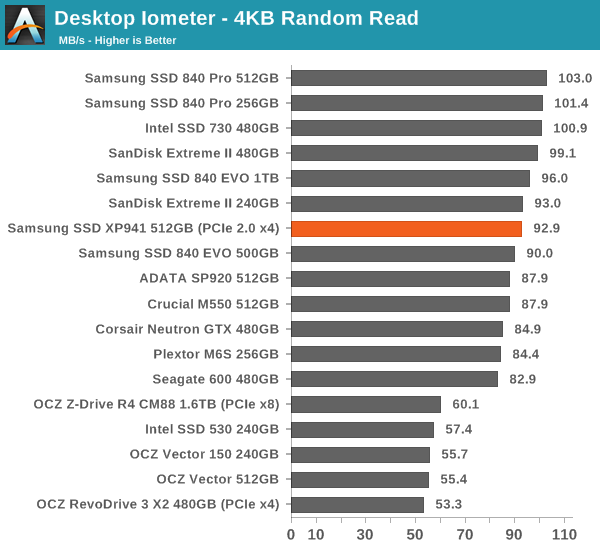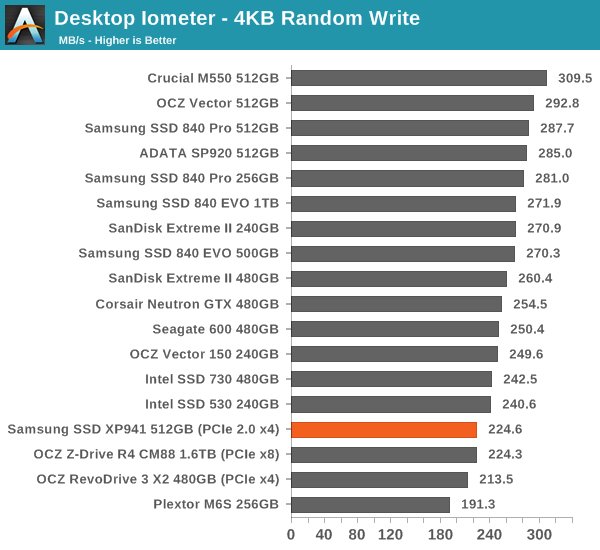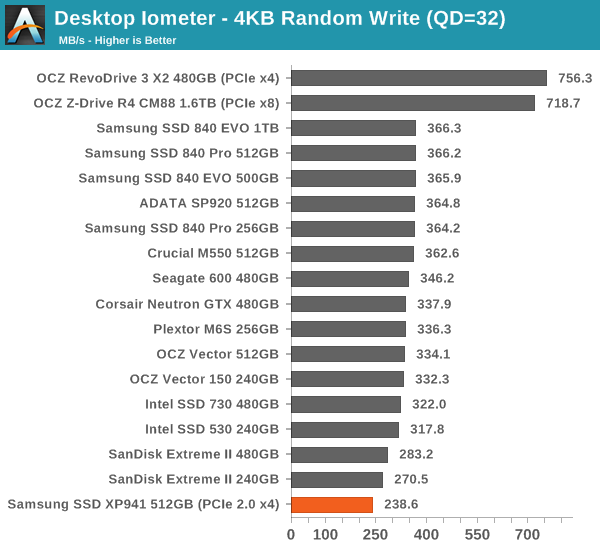 The random performance of XP941 doesn't stand out. Especially random write speeds are quite low by today's standards and queue depth scaling is close to non-existent. That said, I don't believe that high queue depth performance is really important for client workloads as our internal workload analysis shows that even under heavy use the average queue depth tends to be no more than 5. Our Storage Benches also show that even though the random performance isn't excellent, the strong sequential performance thanks to the faster PCIe interface makes up for the difference.
Sequential Read/Write Speed
To measure sequential performance we run a 1 minute long 128KB sequential test over the entire span of the drive at a queue depth of 1. The results reported are in average MB/s over the entire test length.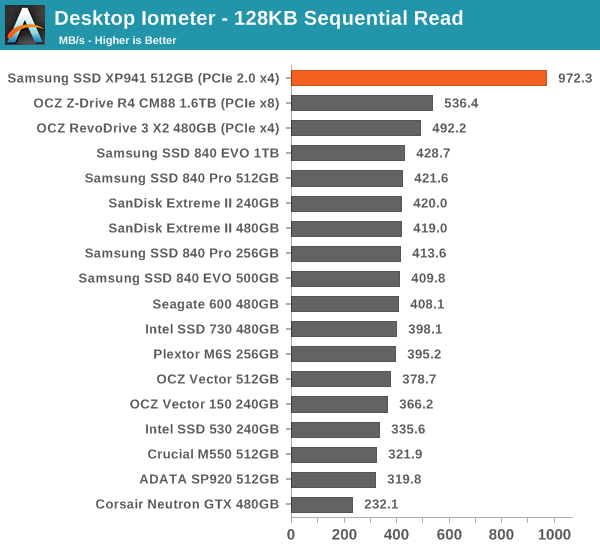 The sequential speeds are the highest we have ever tested in a consumer SSD. Even the 8-controller Z-Drive R4 behemoth can't beat the XP941, which really speaks for the efficiency of a single controller design. If you were to increase the queue depth, the Z-Drive would easily beat the XP941 since higher queue depth would increase parallelism and the Z-Drive could take advantage of all of its eight controllers. However, I was able to reach speeds of up to 1560MB/s with the XP941 at queue depth of 32, which is pretty much as fast as you can go with PCIe 2.0 x4 without tweaking any settings (the PCIe bus can be overclocked to achieve even higher speeds, though there can be a negative impact on random performance. We will investigate this at a later date).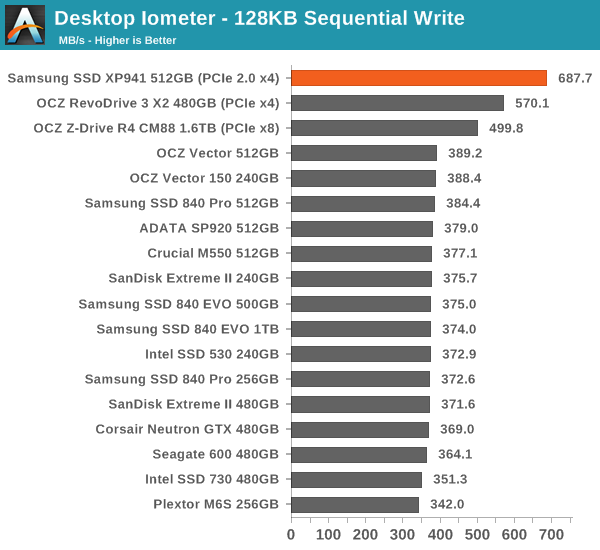 AS-SSD Incompressible Sequential Read/Write Performance
The AS-SSD sequential benchmark uses incompressible data for all of its transfers. The result is a pretty big reduction in sequential write speed on SandForce based controllers. The XP941 does brilliantly in AS-SSD as well but now the strength of eight controllers starts to show for the Z-Drive. Even then, the XP941 is still about twice as fast as the fastest SATA 6Gbps SSD.