Synthetic IGP Benchmarks
OpenCL – CompuBench: link
CompuBench is an OpenCL and RenderScript benchmark designed by Kishonti for both CPUs and any GPGPU capable device. While it offers almost two dozen tests, we select the more real-world tests in terms of fluid simulation and image analysis benchmarks and test on the CPU and IGP respectively. The CPU results are earlier in the review, and the IGP results are below.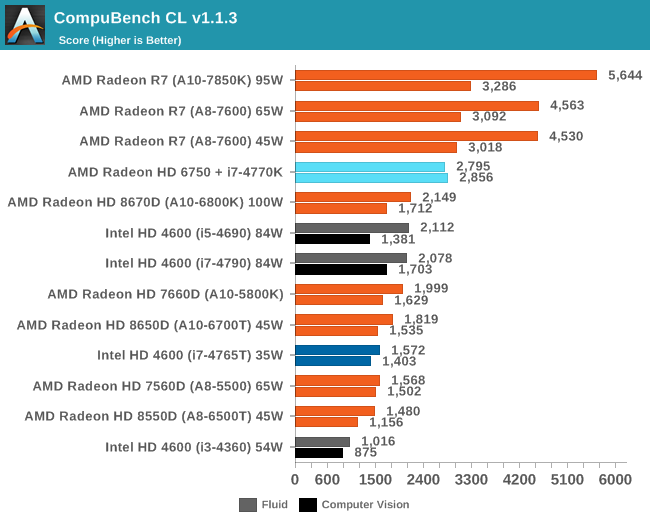 CompuBench responds well to actual cores, but not so much to threads, given by the close scores of the i5 and i7 CPUs. AMD still wins here.
Unity – Graphic Scene 720p: link
As part of my IGP testing I went searching for a couple of new Unity based benchmarks to help decipher the line between the desktop graphics solutions and those that are not so great. First up is a graphical humdinger, implementing a complex scene with lighting effects (including fluid simulation, shadows, SSAO, Bloom). We run the benchmark at 720p with the highest graphical settings, reporting the average FPS.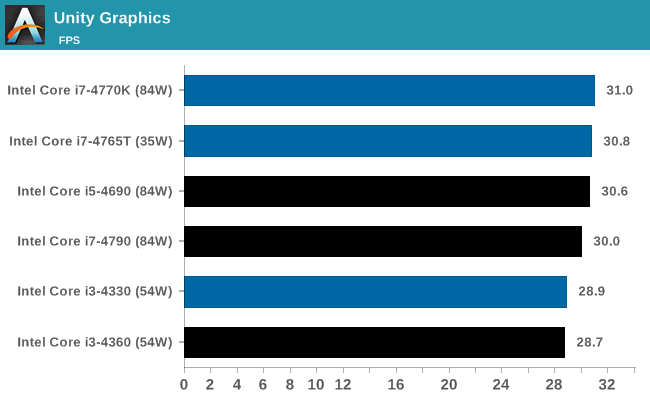 The HD 4600 seems relatively CPU agnostic for complex graphics in Unity. More GPU power seems needed.
Unity – Draw Calls: link
Next up is a benchmark limited by draw calls rather than rendering complexity. The scene generates simple Nintendo Gamecube polygons that fall due to gravity and bounce around until stationary. The scene continuously spews out these polygons until three consecutive frames fall under a 20 FPS average. We run the benchmark at 720p at simple graphic settings to minimize the graphical complexity, take the number of consoles that spawn from each run and average over several runs.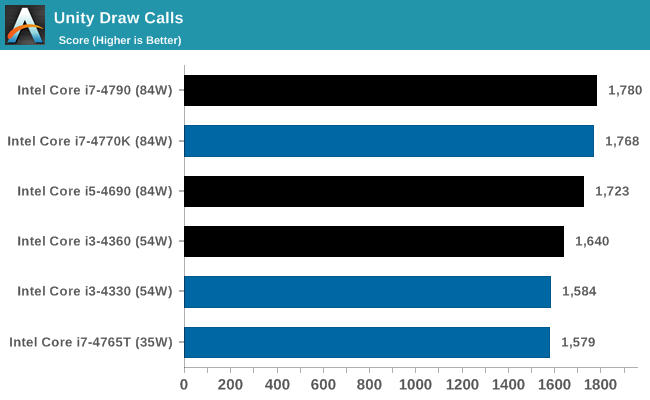 3DMark
The synthetic tools from Futuremark have been on the benchmarking landscape for over a decade, with each generation designed to tackle new problems as either the CPUs or GPUs become too powerful. Here we test 3DMark 06, 3DMark 11 (Performance) and the latest 3DMark.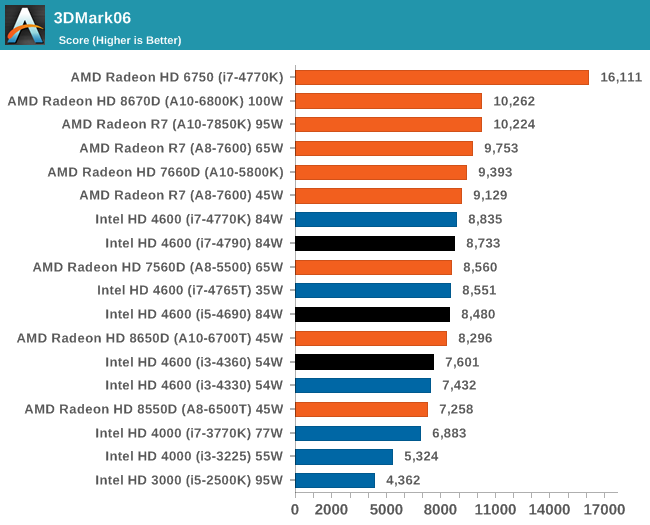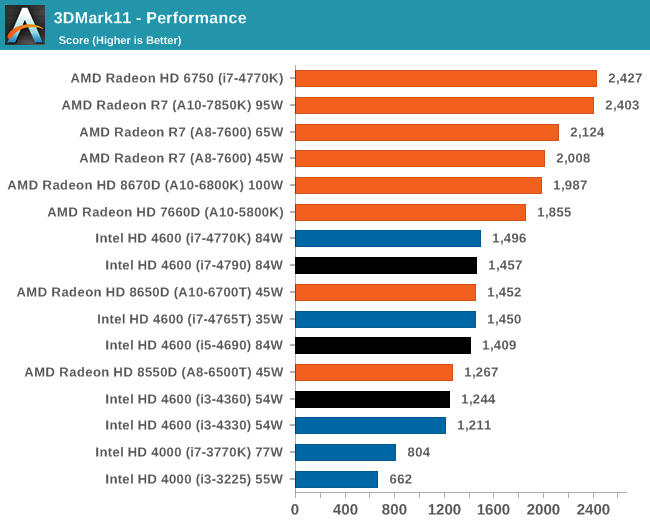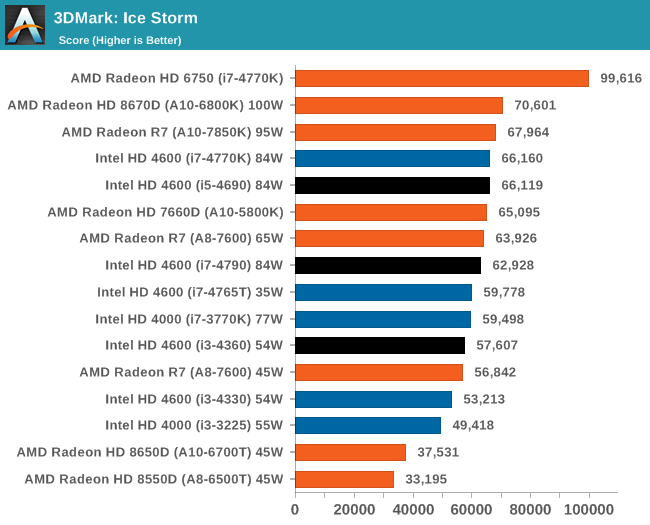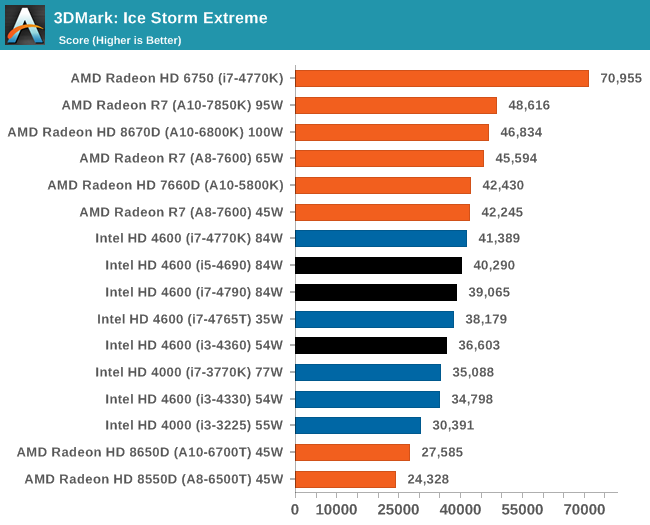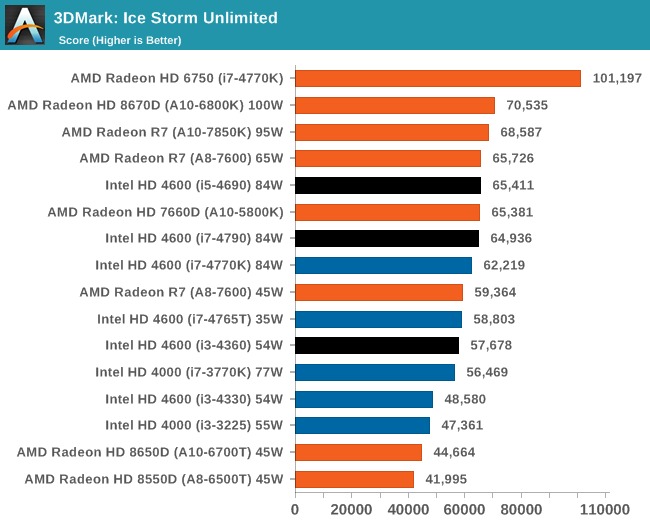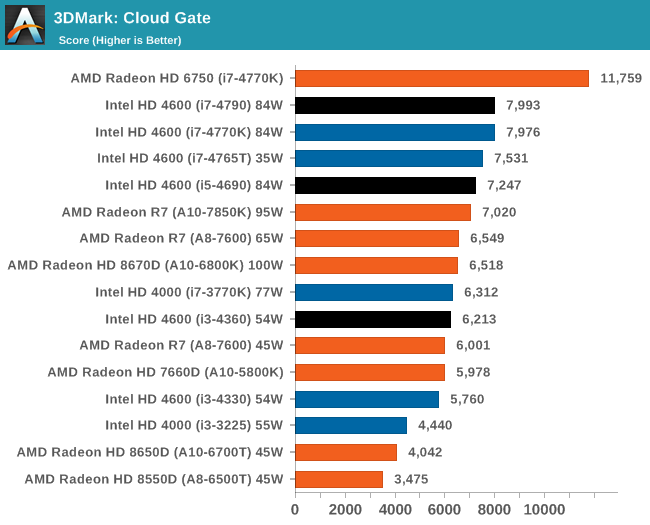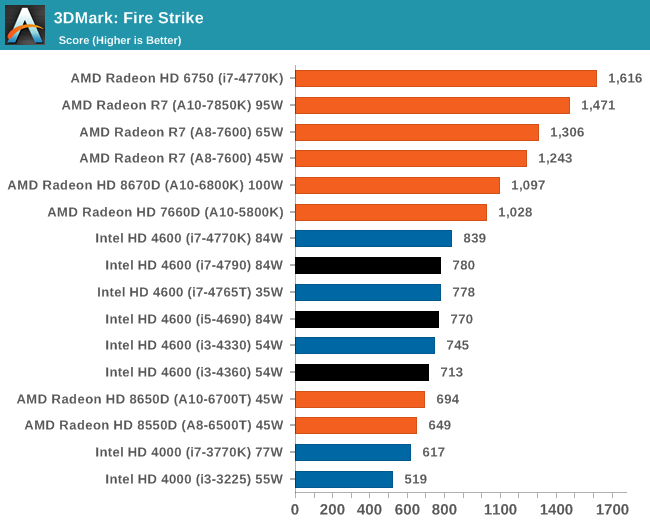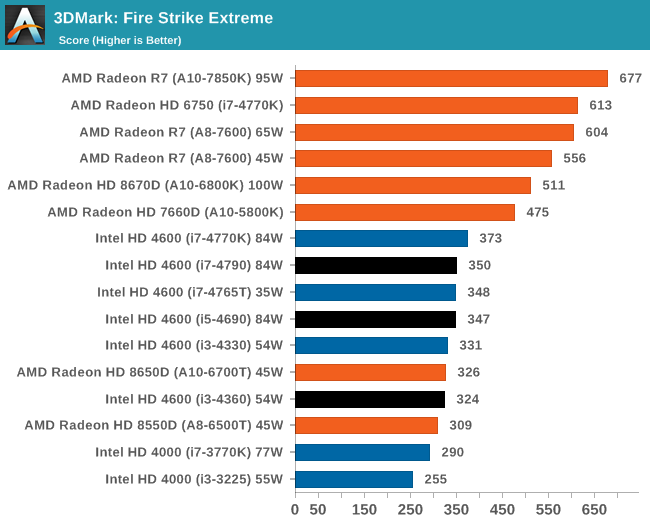 For CPU limited testing, such as Cloud Gate, the Intel i7 pulls ahead with the i5 quickly in tow. For the others, AMD has the lead.
Tessmark
The latest version of TessMark is designed to focus on tessellation via OpenGL 4. We run the latest version of the benchmark using the high resolution map set at maximum tessellation while 1080p full screen, reporting the average FPS.