Battery Life
The new One features an integrated 3.8V 2600mAh battery (9.88 Wh), a 13% increase in capacity compared to the previous model. The battery comparison isn't that simple however. The M8 has a larger display (5" vs 4.7") but it also has a higher performing and more power efficient SoC (Snapdragon 801 vs. 600). To find out how the new One stacks up against its predecessor, we turn to a mix of old and new battery life tests to help better characterize the device.
We'll start with our standard browser based battery life tests. Keep in mind here these tests are as much about replicating a particular CPU profile as they are about loading specific web pages in order.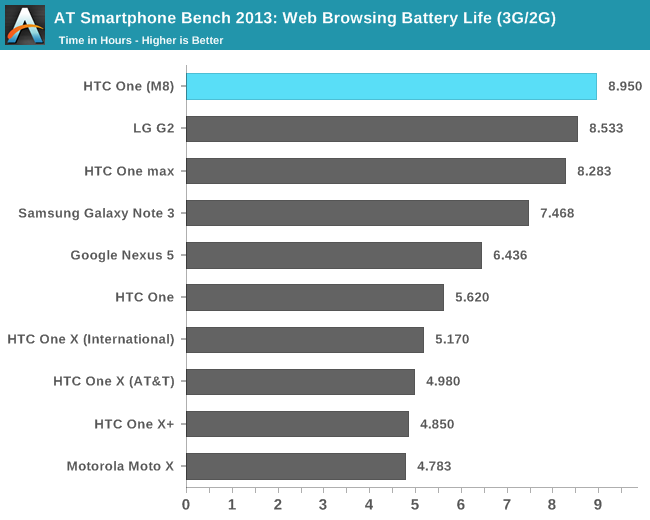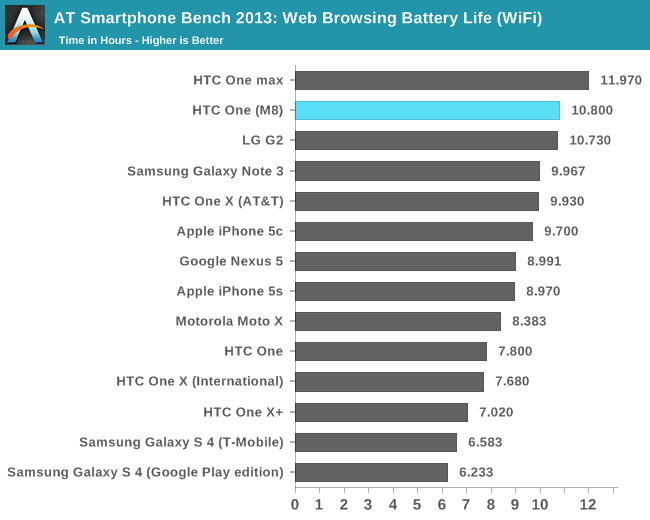 We saw a substantial gain in battery life with Snapdragon 800, and 801 extends that even further. For the same, relatively light (yet constant) workload, the M8 improves battery life over the M7 by as much as 71%. On WiFi the advantage drops to only 38%, but we're still talking about absolutely huge generational gains.
A constant workload is only one part of the story though. More often than not, when you're faced with faster compute you end up doing more. To see what the other extreme of battery life looks like I turned to two canned tests: BaseMark OS II and GFXBench 3.0.
I ran both of these tests under the same controlled conditions we always use, with all displays calibrated to 200 nits. BaseMark OS II runs through a bunch of CPU and storage benchmarks (basically the same tests used for the BaseMark OS II system and memory tests), as fast as possible, until the battery dies.
I like this benchmark as it gives us an indication of worst case battery life if you're absolutely hammering the CPU (and storage) relentlessly.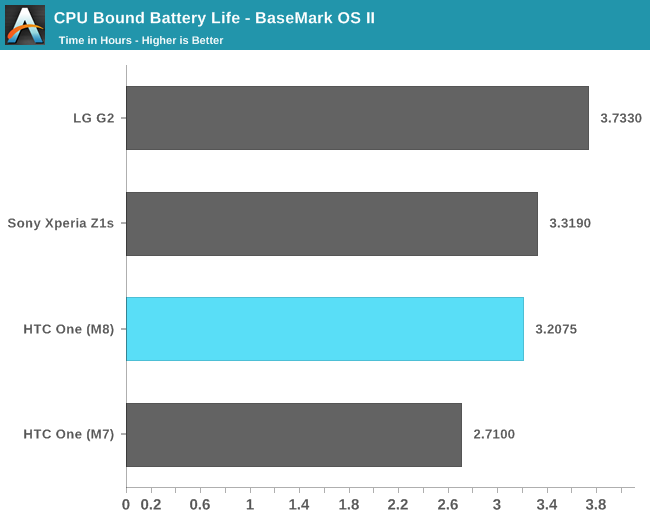 Despite the faster CPU cores, the M8's battery life actually goes up compared to M7. Here we're really seeing the benefits of 801's updated 28nm HPm process compared to the Snapdragon 600's 28nm LP process.
GFXBench provides a similar test, with effectively uncapped performance (on today's devices at least since we're not hitting v-sync limits), but stressing the GPU instead of the CPU. Here we're running the T-Rex HD benchmark, onscreen, until the battery dies.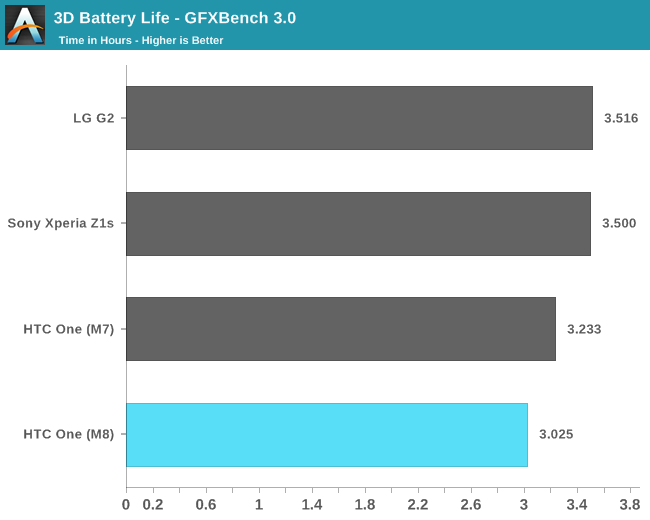 This is the first and only test we've got here that shows a regression in battery life compared to M7. The M8 loses about 6% of runtime compared to the M7, despite having a larger battery. Now look at what happens if we look at performance at the end of the run: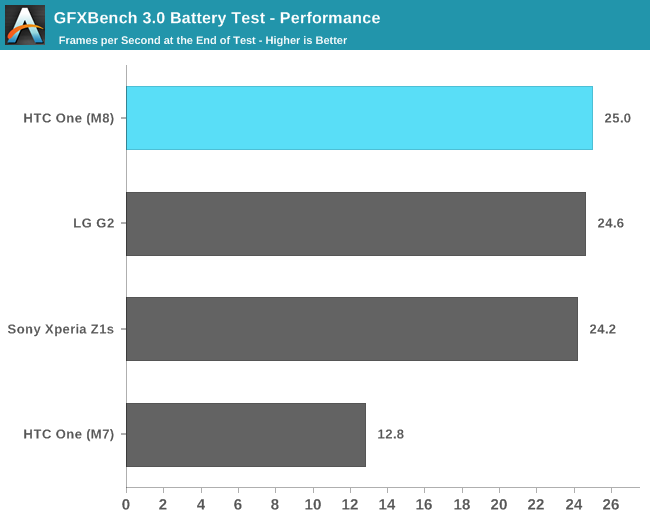 Now the M8's battery life regression doesn't look so bad. You give up 6% of runtime but you get almost twice the performance compared to M7. Snapdragon 801 is just a huge upgrade compared to 600.
Charge Time
The M8 features a Qualcomm Quick Charge 2.0 enabled PMIC, which enables faster battery charge times through higher voltage charging. Unfortunately the in-box wall adapter is only Quick Charge 1.5 compliant so you'll only pull 7.5W from the wall. HTC expects to offer a Quick Charge 2.0 compliant power adapter later this year.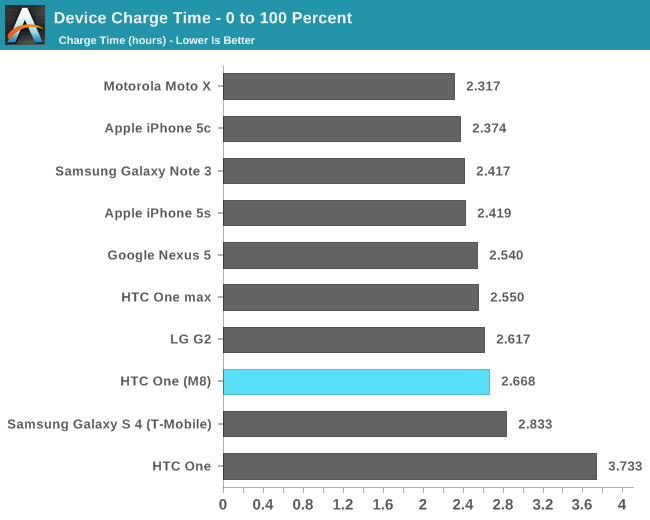 The M8's charge time is a bit slow compared to what we've seen from other devices with larger batteries.