Soltek SL-75KAV-X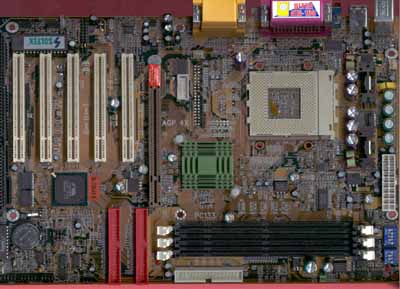 Click to Enlarge
Soltek SL-75KAV-X

CPU Interface

Socket-A

Chipset

VIA KT133A
VIA 8363A North Bridge
VIA 686B South Bridge

Form Factor

ATX

Bus Speeds

100 - 183 MHz (in 1MHz increments)

Core Voltages Supported


1.550 - 1.850 V (in 0.025V increments)

I/O Voltages Supported

3.3 / 3.4 / 3.5 / 3.6 V

Memory Slots

3 168-pin DIMM slots

Expansion Slots

1 AGP Slot
5 PCI Slots (3 full length)
1 ISA Slot

On-board Audio

ICE 1232 AC'97 CODEC

BIOS

Award Modular BIOS 6.00PGN
The Soltek SL-75KAV-X was actually the first KT133A to arrive in the lab, and was the board we used for our original KT133A chipset review. Unfortunately, after extensive testing on all KT133A boards, we found out that the SL-75KAV-X actually performs relatively poorly, coming out as one of the slowest KT133A boards we've tested.
In term of features the board is pretty decent, offering 1MHz increments on FSB speeds between 100MHz and 183MHz, the same range available on the ABIT KT7A-RAID. It also includes CPU core voltage tweaks in the BIOS, but I/O voltage settings are only available using a set of jumpers. Multipliers are adjustable using a set of dipswitches on the board.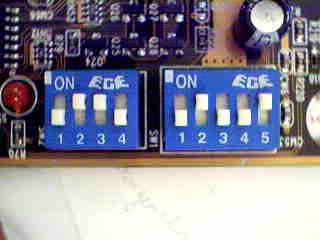 Dipswitches for changing the multipliers of the CPU
It's interesting to note that only one serial port is included in the ATX I/O panel because Soltek uses the same PCB to produce a KM133 version of the board. A short ribbon cable and bracket are included if you need that second serial port.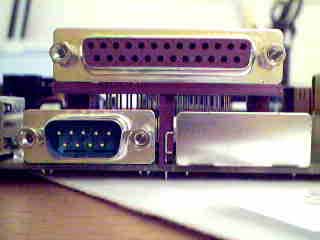 The second serial port is missing from the I/O panel
The layout of the board is pretty decent as well, although a few components on the right side of the board might get in the way of mounting some HSF units. The power connector is found along the right edge, so you won't have to run the power cables over the CPU or memory. The two IDE connectors are placed vertically in front of the first PCI slot, but in such a way that they do not block the use of full length PCI devices.
Unfortunately, the performance of the board is far from ideal and the stability is also below average, crashing a total of five times in 24 hours - the worst among KT133A boards we have tested.
Further, overclocking was not as successful as you might expect from the feature set, as we found that the board couldn't get past 140MHz at all, which is not even a 10% overclock. Soltek definitely needs to work on the overall stability of the board as well as the quality, as we found that the second DIMM slot actually did not work on our sample.
All in all, we can't recommend the SL-75AV-X at this point due to its serious quality and stability issues. Performance and overclocking are other factors that will prevent most AnandTech readers from choosing this board as well.