You'll remember from our Pentium 4 1.7GHz Review that BAPCo has really come around with their latest benchmark creation, SYSMark 2001.  The reason being that it benchmarks systems in the same manner that many enthusiasts use their computers: with multiple applications running at once.
Keep in mind that the third requirement we listed for allowing a performance boost to be seen from adding a second processor was that more than one application is running at once.  If SYSMark 2001 truly multitasks and stresses the CPUs, then we should see a performance increase from a single Xeon 1.7 to a dual Xeon 1.7.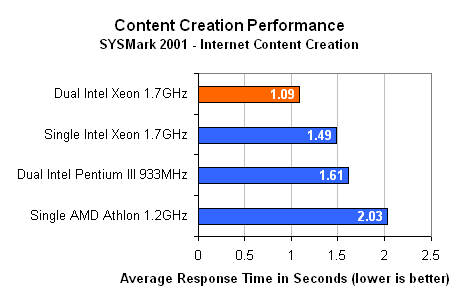 The Internet Content Creation suite of SYSMark 2001 revolves mostly around image/video editing as well as publishing.  However what gives the NetBurst architecture (and thus the Pentium 4/Xeon) the edge here is that a video is being encoded in Windows Media Encoder in the background while the benchmark is running.  This puts an extreme amount of stress on the FSB and memory bandwidth subsystems, allowing the Xeon to completely dominate here. 
The metric being displayed above is the average response time of the applications, not including the time spent waiting for user input.  This means that on average, moving from a single processor Xeon 1.7 to a dual processor Xeon 1.7 reduced the average response time was reduced by 27%.  While this isn't an incredible improvement, it does offer performance currently unavailable by any single processor CPU.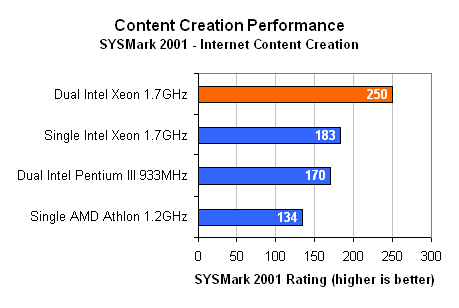 The SYSMark 2001 rating obviously mimics the average response time for the Internet Content Creation test.  If the Xeon continued to scale in this benchmark with clock speed as it has thus far (for results see our Pentium 4 1.7GHz Review), then the performance levels offered by this Dual Xeon at 1.7GHz would be greater than that of a single Xeon running at ~2.1GHz.