The CyberPowerPC Gamer Xtreme 5200 leaves me with very mixed feelings pretty much across the board. Some of these are things that CyberPowerPC has no control over (Haswell and AMD's graphics driver issues); some of these are things that CyberPowerPC does have control over (component selection).
Starting with the components, while I like the Fractal Design Arc Midi R2 as a classier alternative to what I'm used to seeing from boutiques, I'm wondering if they wouldn't have been better off just dodging the fan controller for the CPU fans. Really I'm not sure what's going on there. As I said before, the motherboard itself definitely gets the job done, but there are only two USB 3.0 ports on the back and just three audio jacks. I maintain that storage should've been handled by a 120GB/128GB SSD and a higher quality hard drive choice. The CPU overclock needed to be tuned with at least a little bit greater care, and the Radeon HD 7990 is just kind of a non-starter, at least for now.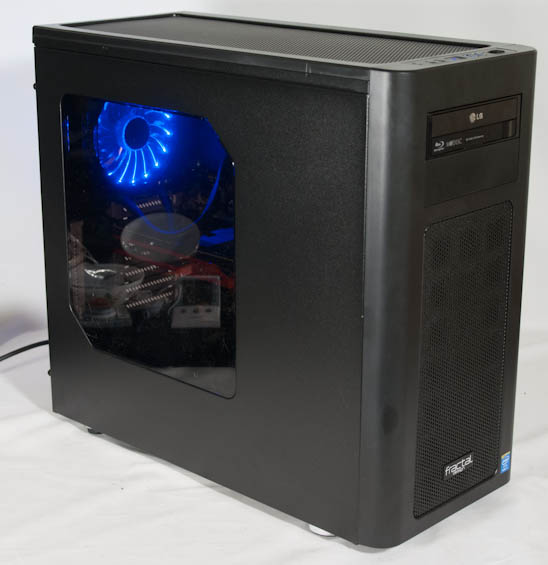 I feel like I'm almost doing a little bit of damage control, which isn't entirely fair. The system works and it works well, and when it performs, it does perform. But the balance is out of whack; this isn't the system I would build for this price tag. Frankly I'd grab the much less expensive Gamer Infinity XLC, add an overclock and an SSD, and call it a day. Really, I feel like where you need to be for a mid to high end gaming desktop that offers good value looks something like this: i5-4670K OC, decent Z87 motherboard, 8GB of DDR3-1866, 128GB SSD, 1TB HDD, GTX 770/HD 7970. If you want to go surround or just need more graphics horsepower, add a second GTX 770.
Ultimately, CyberPowerPC offers better configurations for the money, but the iffy QC on this review unit coupled with the poorly handled overclock does them no favors. There are little things that can be done here and there in the production chain to improve CyberPowerPC's profile; they have the economy of scale needed to compete with smaller boutiques, where they can match quality and offer a better price. They just need to get there, and I hope that they do.