Conclusion: Everything's There, It Just Needs Touching Up
At its core, the Lenovo IdeaCentre A7 is a fairly strong all-in-one offering. I may sound like a broken record, but the sentiment is vital: by focusing on notebook-class hardware and putting it in the base, Lenovo was able to tighten up the thermals and keep noise from becoming a serious issue. The aluminum shell of the A7 is classy and the smart cooling system helps keep the whole thing from becoming too hot or too noisy.
What we have with the A7 is a baseline that needs some tweaking. The majority of my complaints about the software are going to get basically wiped away with Windows 8, so it doesn't merit too much discussion. Including a decent IPS display is appreciated, but the calibration from the factory is horrible and should've been corrected before the system shipped. That's an easy enough fix, too. On the hardware side, the GeForce GT 630M is tired and should probably be taken out behind the barn; an all-in-one shouldn't be caught dead running any GPU that isn't powered by GDDR5 unless it's an Intel IGP. Worse, electing not to use Optimus actually robs the IdeaCentre of features it could've enjoyed at virtually no cost. I'm also disappointed in Lenovo cheaping out on the networking hardware and the hard drive, especially for a system that starts at $1,450. For shame.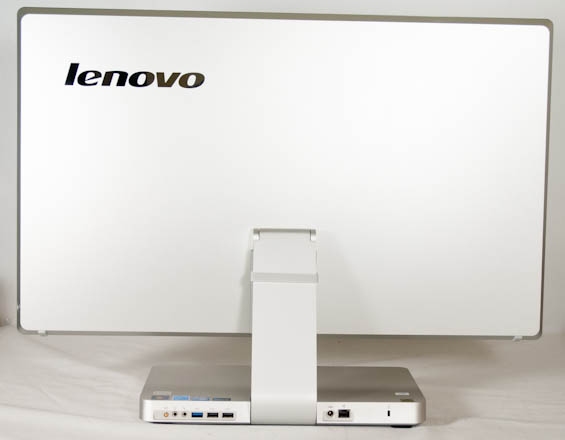 That said, as much as I want to ding Lenovo on the price (and I always do on the notebook side), the IdeaCentre A7 is actually competitive on that front. 27" all-in-ones start at $1,299, so a starting price that's $150 above the curve for an IPS multitouch display and an aluminum shell is justifiable. You have to keep in mind that all-in-ones can't be compared strictly on hardware like desktops; noise and build quality are both factors. So while yes, you can visit NewEgg and grab a generic 27" AIO with slightly better specs for less, you risk getting a potentially noisier, less well-designed machine.
Ultimately the IdeaCentre A7 is a strong contender that gets a lot right. There are a few things I think they could do better, and it's not the homerun I was hoping for, but depending on your needs I feel like it's a reasonable choice and probably something I'd shortlist. The graphics hardware is in dire need of a generational upgrade, the hard disk can be slow, and the port placement is a bit bizarre, but everything else is basically there, and the price is at least competitive if not the mind-blowing deal we're hoping for. If you're shopping for an all-in-one, this wouldn't be a bad place to start.