Final Words
Building a low-cost SSD is not easy; we have witnessed that many times now. There are essentially two ways to build one: either you go with a cheap controller or cheap NAND. What Crucial chose was a cheap controller and higher quality NAND. Since Crucial is a subsidiary of Micron, that choice makes sense because their expertise lies in the NAND fabrication, not in the controller technology. NAND actually still has fairly big profits despite the decline in prices, so Crucial/Micron can use good quality NAND in low-end SSDs and still turn a profit. A powerful third party controller would basically make the v4 an m4 and defeat the purpose of a budget SSD.
A good example of the other approach, a powerful controller and cheap NAND, is OCZ's Agility 4. It uses the same Indilinx Everest 2 controller as found in Vertex 4 but is coupled with asynchronous NAND instead of faster but more expensive synchronous NAND. OCZ is a controller company, so that concept was the most sensible for them. You will have to buy NAND from someone anyway and an easy way to cut the expenses is to simply buy cheaper, lower quality NAND.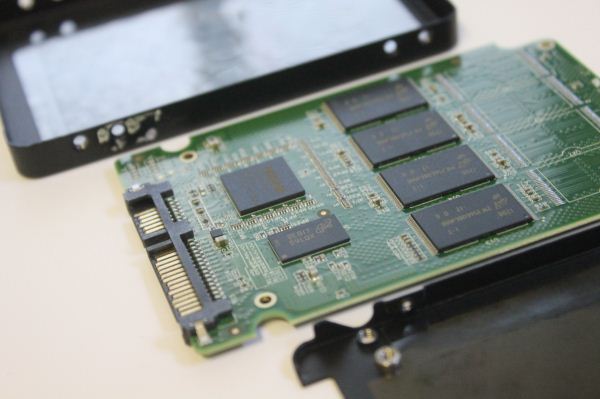 Both of these ways have something in common: neither of them really works. The Agility 4 isn't really worth the small savings as we found in our review, and neither is Crucial's v4. To be straight, the v4 is slow. I'm okay with it being SATA 3Gbps but in that case, it should at least be one of the faster SATA 3Gbps drives. Intel SSD 320 and first generation SandForce drives are beating it by a factor of three to five in both Storage Suites, which is unacceptable for a new SSD in 2012.
The v4 would have to be significantly cheaper than any other SSD to be worth buying. At the current prices, you can get an SSD that is several times faster for $5-20 more depending on the model and capacity. If you're lucky, you may be able to catch a hot sale and get a good SSD (say Samsung SSD 830 for instance) for less than the v4. Hence I really can't recommend the v4 at all; you're better off waiting a short while for a sale on a better SSD, or just pay slightly more now if you're in a position where waiting is not possible (a drive failure for example).
The only value SSD that really makes sense is Samsung's SSD 840. You really need a good controller and firmware to build a good SSD; if you just use the cheapest possible controller on the market you will end up with a bad SSD. Fast NAND doesn't help if the controller is the bottleneck because it simply cannot feed the NAND with data fast enough, but it's possible to get away with slower NAND if you have a great controller as we saw with the SSD 840. Even the 840 faces stiff competition from existing drives (e.g. Samsung's own 830), though, so until prices drop for TLC drives we suggest looking at the existing SSDs.