Intel's NetBurst Micro-Architecture
The P6 architecture, first introduced with the Pentium Pro in 1995 has been the basis for Intel's processors ever since then. The Pentium II, the Celeron, the Pentium III and even the newest Celerons all have their foundations in an architecture that has hit the 5-year old mark. As we described back in February, the Pentium 4 will be the first IA-32 (32-bit Intel Architecture) processor from Intel to use a non-P6 architecture in recent times.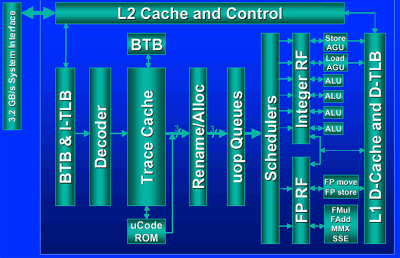 Today, that architecture gets a name and like many of today's Internet driven products, you can see similar roots in its name. Of course, we're talking about Intel's NetBurst Architecture.
The NetBurst Architecture is simply the name given to the Willamette architecture we discussed in our IDF coverage 6 months ago.