The SGS3 with MSM8960 also captures 1080p30 video, just like the Exynos 4412 based international SGS3. I captured videos at 1080p, 720p, and with image stabilization turned on at the usual test location, and like normal uploaded a copy of the video to YouTube, and our servers for you to download without the transcode.
The USA SGS3s encode video at an even higher bitrate than the SGS2. It's 17.0 Mbps H.264 high profile CABAC with 1 reference frame. For comparison, SGS2 was 15 Mbps high profile SGS2 was actually 17.0 Mbps as well. Audio is 128 kbps 48 kHz stereo AAC. The 720p video encode paramaters are a bit lower, at 12.0 Mbps H.264 baseline, with the same audio settings.
1080p30 Bench Video
720p30 Bench Video
EIS Enabled - 1080p30 Bench Video
Last time around, SGS2 was among the best, if not the best, for video encode. The SGS3 is likewise using the best encode settings I've seen thus far at 17 Mbps high profile. Best of all, the SGS3 doesn't drop any frames from what I can tell, as the end FPS in MediaInfo was exactly 30, and watching the videos I don't see anything dropped. It's curious to me too that this is being done (as far as I know) on the MSM8960 when partners like HTC are still using 10 Mbps baseline on their highest end products and dropping frames.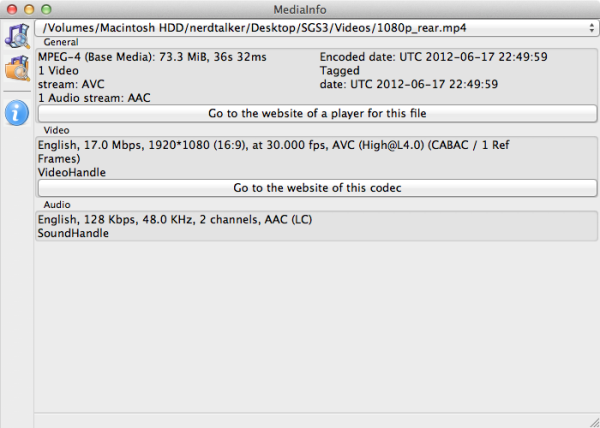 The other things worth mentioning about video encode is that the 1080p mode without anti shake now uses the full field of view of the sensor in the horizontal direction. This is a big improvement over the center crop modes I see a lot. If you turn anti shake on, you do appear to lose some pixels around the edges (which is expected, probably 16 or so in x and y). Unfortunately, the EIS mode appears to be severely glitched, producing very shuddery video which jumps around as EIS works. I'd keep this turned off until it gets fixed.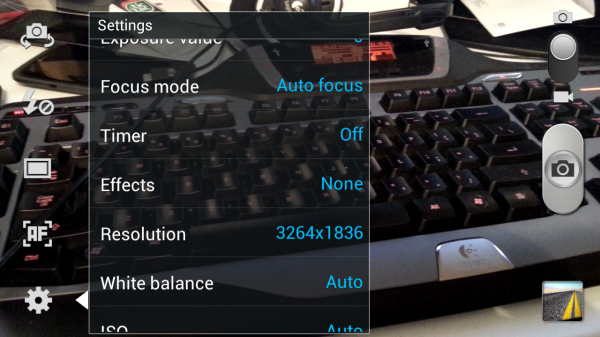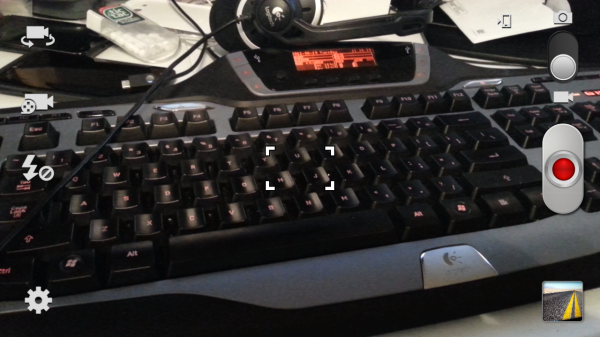 Left - still shooting mode (16:9 6 MP), Right - video capture (1080p) with same Field of View
Inside the video capture UI everything is pretty much the same as the still image capture UI. What's worth mentioning is that like the One X, SGS3 has a capture button which enables you to save full size 1080p frames while capturing video. My favorite new feature is suble - after tapping to focus once while video recording, you'll get a box with AF in brackets.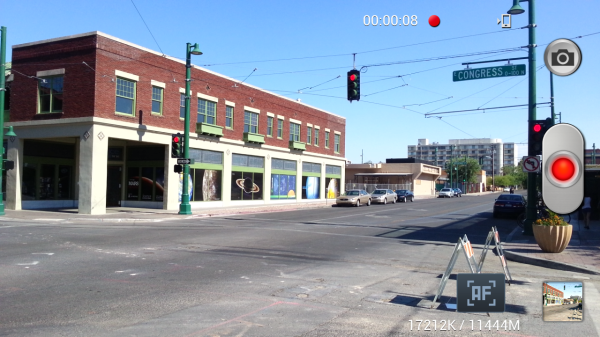 Tapping on this stops CAF (continuous auto focus) from running, effectively giving you an AF lock. This is super useful as I often read many complaints about the breathing effect that CAF adds to video capture while it runs - hold this down and it won't run until you release it - a very useful feature if you're serious.