For Intel, the road to their first real competitive smartphone SoC has been a long one. Shortly after joining AnandTech and beginning this journey writing about both smartphones and the SoC space, I remember hopping on a call with Anand and some Intel folks to talk about Moorestown. While we never did see Moorestown in a smartphone, we did see it in a few tablets, and even looked at performance in an OpenPeak Tablet at IDF 2011. Back then performance was more than competitive against the single core Cortex A8s in a number of other devices, but power profile, lack of ISP, video encode, decode, or PoP LPDDR2 support, and the number of discrete packages required to implement Moorestown, made it impossible to build a smartphone around. While Moorestown was never the success that Intel was hoping for, it paved the way for something that finally brings x86 both down to a place on the power-performance curve that until now has been dominated by ARM-powered SoCs, and includes all the things hanging off the edges that you need (ISP, encode, decode, integrated memory controller, etc), and it's called Medfield. With Medfield, Intel finally has a real, bona fide SoC that is already in a number of devices shipping before the end of 2012.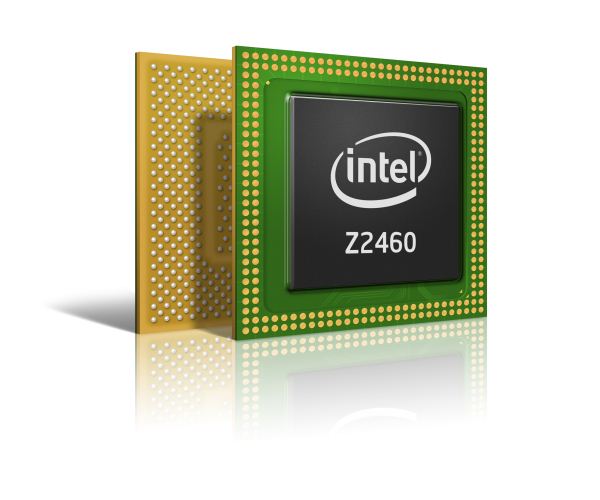 In both an attempt to prove that its Medfield platform is competitive enough to ship in actual smartphones, and speed up the process of getting the platform to market, Intel created its own smartphone Form Factor Reference Design (FFRD). While the act of making a reference device is wholly unsurprising since it's analogous to Qualcomm's MSM MDPs or even TI's OMAP Blaze MDP, what is surprising is its polish and aim. We've seen and talked about the FFRD a number of times before, including our first glimpse at IDF 2011 and numerous times since then. Led by Mike Bell (of Apple and Palm, formerly), a team at Intel with the mandate of making a smartphone around Medfield created a highly polished device as both a demonstration platform for OEM customers and for sale directly to the customer through participating carriers. This FFRD has served as the basis for the first Medfield smartphones that will (and already are) shipping this year, including the Orange Santa Clara, Lenovo K800, and the device we're looking at today, the Lava Xolo X900. Future Medfield-based devices will deviate from the FFRD design (like the upcoming Motorola device), but will still be based loosely on the whole Medfield platform. For now, in the form of the X900 we're basically looking at the FFRD with almost no adulteration from carriers or other OEMs.
The purpose and scope of this review is ambitious and really covers two things - both an overview of Intel's Medfield platform built around the Atom Z2460 Penwell SoC, and a review of the Xolo X900 smartphone FFRD derivative itself.
The Device
Beginning April 23rd, Intel, through Lava International, began selling the Xolo X900 smartphone in India for INR 22000 (~$420 USD). As we've stated before, the design and construction of the Xolo X900 almost identically mirrors the Intel FFRD we've seen before, from the specifications and Medfield platform itself, to industrial design and exterior buttons.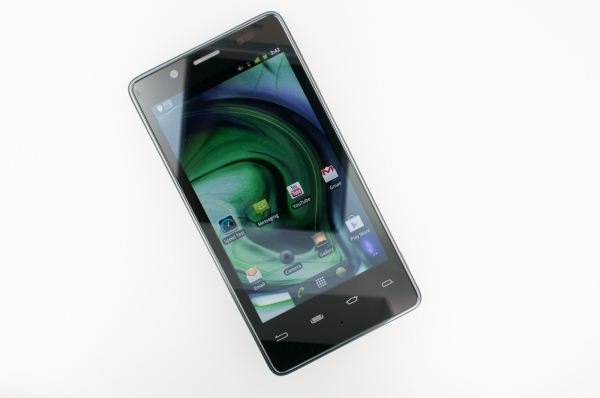 It's a testament to the polish of the reference design that Mike Bell's team put together that Intel is confident enough to basically sell exactly that device through carrier partners. I'll admit I was skeptical upon hearing that Intel would basically be selling their MDP to customers, but the device's fit and polish exceeded my expectations and are clearly those of something ready for customer abuse. First up are the X900 specifications in our regular table (below), Xolo also has its own nicely presented specifications page for the X900 online.
Physical Comparison
Apple iPhone 4S
Samsung Galaxy S 2
Samsung Galaxy Nexus (GSM/UMTS)
Lava Xolo X900
Height
115.2 mm (4.5")
125.3 mm (4.93")
135.5 mm (5.33")
123 mm (4.84")
Width
58.6 mm (2.31")
66.1 mm (2.60")
67.94 mm (2.67)
63 mm (2.48")
Depth
9.3 mm ( 0.37")
8.49 mm (0.33")
8.94 mm (0.35")
10.99 mm (0.43")
Weight
140 g (4.9 oz)
115 g (4.06 oz)
135 g (4.8 oz)
127 g (4.5 oz)
CPU
Apple A5 @ ~800MHz Dual Core Cortex A9
1.2 GHz Exynos 4210 Dual Core Cortex A9
1.2 GHz Dual Core Cortex-A9 OMAP 4460
1.6 GHz Intel Atom Z2460 with HT (1C2T)
GPU
PowerVR SGX 543MP2
ARM Mali-400
PowerVR SGX 540 @ 304 MHz
PowerVR SGX 540 @ 400 MHz
RAM
512MB LPDDR2-800
1 GB LPDDR2
1 GB LPDDR2
1 GB LPDDR2 @ 400 MHz
NAND
16GB, 32GB or 64GB integrated
16 GB NAND with up to 32 GB microSD
16/32 GB NAND
16 GB NAND
Camera
8 MP with LED Flash + Front Facing Camera
8 MP AF/LED flash, 2 MP front facing
5 MP with AF/LED Flash, 1080p30 video recording, 1.3 MP front facing
8 MP with AF/LED Flash, 1080p30 video recording, 1.3 MP front facing
Screen
3.5" 640 x 960 LED backlit LCD
4.27" 800 x 480 SAMOLED+
4.65" 1280x720 SAMOLED HD
4.03" 1024x600 LED backlit LCD
Battery
Internal 5.3 Whr
Removable 6.11 Whr
Removable 6.48 Whr
Internal 5.4 Whr
It's interesting to me that Intel, Qualcomm, and others identified and went with WSVGA (1024x600) for their reference designs in roughly the same 4" size. It's a display form factor that corresponds almost exactly to 300 PPI, and looks great, but more on that later. The rest of the X900 is basically what you'd expect for a smartphone of this generation, and on par with the Android competition that Intel was targeting, perhaps minus microSD expansion.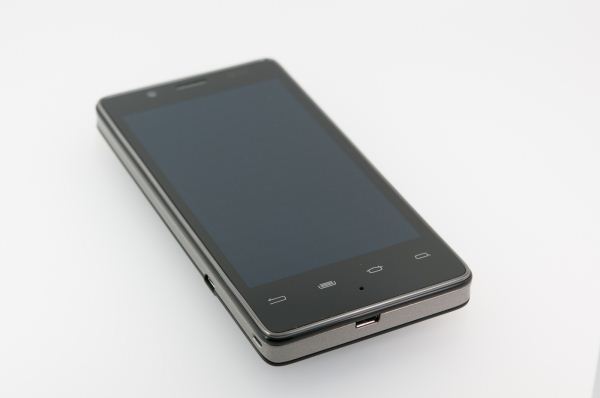 The design language of the X900 (and Intel FFRD) is a pretty obvious nod to the iPhone 4/4S design, complete with chrome ring, similar button placement, and a few other things. Likewise, the X900 uses a microSIM whose tray is located on the right side and makes use of an ejector port and tool. Below that is the X900's two-stage camera button, and then speaker port. There's a matching speaker port on the other side in the same area.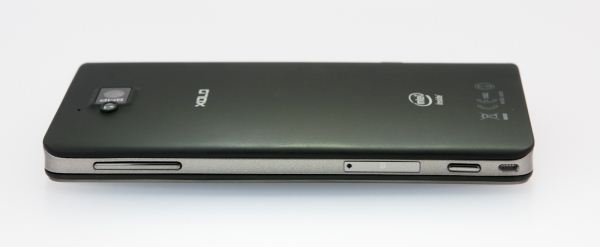 MicroUSB is located at the very bottom slightly off center, and microHDMI is on the left side. Up at the top is power/standby and the standard headphone jack. There's no real surprises here, and despite being entirely plastic-clad, the X900 feels pretty decent in the hand.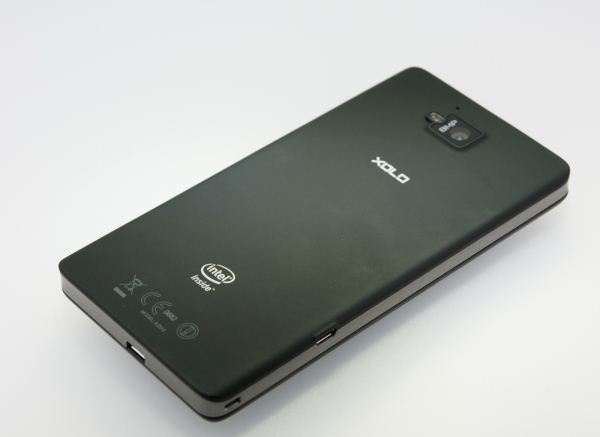 The backside is a soft touch material which we've seen and felt on countless other smartphones before. The only downside to the X900 design is lack of a user replaceable battery - the backside is permanently attached. At the top is the 8 MP camera port, adjacent LED flash, and secondary microphone for noise suppression.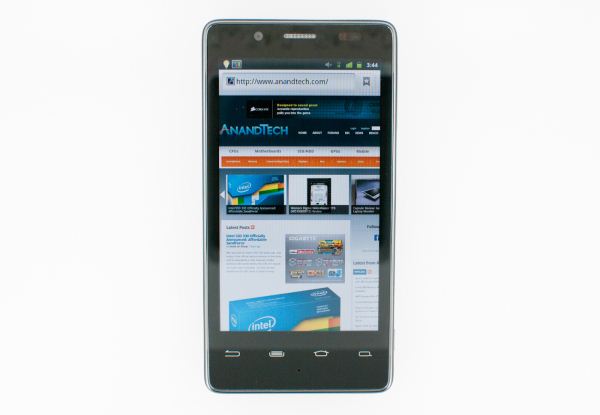 The front of the X900 is likewise pretty standard fare - up top are the 1.3 MP front facing camera, speaker grille, ambient light sensor, and proximity sensor. At the bottom are the four Android capacitive buttons whose design mirrors the FFRD we've seen before.
Again there's nothing super crazy about the design or construction of the X900, it's an extremely polished reference design turned consumer electronic that feels solid and ready for use as a daily driver if you're up for it. Enough about the superficial stuff though, let's talk about what everyone wants to know about - Medfield and Android on x86.