Another Low Quality TN Panel
I recently enjoyed a meeting with Toshiba reps to discuss their upcoming back-to-school lineup. When asked what my biggest pet peeves were when reviewing notebooks and what bothered me the most, it'll surprise no one to say lousy monitor quality was at the top of my list.
Each time I write about a notebook with a crappy display, more and more people get irate in comments, and many of you simply write off the review. The unfortunate fact of the matter is that hardware like this is still what's prevalent in the marketplace, and that Joe Consumer either doesn't seem to care that much about screen quality or just doesn't know to ask for better. That tide may change with the rise of tablets, but there are people who see text on a high resolution screen, see that it's "too small," and just assume the screen quality is poor. So this problem persists.
Writers here have the unique luxury of being able to interact directly with representatives from the vendors producing these notebooks, and "stop giving us crappy panels" is a banner we continue to wave. In the meantime, though, understand that if we stopped reviewing notebooks with bad panels we'd be down to maybe one notebook review a month, and then you'd just wonder why we're not reviewing laptops.
With that spiel out of the way, it should come as no surprise that the Toshiba Portege R835's display is, once again, pretty bad.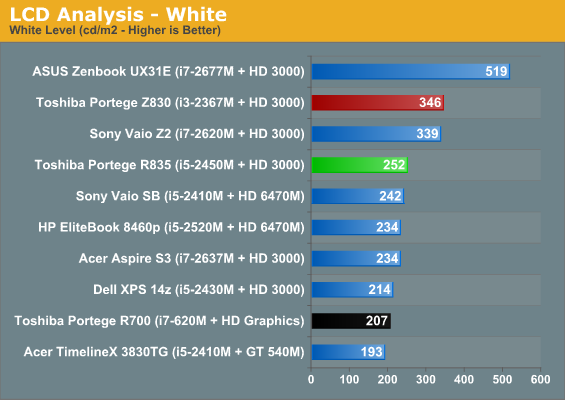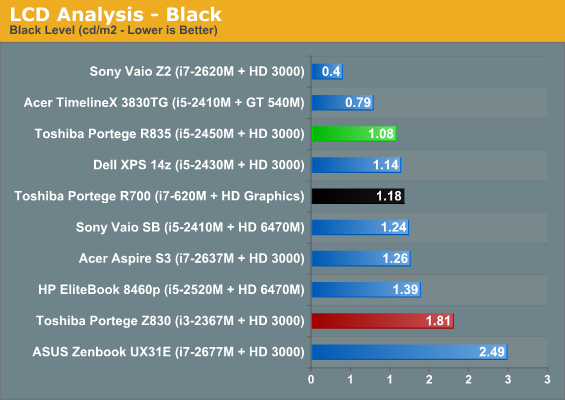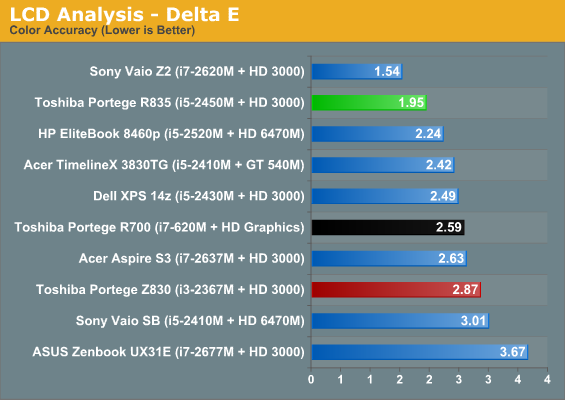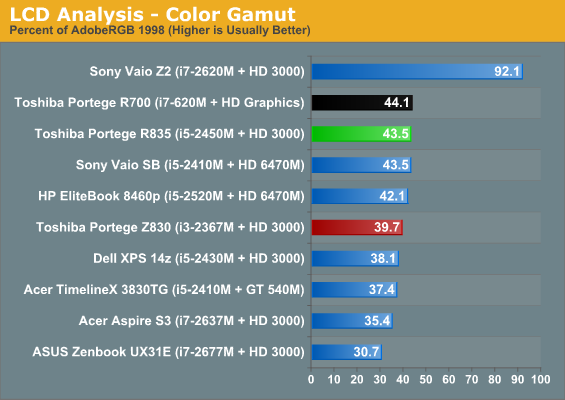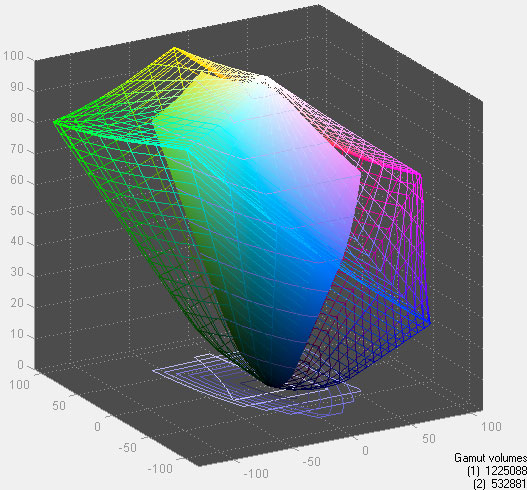 There you have it. Apart from the Vaio Z2's stunning 1080p display (still TN and still suffering from middling viewing angles), what you see above is what the Toshiba Portege R835 has to compete with. It's a broad, industry wide issue. The R835's display isn't really any better or worse than anything else out there that doesn't command a price premium. The 1366x768 display resolution isn't necessarily that bad on a 13.3" screen, but the dire viewing angles, poor contrast, and poor color will always be.
When Apple can stuff a 2048x1536 LCD into the new iPad 2012 for just $499, it's obvious that all we really need is more volume on quality displays and pricing can come down. For that matter, we're not even looking at crazy prices for a decent bump in display quality right now. The stock 1366x768 display in the R835 can be purchased online for just $75, whereas the nicer panel in the Samsung Series 9 appears to go for around $90. Assuming that's the actual panel I've seen in a Series 9 laptop (it's far better than the low-contrast TN panels found elsewhere), $15 extra is a pittance for the improved contrast and brightness. Or how about Apple's vaunted MacBook Air 1440x900 LCD: $100 for a replacement, just $25 more than what we currently have foisted on us.
What it would take is for ASUS, Acer, Dell, HP, Toshiba, etc. to simply start shipping better quality displays for a small bump in price, and we could get rid of the "save $15 for garbage quality" mentality that we're currently living with. Many consumers may not immediately recognize the difference, but the race to the bottom is not doing them any real favors. It's another reason we're frequently inclined to recommend business laptops that cost several hundred dollars more, as the added cost comes with often overlooked items like superior build quality—or in other words, you get what you pay for.