Battlefield 3
Its popularity aside, Battlefield 3 may be the most interesting game in our benchmark suite for a single reason: it's the first AAA DX10+ game. It's been 5 years since the launch of the first DX10 GPUs, and 3 whole process node shrinks later we're finally to the point where games are using DX10's functionality as a baseline rather than an addition. Not surprisingly BF3 is one of the best looking games in our suite, but as with past Battlefield games that beauty comes with a high performance cost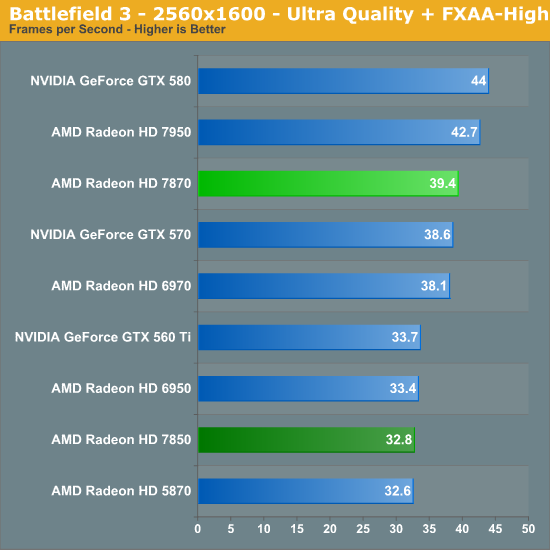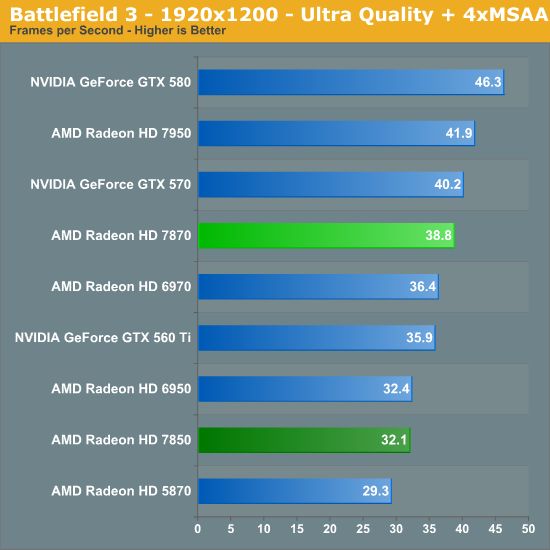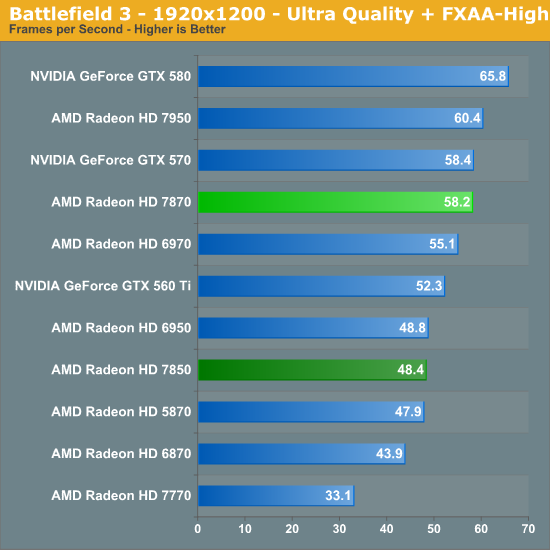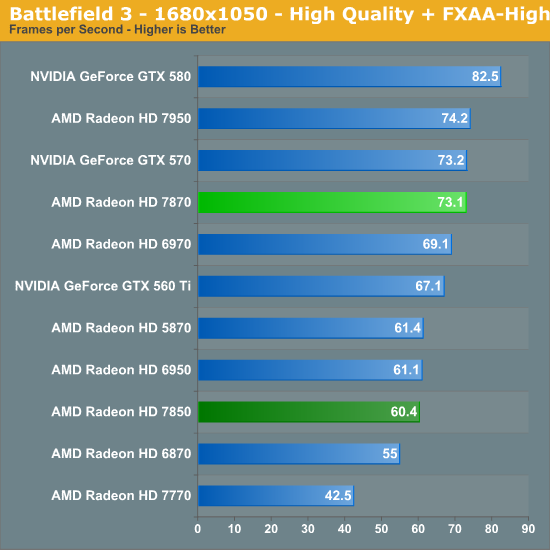 For anyone keeping score, we reran all of our numbers after the recent Battlefield 3 Radeon HD 7000 series performance patch. The results are virtually identical. While we don't have official confirmation, we believe that DICE switched to a different FXAA codepath; however doing this doesn't seem to have impacted the performance of the 7000 series, which is either a testament to AMD's shader compiler, or proof that the overhead from FXAA is very low in the first place.
In any case while AMD's BF3 performance has improved since the 7970 launch, it's still one of their weaker games. The 7870 can hang with the GTX 570 at 1920 but the 7850 once more falls behind the GTX 560 Ti. The 7850 in particular just isn't doing very well here, and it would be necessary to drop down in settings or in resolution to get fluid gameplay out of BF3. However at the same time we do see some further evidence of the impact of having 2GB of VRAM, as both 7800 cards improve relative to NVIDIA's cards at 2560.
Meanwhile compared to the 6900 series, the 7800 series takes another small lead. At 19x12 without MSAA the 7870 has 5% on the 6970, while the 7850 is effectively tied with the 6950. It's interesting to note however that relative to the 7950, the 7870 is doing very well here, trailing AMD's faster card by less than 4%. The fact of the matter is that with the same basic frontend and the same number of ROPs, the 7870's 1GHz core clock can significantly eat into the performance lead of the 7950 if the 7950 is primarily performance bound by either of those two rendering stages.