The Keyboard
The stock Gingerbread keyboard was a significant step forward, but the ICS keyboard is really good. I don't know that there's much that's truly groundbreaking about the ICS keyboard, but it's at the point where short of Swype for those users who care about it, I would be very disappointed to see any third party keyboard replacements from HTC, Motorola or Samsung.
The basic layout hasn't changed from Gingerbread, although there are a few subtle differences. You get the same standard four row keyboard with two alternate modes (numerics and symbols). Where the Gingerbread/ICS keyboards differed from the standard iOS or Windows Phone keyboard is there's a fifth row of punctuation keys by default above the rest of the keyboard. This fifth (or first, depending on how you look at it) row actively changes into a list of predicted words. The word in the center is what the autocorrect engine believes you're typing, while the words on the left/right are alternates. While Gingerbread allowed you to scroll horizontally on this row, the items are fixed in ICS. As a consolation, you can bring up additional autocorrect suggestions by tapping and holding on a word in the prediction row. Accented characters are available by pressing and holding on keys that can be accented. Popup menus also exist for punctuation and the smiley key.
Keypresses are still accompanied by a magnified duplicate of the key itself. Unlike in Gingerbread where the magnified key hovered unconnected, the ICS keyboard connects the magnified key to the key itself. In my opinion this makes the keyboard look less chaotic when you're typing very quickly. Rather than giving the impression of random letters flying around everywhere, the animation serves its intended purpose better: letting you know what you just hit.
There's also a hidden Android Keyboard debug settings pane with some different themes that can be selected.
Gingerbread vs. Ice Cream Sandwich - Keyboard & Autocorrect
Gingerbread
Ice Cream Sandwich
Keyboard

Quick Punctuation

Autocorrect
Autocorrect
Facial Recognition
Android has historically offered multiple options to secure your phone or tablet. Ice Cream Sandwich continues the trend. You can choose a basic PIN with a minimum of four numbers and a maximum of 17. There's an alphanumeric password option, simple slide to unlock and no security at all. ICS adds a new option to the list: Face Unlock.
The feature is exactly what it sounds like. ICS can store a photo of your face and use it as authentication for unlocking your device. While you only need a single picture to start, Google recommends taking multiple photos in different lighting conditions, with/without glasses and with a clean vs. unshaven face if applicable. As a backup you have to provide ICS with a PIN in case it can't recognize your face (either due to lighting conditions or because of a recent tumble down some stairs).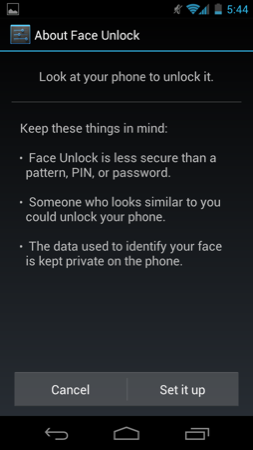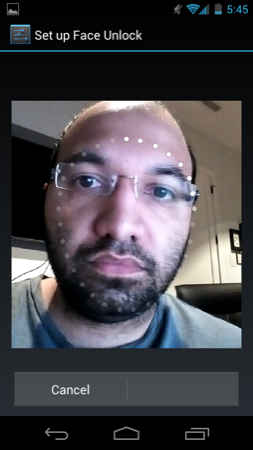 Google warns that someone who looks like you would be able to unlock your device, making Face Unlock less secure than a long PIN, pattern or password. Admittedly a thief would have to either be really lucky or know what you look like to fool the technology, but it is a valid point.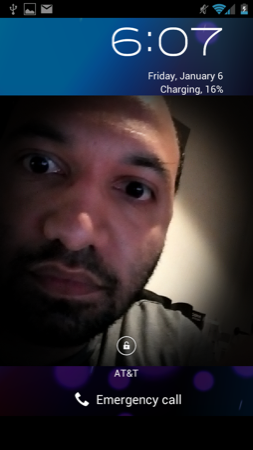 The feature actually works surprisingly well in practice. With Face Unlock enabled the lock screen has a front facing camera live view window that you're supposed to use to center your face. With the exception of really bright (with the light shining into the camera) or really dim scenarios, Face Unlock worked for me almost every time. When it works perfectly using your face to unlock the phone is extremely quick. In the right conditions I've seen ICS unlock itself a split second after I even saw my face on the screen. On average though the process is slower than typing in a PIN or using any of the other unlock methods. Furthermore, if you use your phone a lot at night (especially in cars) you have to hit the power/lock button then tap the lock icon to circumvent Face Unlock and go directly to your PIN/password/pattern. Finally, don't try to use Face Unlock to unlock your phone while driving - that's a recipe for bad, or worse, death.