Test Setup
Many thanks to...
G.Skill have happily provided us with a set of their low voltage, gamer oriented, Sniper series DDR3 memory for this a future reviews, where low power usage may be of interest to the consumer. This 2x4 GB kit (D3-12800CL9D-8GBSR2) runs at 1600 MHz speeds with 9-9-9-24 2N timings at 1.25 V, and is currently available for $90.

What's actually interesting for me is to see how the power consumption readings change when going from normal 1.5 V memory, to the low voltage 1.25 V stuff. Technically we should see a power drop, but after playing around with the ASUS board in this review and the memory, the most I could predict (with general power levels fluctuating +/- 1 W as you would expect) is 1-2W maximum saving, if any at all. Over a year, it's true it's not that much power, and in a 60W system we're only talking 1% - it's more of a tool to say that people are being energy conscious (in my view).
G.Skill have also supplied us with a set of DDR3-1066 C9 SO-DIMM for the Zotac board review. This 2x4GB kit (F3-10666CL9D-8GBSQ) runs at 1066 Mhz with 9-9-9-24 timings at 1.5 V, and is currently available for $63.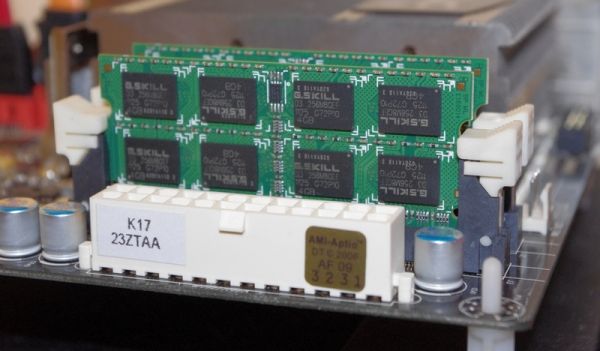 Comparison to Previous Results
Where applicable, the results in this review are directly compared to the following chipsets and boards which we have reviewed previously:
Power Consumption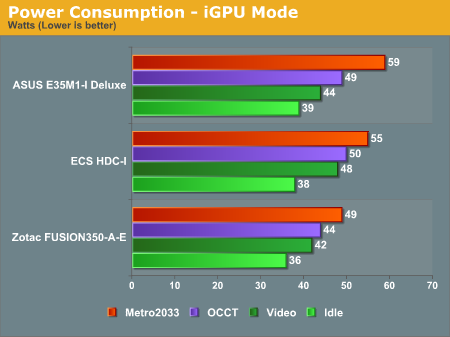 The Zotac scores best across the board in terms of power consumption.
(Note: I was using a less than ideal power supply for the power draw tests which was very inefficient in this range (<20% of maximum power), and unfortunately I don't have anything more appropriate at hand to test with. The comparisons (I believe) between the boards are more than relevant though. I will hopefully rectify this in future reviews of lower powered systems.)
CPU Temperatures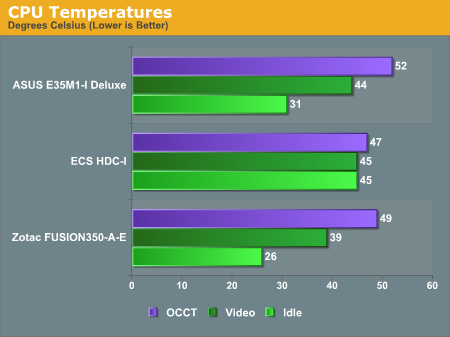 Given that both the Zotac and the ASUS boards are passive, you would expect their temperatures across the board to be higher than that of the ECS. However, the ECS has a small heatsink, meaning at idle the CPU is actually quite warm, and the fan spins up according to the temperature. Given a flat 45 Celsius from the ECS, I redid the tests by cooling the heatsink with other fans, removing them, and letting it warm up at idle, and ended with the same result. Overall, the Zotac performs the best out of these three.