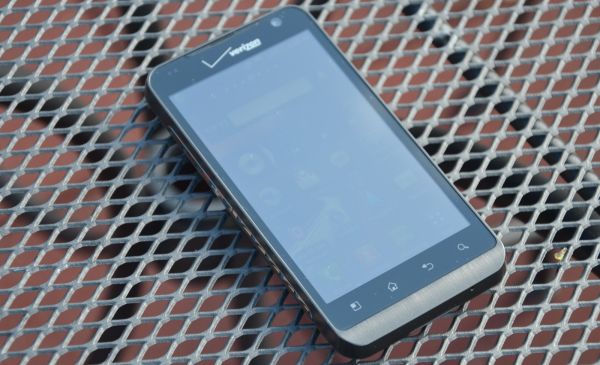 From the front, the Revolution looks similar to the other recent LG smartphones, namely the Optimus 2X and the Optimus Black. The screen panel is very slightly recessed into the front face, by roughly 0.1 or 0.3 millimeters, and houses the capacitive buttons and a front facing camera above the screen. The construction is entirely plastic, but the thin bezel has a brushed metal facade. For the life of me, I can't comprehend why companies do this - why put a fake metal finish on it instead of just making it out of metal? With that said, it's still a subtly attractive look.

The dark grey plastic continues through the rest of the body, separated by thin chrome bars on the side. The industrial designers would probably say they slice through the monotony of the grey, I say it just looks a bit tacky. The chrome bars contain a covered micro-USB port on the left side, and volume buttons and a covered micro-HDMI port on the right.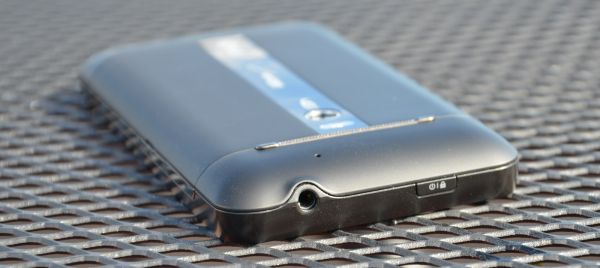 The top of the device has a small lock/power button and the headphone jack, right where God intended them to be (this is a huge peeve of mine with the HD7, iPod touch, and anything Samsung makes - bottom-mounted headphone jacks and side-located power buttons are stupid.)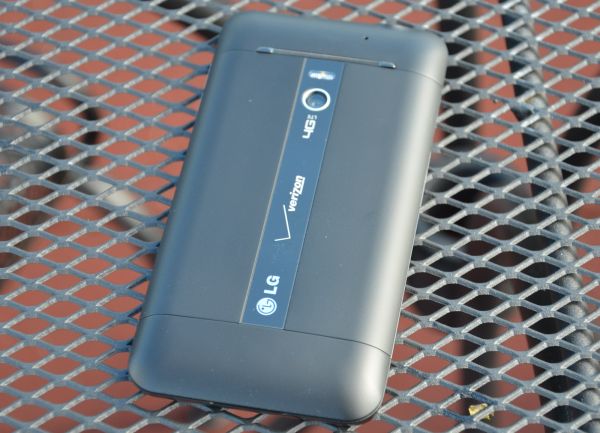 The battery cover spans the entirety of the back side. It's made of soft-touch black plastic, and has an attractive dark chrome strip going down the middle lengthwise. There are small clear windows at the top of the strip for the camera and flash, and the LG, Verizon, and LTE 4G logos below that. The speaker grille is also rendered in dark chrome. Overall, it's a very understated and classy look that is relatively different from the rest of the smartphone market. In my opinion, the back is the best looking part of the Revolution, partially because the rest of it is so generic looking.
Overall, build quality is decent. It feels well built, though the material quality and the like cannot match Apple and HTC, who have been the industrial design leaders for some time now, in my mind at least. Granted, HTC sometimes makes some questionable decisions with regards to mechanical design (I'm looking at the G2 and the Surround), but they're generally pretty good. Nothing against Samsung, LG, and Motorola, but their devices just aren't in the same league as far as aesthetics or feel. The same is true for the Revolution, but the sheer size gives it a good, weighty in-hand feel, so it was more solid feeling than I expected.