TI's OMAP 4430
You have to hand it to NVIDIA, up until the launch of the iPad 2 if you were talking about a dual-core tablet or smartphone you were likely talking about something running the Tegra 2. Both Qualcomm and TI are late to the dual-core SoC game, but with the PlayBook we have the first shipping device based on TI's Tegra 2 competitor: the OMAP 4430.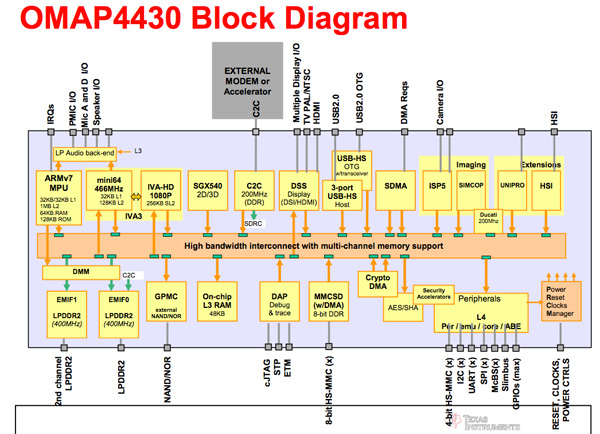 At a high level the 4430 looks a lot like the Tegra 2, but dig a little deeper and you'll see that the SoC should be faster overall.
Like the Tegra 2, TI's OMAP 4430 has a pair of ARM Cortex A9s running at up to 1GHz with a shared 1MB L2 cache. Unlike the Tegra 2 however, TI implemented ARM's Media Processing Engine which gives it both a pipelined FPU as well as support for ARM's NEON SIMD instruction set (think SSE but for ARM SoCs). It won't be until Kal-El before NVIDIA brings NEON support to its SoCs.
On the GPU side TI uses a PowerVR SGX 540 by Imagination Technologies. The SGX 540 has four USSE pipes (SIMDs) each capable of up to two MADs per clock.
Mobile SoC GPU Comparison
PowerVR SGX 530
PowerVR SGX 535
PowerVR SGX 540
PowerVR SGX 543
PowerVR SGX 543MP2
GeForce ULP
Kal-El GeForce
SIMD Name
USSE
USSE
USSE
USSE2
USSE2
Core
Core
# of SIMDs
2
2
4
4
8
8
12
MADs per SIMD
2
2
2
4
4
1
?
Total MADs
4
4
8
16
32
8
?
GFLOPS @ 200MHz
1.6 GFLOPS
1.6 GFLOPS
3.2 GFLOPS
6.4 GFLOPS
12.8 GFLOPS
3.2 GFLOPS
?
At the same clock speed, the SGX 540 has the same theoretical compute potential as the GeForce in NVIDIA's Tegra 2. The SGX 540 is a tile based renderer and thus tends to have an appreciable memory bandwidth advantage in current smartphone/tablet gaming workloads.
TI's memory interface is often touted as a significant performance advantage for the OMAP 4430. While NVIDIA has a single 32-bit LP-DDR2 interface, the OMAP 4 embraces a dual-channel (2 x 32-bit) LP-DDR2 interface giving it twice the theoretical bandwidth of what you'd get on a Tegra 2. NVIDIA argues that its bandwidth efficiency is high enough on the Tegra 2 that you don't need two channels, but it's honestly difficult to really validate claims like that.
The other major piece of the OMAP 4430 is its video engine, something TI calls the IVA 3 multimedia accelerator. This hardware encode/decode engine is what makes full 1080p30 playback and recording possible on the PlayBook. As you'll see in our video tests, the PlayBook is the first ARM based tablet we've used that can decode a 1080p H.264 High Profile video stream.
Overall the OMAP 4430 has the specs to be performance competitive with anything else out there today, definitely anything Tegra 2 based. Apple's A5 still has a much faster GPU but from a CPU standpoint, the PlayBook should be competitive. Any non-3D performance differences would likely be due to software optimization, not hardware limitations.